Jesse Wu
On a cold evening in February, Johns Hopkins University sophomore Jesse Wu pulled out his wok, heated up a dutch oven, and prepped a three-course meal for some of his friends. The menu featured chicken wings sous vide in Shaoxing wine with hoisin vinegar sauce, mapo tofu with szechuan peppercorns and doubanjiang bean paste, and a traditional red bean soup with tapioca pearls and orange zest.
"It's basically your classic Chinese banquet dessert," Wu explains. "Even after a full meal, you always have to save space for that red bean soup."
The impressive menu is one that could easily be found at any upscale Chinese restaurant in the area, but, in Wu's case, the kitchen and dining room were all set up in his cozy Hopkins dorm.
Symbolizing "something precious" in Chinese culture, Wu's restaurant concept Jade is a way for the biomedical engineering student to share his heritage with his peers, while also expanding his studies.
"I'm very interested in, not just clinical, but also social and cultural medicine," says Wu, who wants to go on to medical school and eventually pursue a career as a physician-chef. "I think that food plays a really important role in all three. I'd really like to incorporate what I know about food and my experiences working in restaurants to make systemic change."
The son of an engineer and a food scientist, Wu says that STEM has always been in his blood. But it wasn't until he got to college and began writing for the Johns Hopkins News-Letter that he started to learn more about the local food scene and flex his cooking skills.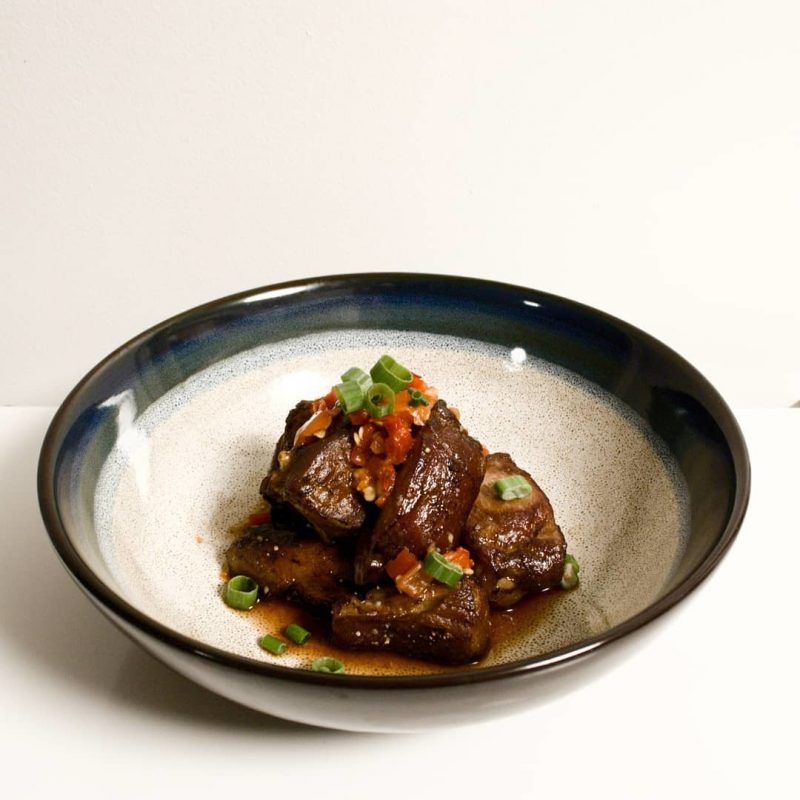 "Since I'm the youngest in my family, I was always barred from the kitchen," he says of his upbringing in Massachusetts. "My parents were always like, 'Don't let Jesse get cut or get burned. We have to protect our youngest and make sure he does well in school'—only for me to later go off to school and get burned and cut in the kitchen."
The greatest burn came just one week after Wu's inaugural Jade pop-up in his dorm. Just as he was about to announce the next night of service to his friends on social media, Wu got a call from the residential director of his building, who informed him that Hopkins was shutting the operation down.
Although Wu is ServSafe certified and was only permitting invited guests into his dorm, the university has a strict anti-dorm business policy. It also has a non-compete agreement with its food management company, which prohibits outside organizations from serving food on campus. (Wu later penned an opinion piece for the News-Letter about the university's role in fostering young entrepreneurship.)
In a true reflection of his enterprising spirit, Wu didn't let the obstacle stop him from continuing Jade: "You can't ever let anything like that get you down," he says. "No matter how overwhelming or looming the institution imposing it upon you may seem."
Instead, he chose to turn to the community around him to figure out how to keep the restaurant going. Through the university's TCO Labs incubator, he connected with fellow student Pava LaPere—who has founded three different startups in her undergraduate career. After hearing about Jade, LaPere let Wu use her apartment building as the venue for the second pop-up in April.
He also connected with local chef mentors like Rey Eugenio of the Masarap pop-up and Steve Chu of Ekiben. These experiences in the local food scene have prepared Wu for his biggest gig yet—a stint in the rotating pop-up stall at R. House May 28-June 2. The menu will highlight riffs on Jade's signature dishes, which include crispy scallion pancakes, popcorn chicken and tapioca longjin milk tea, and a vegan version of the mapo tofu.
"I came to Hopkins because of the biomedical engineering program, but I stayed because of Baltimore," Wu says. "The food community is so cooperative. People who work in food service know how hard it is, and they're so willing to help if you have a good mindset. It's really fantastic to see all of that love and support be channeled toward one kid with a pipe dream."
Moving forward, Wu is excited to see how Jade will evolve throughout his undergraduate career and beyond.
"I want to see it grow," he says. "That's what immigrant food has to do. We have to be flexible so that we can share it with as many people as we can, and in as many spaces as possible."