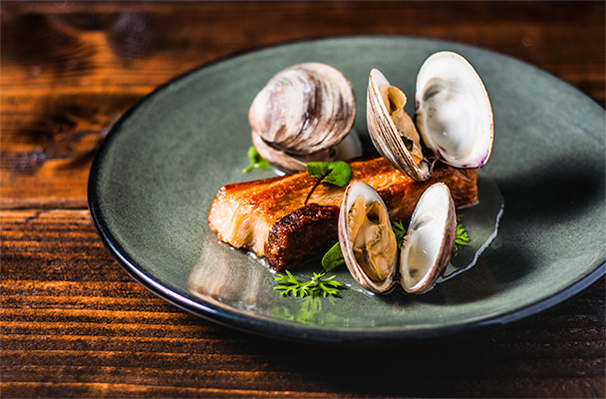 Courtesy of Hotel Revival
Although San Francisco-based hospitality group Joie de Vivre operates boutique hotels scattered all over the country, its newest property opening in the heart of Mt. Vernon this spring won't feel like a national chain.
"I've worked at a lot of places, traveled, and seen a lot of things," says Hotel Revival's executive chef Wilbur Cox, a Baltimore native whose 20-year career includes stints at former favorites Ixia and The Bicycle. "But the thing that is most appealing to me about Revival is that, even though it's a company that owns the hotel, we are running it like two local, independent restaurants."
Instead of debuting a carbon copy of one of its hotels in another city, Joie de Vivre is taking a hyper-local approach its Baltimore iteration—playing up its proximity to the Washington Monument and offering two restaurants that make use of local purveyors. Both concepts will have bar programs led by local industry veteran Chelsea Gregoire.
"I couldn't not be a part of it," she says about joining the project. "The way that the brand takes the approach of essentially coming into a city, owning it, and loving on it the way that they do really strikes my core. It's what I'm all about."
Aside from its 107 guest rooms, the 14-story hotel will boast a lobby-level restaurant and market named Square Meal, as well as a laid-back rooftop destination, Topside, highlighting seafood specialties and local beers.
"Any chef will tell you that they like to have their cash cow, high-end restaurant," Cox says. "But they also always want to have that fast-casual place where they can be a little more creative and not worry about rules so much. This gives us that opportunity to do both. It's kind of every chef's dream."
Square Meal will offer all-day service, as well as its own retail market with to-go items like local Ceremony Coffee, house-bottled sauces, cured meats sliced to order, and a selection of prepared foods. Cox has enjoyed partnering with area farmers—including Liberty Delight in Reisterstown and Albright Farms in Phoenix—to develop the seasonal menu, with signature dishes including a smoked white fish mousse bagel, soft-boiled Scotch eggs, mustard green agnolotti, and braised pork cheek with red cabbage and pickled mushrooms.
Though there will be plenty of proteins to choose from, Cox says that he's especially excited to get creative with local produce: "Instead of drying a piece of beef and making jerky, we'll dry cabbage leaves and make it taste like seaweed," he says. "We're really trying to showcase the bounty of the farmers that we've partnered up with."
The downstairs restaurant will also boast a fully stocked bar, featuring a limited-edition bourbon bottled exclusively for the hotel by Old Line Spirits in Highlandtown. Upstairs, the beverage offerings at Topside will be a bit more beer-centric—with 13 East Coast varieties on tap, 60 bottles and cans, a custom brew from Peabody Heights, and a beer-inspired cocktail list.
"Think about those common flavors that you find in beer, like the citrus of a pale ale, or those roasted, nutty, chocolatey notes that you find in a great stout," Gregoire explains. "Here, we're breaking it down to a chemical, molecular level and trying to get to the basis of these flavors to put them into a cocktail."
The beverages at Topside will be paired with Cox's seafood-centric dishes including a whole-fired blue catfish, bay scallops, and a local seafood tower with mussels, clams, and crab claws. Adds Cox: "When I have an ice-cold beer, I want to be eating something that I can wash down."
The rooftop hangout will project a laid-back vibe with foosball tables, a giant Connect Four board, and panoramic views of the Washington Monument.
"We want to do something fun," Gregoire says. "Revival can mean a lot of things, but for me it's a breath of fresh air. We just want to breathe new life into the city and the community."
Enhancing the community is something that both Cox and Gregoire say they are most excited about. In fact, the dining team has already partnered with organizations like the Maryland Food Bank and Back On My Feet to help bring opportunities to aspiring chefs.
"If we don't bring everyone with us as we are moving forward, then we are doing a disservice to our neighbors," Gregoire adds. "If we're doing something new, we should bring everyone alongside of us. That's the true meaning of community."