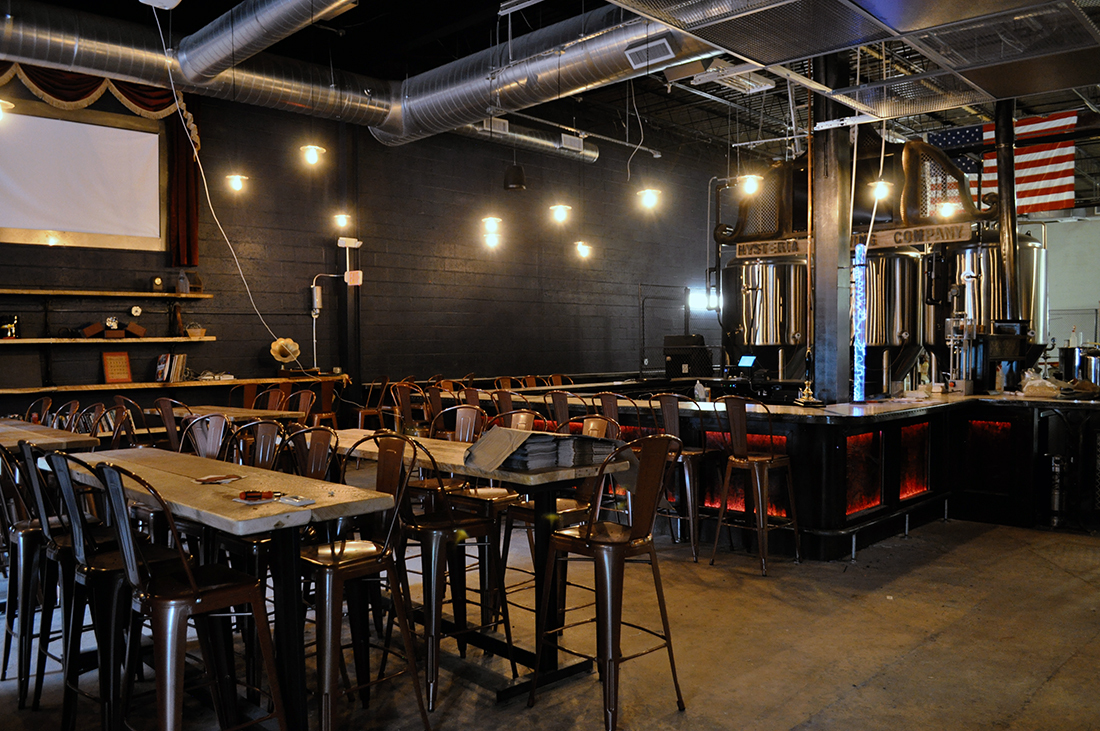 Vernon Liebenthal, Jr.
With all of the competition in the local craft beer market these days, it's hard to imagine there's a void to fill. But the team at Hysteria Brewing Company, which is about to open its doors this weekend in Columbia, wants to stand out in the market.
"When I was working at The Wine Source, I would lament what I saw missing," says Zachary Michel, an assistant brewer and marketing manger for Hysteria. "We didn't see a lot of local barrel-aged beers, not a ton of sours or stouts. We're excited to be making beers we haven't seen much yet. It's like how bands play music they have always wanted to hear."
Hysteria was originally the brainchild of owner Richard Gue, who has been home brewing for a decade. While he currently owns a business right next-door from the brewery space—with two partners Geoff Lopes and Jordan Baney—a brewery was always the dream.
"He's a guy who is really entrepreneurial and driven to start projects," Michel says. "I think the spark started with that first batch he brewed 10 years ago and has taken off ever since."
The philosophy behind the brewery and its name is taking the creativity and experimentation from home brewing, or the "mad science" as Michel calls it, and bringing it into the commercial side. Hysteria's barrel-aging program is something the team is particularly excited about—especially head brewer Jordan McGraw, who came from DuClaw Brewing.
"Brewers have really been pushing the boundaries of barrel aging and it's so cool to look at these flavors from an almost culinary standpoint," Michel says. "A chardonnay barrel could enhance the flavors of an IPA, a red wine barrel with a stout. We're hoping to play around with gin and brandy barrels soon, and want to push beyond the staples."
Expect releases like a barrel-aged sour with barrels from Black Ankle Vineyards, a coffee milk stout made with Orinoco Coffee beans, and a New England-style IPA named after old Orioles baseball tactic The Baltimore Chop.
"Any way we can pay homage to the local area, we're going to try to," Michel says. "Our goal is to eventually source everything as locally as possible and really have the terroir of Maryland in our beer."
In addition to beer, Hysteria will feature non-alcoholic offerings on tap, including nitro coffee and handcrafted sodas, as a way to be more inclusive with its customer base and entice a more diverse clientele.
"It was really important for us to have a place where everyone feels included," Michel says. "We want to attract people outside of the craft beer nerd world and tried to brainstorm ways to engage people who aren't yet engaged."
Some of those ideas can be seen in its Columbia taproom, which boasts a steampunk vibe, multi-shelf library, record player, and many communal tables. In essence, the brewery is combining the community-minded spirit of a cafe with the offerings of a pub.
"What I love about cafes is that you can hang out alone, pull out a book, and read," Michel says. "Community isn't just about events. It's about making all kinds of people feel welcome and included on a daily basis."
For now, that welcome party starts this weekend with a grand opening party July 1 and 2. They'll be four special cask ales throughout the weekend, as well as live music, yard games, and food from The Green Bowl, Homeslyce, Bullhead Pit Beef, and Mike's Gelato.
"Rich grew up in Columbia so this will be a homecoming of sorts," Michel says. "But we're all huge fans of Maryland and we're excited to make products that speak to what's happening on a local level."