Dog House
Dogma owner Virginia Byrnes takes culinary cues from her pups.
Virginia Byrnes is the first to admit that her diet has gone to the dogs. As the owner of Dogma—Life, With Your Pet, Brynes credits canines, as well as her rescue pups Oscar and Gladys, with inspiring her to eat healthfully.
"I feed my dogs the raw diet," explains Byrnes. "It's how they eat in nature—real meat, fruit, and vegetables. When I saw how beneficial it was for them to eat a biologically appropriate diet, I decided that maybe I should eat that way, too. Learning how to feed them has totally changed the way I eat."
Two years ago, Byrnes started following a mostly Paleo-style diet. "I don't eat any grains," she says, "and I don't eat processed foods or anything with more than two or three ingredients on the label. And when it comes to meat, I try to eat only grass-fed meat." Her new way of eating, she says, has not only helped her shed a few unwanted pounds but it has also had a positive impact on her overall health. "I just feel better," she says, "and I'm off all my arthritis medication."
Canines were also a source of inspiration when the lifelong dog lover decided to start her own pet store business in 2006. While Byrnes has enjoyed myriad professional opportunities, including working in the film business (where she helped style the set of John Waters's Cry-Baby) and even owning a mesquite grill restaurant, Dogma has (literally) been her pet project.
Byrnes's new way of eating has had a positive impact on her overall health.
"When I was in set design, we would go location scouting and we'd always go to these great houses with all this really cool stuff," recalls Byrnes. "The homes were beautiful, but when it came to the dogs, there would always be this bad-looking crate and an old towel for them. I was like, 'Why can't they have pretty things, too?' And that's how I got the idea for this venture."
Byrnes is equally thoughtful as she reminisces about being raised as the youngest of six in Roland Park. "When I was growing up, we sat down to the dining-room table every night," says Byrnes. "My mother always had a meat, a starch, and a vegetable on the plate. The meals were fairly simple, but she also made things like kidney stew and things that were adventurous at the time." Early exposure helped Byrnes develop a palate. "One of my earliest memories is me sitting on top of the wooden raw bar at the North Avenue Market eating oysters with my dad at the age of probably five or six," she says, smiling.
In addition to thinking about nutrition and taste, Byrnes carefully considers how food looks on a plate. "I love color," she says. "This dish is easy on the eyes. It came from a friend of mine who got it from Alice Waters's Chez Panisse Café Cookbook." This prettily plated dish sums up her cooking philosophy. "I read somewhere that the first taste is with the eyes," says Byrnes. "To me, those are words to live by."
---
Confetti Tuna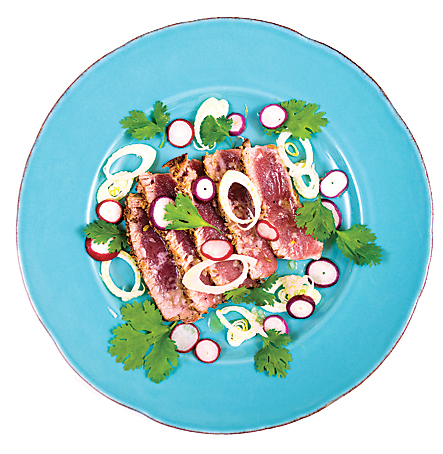 2 pounds tuna steaks (1½ inch thick, center cut)
3 tablespoons olive oil
2 tablespoons coriander seed
1 tablespoon fennel seed
Kosher salt
Freshly cracked pepper
1 fennel bulb, thinly sliced
8-10 radishes, thinly sliced
Cilantro, coarsely chopped, for garnish
For vinaigrette:
3 shallots, finely diced
Juice of one-half lemon
Kosher salt
3 tablespoons Champagne vinegar
½ cup extra-virgin olive oil
Directions
Rub tuna with olive oil. In a mortar, crush the coriander and fennel seeds until their fragrance is released. Sprinkle over tuna with salt and pepper—pressing seasonings gently into the flesh. Chill for several hours.
Heat an iron skillet until very hot. Sear tuna for about a minute on each side. Set aside to cool to room temperature.
Slice tuna into even slices and arrange on plate. Add fennel and radishes.
In a small bowl, add shallots, lemon juice, a pinch of salt and Champagne vinegar. Let rest for 10 minutes. Slowly, whisk in olive oil. Drizzle vinaigrette over dish.
Scatter cilantro for a playful, confetti-like effect!