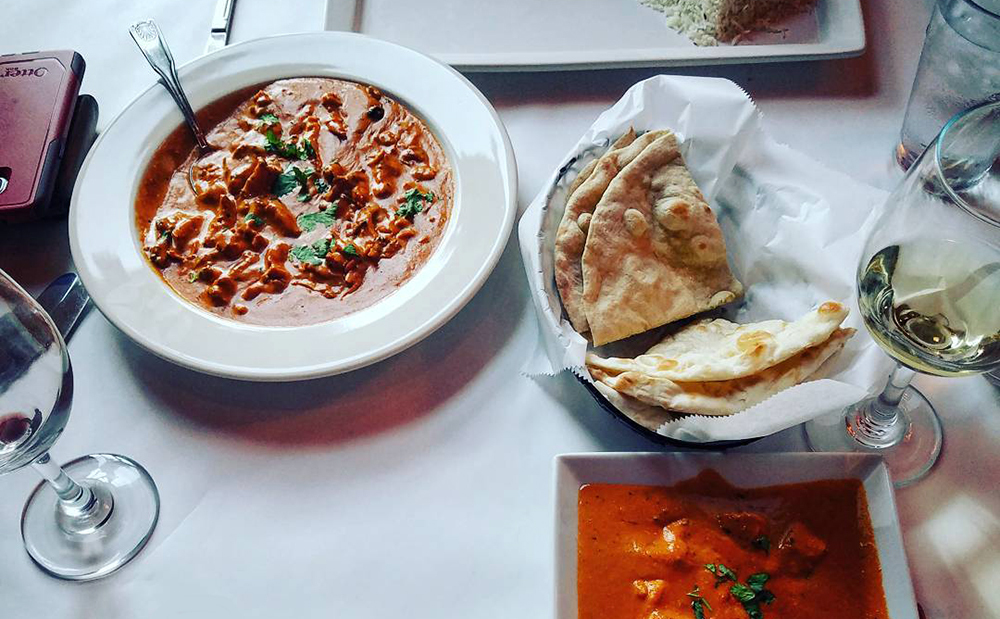 @mel.b.e via Instagram
For husband-and-wife restaurateurs Tony and Ann Chemmanoor, Mt. Vernon has always felt like home. The duo opened their first Indian restaurant, Bombay Grill, in the neighborhood in 1988, and debuted one of their many spin-offs, Indigma, on North Charles Street nearly 20 years later.
"We had restaurants all over Maryland at one point, but we always came back to Mt. Vernon because that's where we started," Tony says. "Our hearts have always been there."
They say that the historical nature of the community, mixed with its diverse arts and culture attractions, have made it a great place to operate throughout the years. But, above all, the supportive neighbors are what they value most. As Ann puts it: "Mt. Vernon has such a good feeling of togetherness."
Over the years, the community has helped Indigma through tough times. First, in 2010, when the space suffered a fire and had to relocate across the street. Last year, Tony and Ann decided to close Indigma due to ongoing repairs after another fire, and it was their Mt. Vernon neighbors who suggested that they take over the old Tavern on the Hill space around the corner.
"We kept running into some of our customers who were saying, 'Oh my goodness, we're having this withdrawal from Indigma,'" Ann says, with a laugh. "We're really thankful for those people who have always been cheering us on."
The couple liked that the Cathedral Street building wasn't far from Indigma's former home, and were enthusiastic about the large windows, outdoor patio, sidewalk seating, adjacent herb garden, and public parking lot across the street. Now, they are putting the finishing touches on the renovated space—where Indigma is expected to reopen within the next two weeks.
In its new chapter, the restaurant will have more of a bistro feel. A slightly smaller menu will list some of the old favorites, including lamb shank masala and acorn squash curry, alongside modernized dishes like grilled bison and naan breadsticks stuffed with crab.
"We've taken a little turn toward a bistro with a really casual, friendly atmosphere," Tony explains. "The menu will reflect that. It will be all of the same flavors you get in authentic Indian food, but in more innovative dishes."
Though the food will be familiar to Mt. Vernon diners, there's a chance that old Tavern on the Hill regulars might not recognize the former breakfast-all-day spot when they first walk in. The partially open kitchen is now closed off, and the owners have built a new bar area—which will offer Indian beer, wine, and exotic martinis—near the main entrance.
When revamping the interior, Tony and Ann made it a priority to pay homage to the late Ted Pearson of Rita St. Clair Associates, who designed the former Indigma space but, sadly, passed away last spring. In keeping with Pearson's vision, the 85-seat restaurant will feature vibrant saffron and curry colors, as well as repurposed wood carvings and cultural artifacts from the old Indigma space.
"He had this wonderful, artistic mind," Ann says of Pearson "We wanted to keep the same colors as a way to pay tribute to his eye."
During the first few weeks, the restaurant will only offer dinner service. But the owners are open to reintroducing Indigma's popular lunch buffet once the spot gets up and running in its new home. They say it all depends on what their customers want.
"To me, it feels like a homecoming," Tony says. "It's all of our old friends coming back to see us again. The whole dining room sitting, laughing, drinking, and having a good time—you can't replace that feeling with anything else."