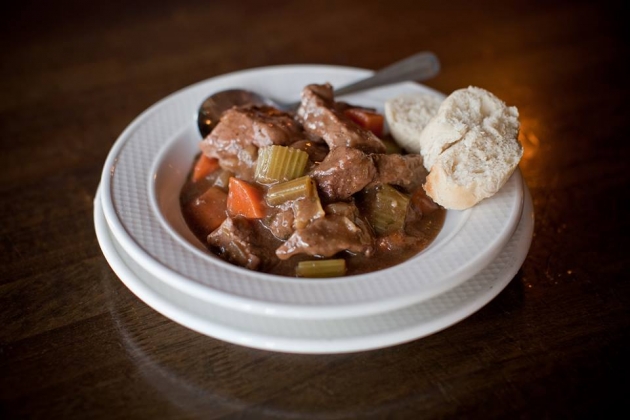 James Joyce Irish Pub & Restaurant Facebook
Celebrating St. Patrick's Day is about more than just beer and
wearing green. Getting a good Irish meal in your belly is also key, and
Baltimore has a wide variety of options to choose from.
For a weekend-long celebration, head to James Joyce Irish Pub & Restaurant.
There will be live music all day on Saturday, Sunday, and Monday,
including Danny Burns, Crossing Celtic, The Shamrogues, and Laura Byrne.
Fill up on potato soup or beef and Guinness stew, pictured, to complete the Irish experience.
Victoria Gastro Pub
in Columbia will be serving corned beef and cabbage in honor of St.
Patrick's Day this Saturday and Sunday night and all day on Monday.
Regular menu items, like fish and chips and lamb chops, will also be
available. The restaurant also has a number of draft beers on tap,
including Irish favorite Guinness.
The Waterfront Partnership will hold its third annual Shamrock Shindig at Pier V
this Sunday, from 10:30 a.m.-2 p.m. Food trucks, including Kommie Pig,
Darua, and Flavor Cupcakery, will provide snacks and lunch. The Gypsy
Queen truck will serve spins on Irish favorites, like Guinness
chocolate-covered bacon, corned-beef sandwiches, and lepre-cones (green
cookies-and-cream cakes topped with edible gold). Wristbands for
unlimited drinks can be purchased for $15. Enjoy the Celtic band
Barleyjuice, take the kids to the Shamrock Alley kids' zone, and await
the start of the St. Patrick's Day parade
after the Shindig ends. The parade steps off at 2 p.m. at the
Washington Monument and continues to Pratt Street and Market Place.
A vegan Irish brunch will be served at Ma Petite Shoe Café
in Hampden every hour on Sunday from 9:30 a.m.-12:30 p.m., with items
like marmalade cake, vegan shepherd's pie, and a hash of roasted
parsnips, potatoes and onion. Tickets are $25 and can be purchased at
their website.
Crème is right on the parade route, and you can watch as you enjoy corned-beef hash and green mimosas. Brunch will be served from 10 a.m.-4 p.m.