Small But Mighty
Italian-inspired Little Bird Coffee Bar gets all the details right.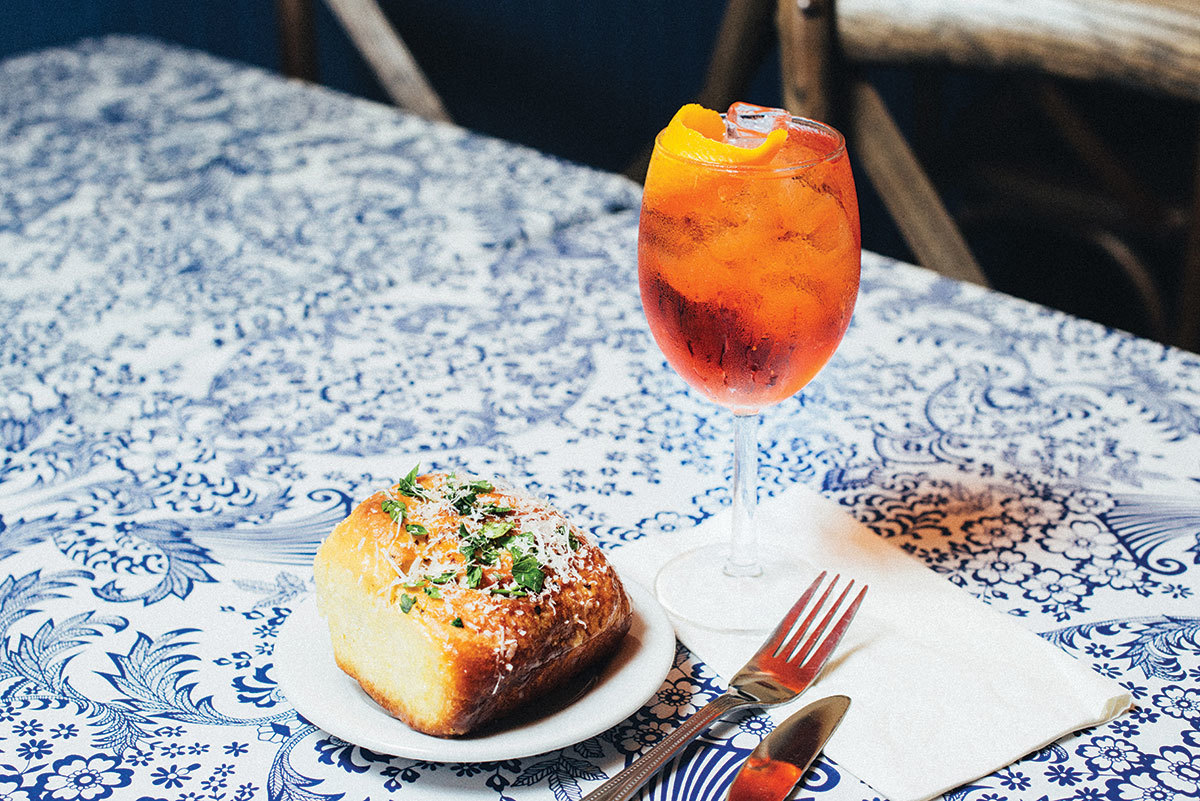 We don't always drink in the morning, but when we do, we like a good spritz. That's why we've fallen head over heels for the adorable Little Bird Coffee Bar (3600 Hickory Ave., 667-303-3263), the newest project from the owners of The Bluebird Cocktail Room, located in the same building just a few floors above.
The basement café feels very Italian in flair, décor, and menu. One especially nice touch is the row of bright blue al fresco tables and chairs lining the sidewalk. Venture inside and you'll find an authentically rustic space with exposed brick walls, hanging vintage plates, and tablecloths with a distinctive, toile-like pattern. There's a semicircular marble-topped bar and simple black-and-white letter board that lays out the Ceremony Coffee offerings including espresso, Americano, Cortado, and cappuccino.
If it's a different kind of buzz you're after, Little Bird has plenty in that department, too, with a heavy focus on all things spritz, which is a fancy way to say sparkling. But there certainly isn't anything flashy about the spritzes, which come in Aperol, Campari, Cynar, and Elderflower varieties—simply a balanced ratio of each base spirit mixed with crisp Primaterra Prosecco, club soda, and an orange twist.
We also gave the Amaretto Sour a try, since it's something we drank a lot in our younger years. This version was the best we've had, thanks to fresh lemon juice and Angostura bitters. We certainly didn't miss the artificial sugars and additives.
You can also get wine at Little Bird in European-style liters and half-liters, various types of amaro, and two options of beer (Peroni and the requisite Natty Boh). And, while we particularly love the café with morning light shining through, it also features a great "aperitivo hour" Thursdays-Saturdays, from 5-8 p.m., where spritzes are $1 off and 75-cent snacks are available.
The food menu is affordable and approachable with items such as savory and sweet buns, antipasto, baguette sandwiches, and desserts. Try anything with mozzarella (it gets pulled daily) and end your meal with a refreshing watermelon granita.
We're sure thankful that Little Bird has opened in Hampden, because it will save us so much airfare to Italy.