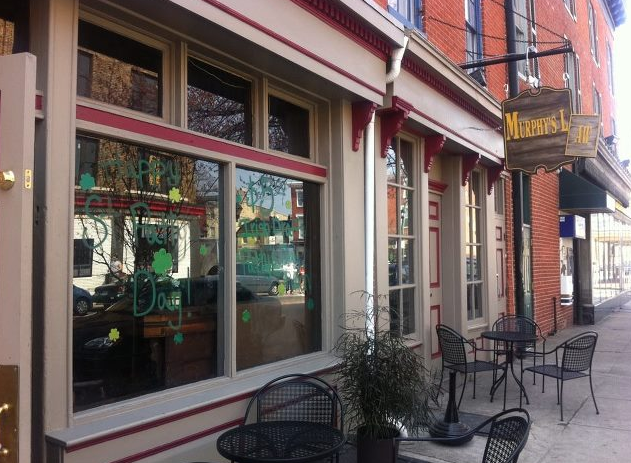 Back in February, I wrote about Spike TV show Bar Rescue in town renovating, reopening, and ultimately renaming J.A. Murphy's in Fells Point. The idea behind the show is pretty simple: Its production team and host Jon Taffer aim to transform struggling bars into profitable businesses. But, unfortunately, that outcome didn't exactly pan out.
I got an advanced copy of the episode, which is going to air this Sunday, and, like every reality show out there, it is all very affected and over the top. It begins by showing some very poor sanitary conditions in the kitchen and explains that owners Keith Murphy and Joel Gallant were just simply two college buddies with absolutely no business savvy.
After some heavy screaming matches, Taffer brings in a few "experts," including a flair bartender (who did silly tricks with martini shakers and glasses) and an Irish chef, to help improve the menu and atmosphere. There was also some structural damage beneath the bar and a crew had to be brought in to improve the foundation. Additionally, there is an over-dramatized subplot about former J.A. Murphy's bartender Marka Browning, who left Murphy's and opened her new bar DogWatch Tavern around the corner. While Browning admits there was, of course, a little bit of tension, the show played that up to its full, theatrical advantage.
Again, like all makeover shows, what Bar Rescue shows is a happy ending: A shiny new space, customers having fun, and owners Murphy and Gallant reveling in the renewed business. However, that isn't really where the story ends.
After the film crew left, the new incarnation, dubbed Murphy's Law, was open for a couple of months, pictured here in March. During that time, I got a chance to stop by and appreciated the new menu offerings and the cleaner, more modern space. However, pretty much all of the pizzazz and personality of the bar was gone (including the fun drinking games and impeccable happy hour deals).
Ultimately, it seems that the work that Taffer and his team did on the bar wasn't enough to get its owners out of debt because they were forced to close. Last I heard, the owners still haven't been able to find a buyer because of some pretty intense structural problems (more than the show's production crew could fix). Murphy has since moved out to Los Angeles and Gallant continues to live in Federal Hill and maintain his day job in the IT industry.
We will definitely miss the original J.A. Murphy's and wish the best of luck to its former owners and employees. Tune into Spike TV on Sunday at 9 p.m. to watch all the (over)dramatics unfold.
[Image: courtesy of Murphy's Law]