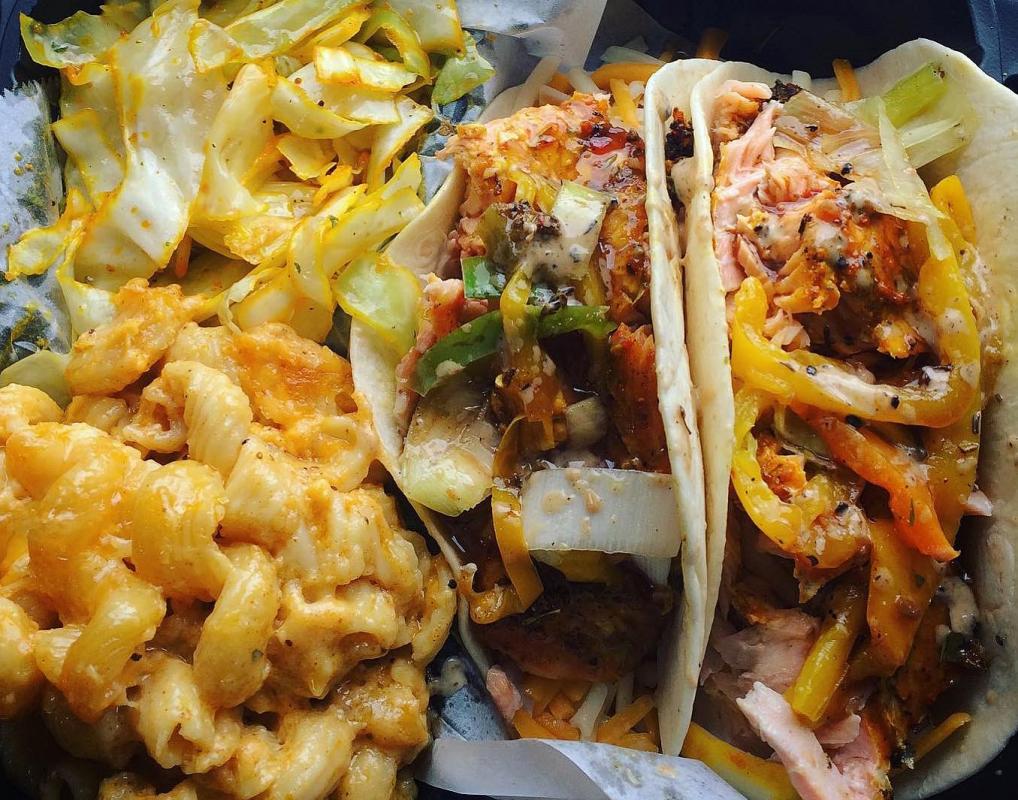 Jerk salmon tacos with cabbage and mac and cheese. —Courtesy of Jerk at Nite
Denville Myrie, Jr. started selling his famed Jamaican jerk chicken from his dorm room at Howard University in 2013. His cooking soon became a go-to for his fellow college students in need of late-night sustenance—which inspired the name for what is now Myrie's own Jamaican restaurant, Jerk at Nite. 
After college in 2015, Myrie graduated to his first food truck. Now, another food truck and two Washington, D.C. brick-and-mortar locations (lauded by Eater) later, the 29-year-old chef/owner is excited to share his love of food and culture in Baltimore. 
The first Jerk at Nite location in Charm City—a red, yellow, green, and black-painted building at 701 Poplar Grove Street—will debut in the Rosemont neighborhood of West Baltimore later this month. (A soft opening and Juneteenth celebration is scheduled for June 19.) Myrie owns the three-story property, and is looking forward to being his own landlord.
"This location is going to be the next step for our business," Myrie says. "It's our own turf."
Natasha Powell, Myrie's older sister and Jerk at Nite's general manager, says that, while the siblings don't always agree on everything ("We didn't agree on the first food truck he bought," Powell says), they both concur the expansion makes sense for their clientele. 
"People have been asking for years, 'When are you going to open up in Baltimore?'" Powell says. "Last weekend, a woman told me she drove down over 40 minutes from Baltimore just to get two sides of our 'JaMac N Cheese.'"
Jerk at Nite Baltimore mirrors the branding seen across the two existing food trucks and two storefronts in D.C. The colorfully painted building boasts a straw awning, reminiscent of island life in Jamaica. 
"It'll seat about 15 people inside, and we'll have an outdoor reservation area with lights," Myrie says. "It's important for us to bring our culture and 'the vybz.'"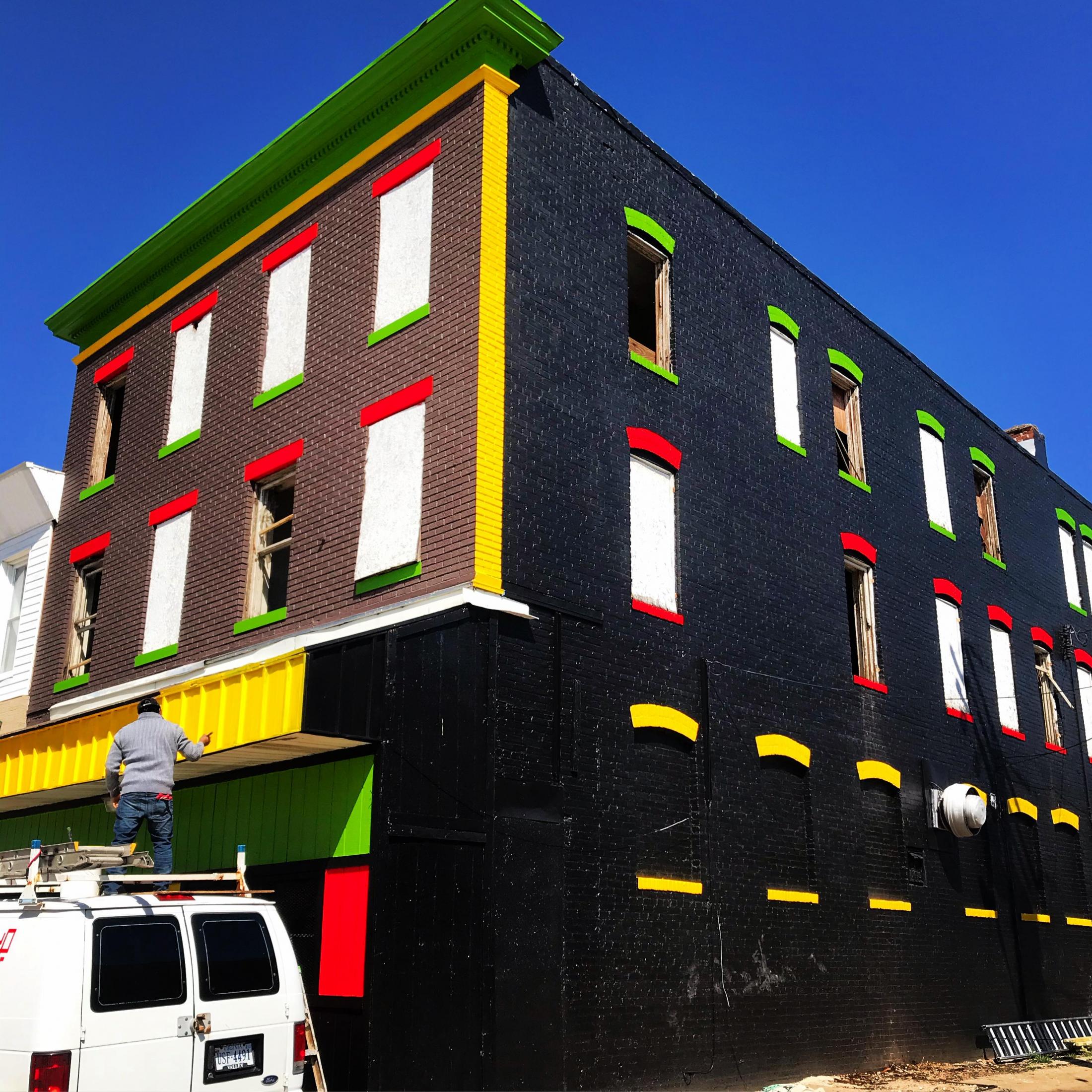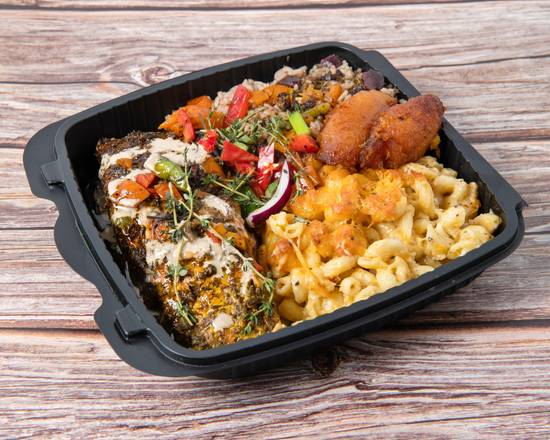 That feel will also be expressed throughout the interior (expect bamboo accents and a steady stream of reggae) and the menu, which will be the same as the other locations. Fan-favorite dishes include Myrie's smoked jerk chicken with its custom blend of wet and dry jerk seasoning, grilled cajun salmon, sweet-spiced sirloin steak, fried plantains, and the signature "JaMac N Cheese." Another Jerk at Nite speciality is the "White Vybz" sauce, a blend of a cream, mayo, and red pepper hummus.
When asked what first-time customers should try, Powell tells a story of a Domincan soccer team that once came into the restaurant.
"They walked in saying, 'We followed the smell,'" she says, "then they proceeded to order one of every entree. So I would recommend you do that."
She says the best-selling items right now are the "Rasta Pasta Alfredo"—a take on the classic Italian dish with a Jerk twist—and, of course, "Di Yaadie" platter, whose name is a nod to The Yard, slang for "home" in Jamaica. It comes with three pieces of quarter leg dark meat jerk chicken, cabbage, and, of course, rice and peas.
Though the Rosemont neighborhood isn't home to many food destinations, Myrie is confident that the area is on its way to change.
"Fells wasn't always Fells," Myrie says. "We'd do well in the popular spots, so I wanted the challenge. Now I'm not going to single-handedly change this area, but I think I can make an impact, taking the first step and risk and time to help develop the community."
Myrie says the neighbors are excited to see new things coming. Recently, one of his elderly neighbors told him that she hasn't seen investment in the area in 70 years. 
In addition to serving his dishes to visitors in a new spot, Myrie says he's looking forward to being back in the kitchen more at the Baltimore location.
"I'm spreading the love to Baltimore," he says. "I want to break down the culture barrier, and I want to teach my crew how to tap into different people's hearts with love. The food tastes different when there's love."