JBGB's Launches New Sandwich Concept Within its Butcher Shop
Dubbed The Butcher and the 'Wich, the deli brings stacked sammies to Remington's lunch crowd.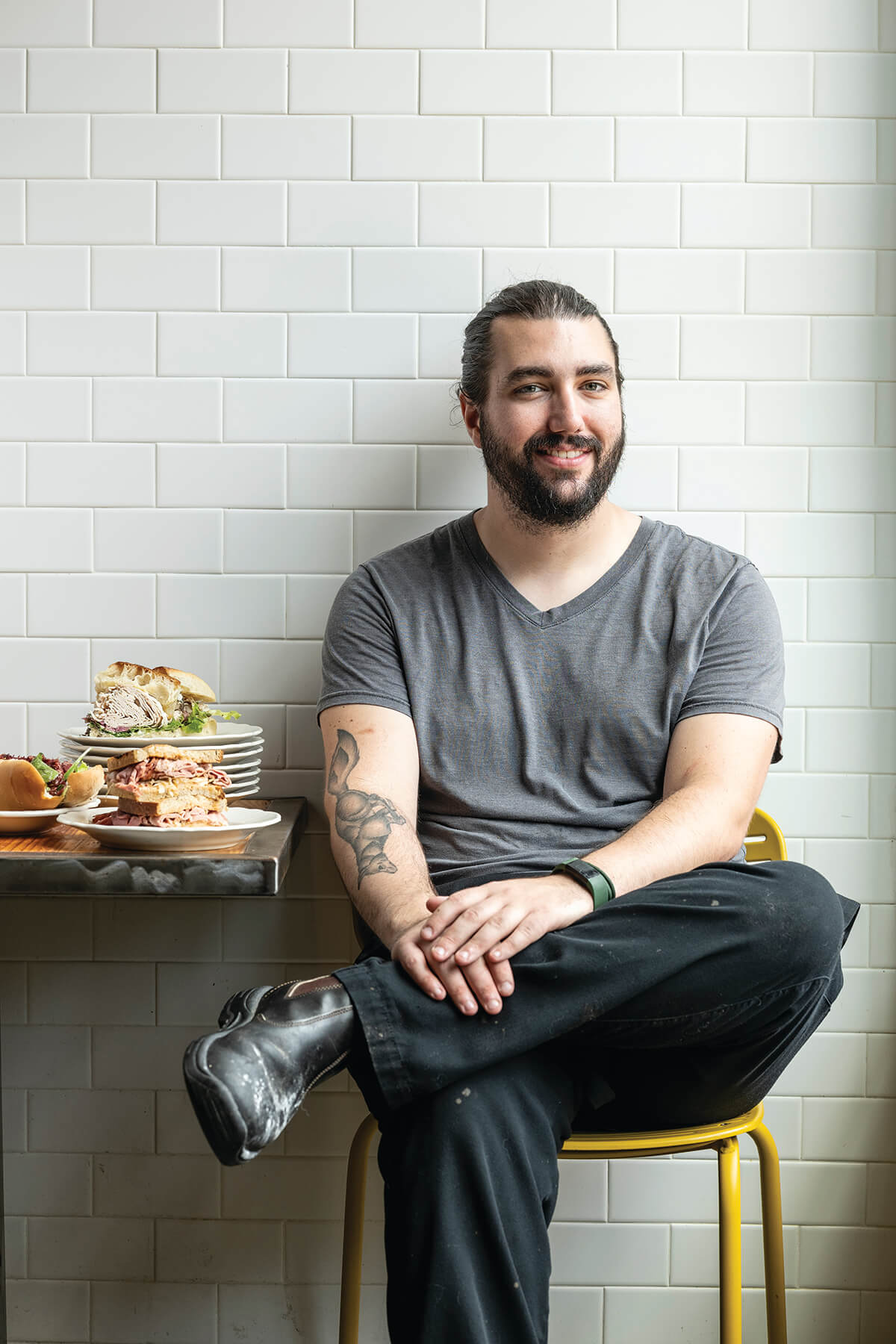 JBGB's co-owner/executive chef Tyler Johnson first fell in love with cooking thanks to his mother's homemade meals.
"My mom worked a full-time job, but she still made everything from scratch," he says. "From Christmas to Easter, from the time my mom was awake through dessert, there was food on the table. And it was an unspoken rule that if there was food on the table, there was no fighting."
The Johnsons' home was a rotating cast of characters constantly stopping by for a meal. "I really liked what coming together to eat did for our family," says the 31-year-old chef. "And I knew that I wanted to do that for other people's families, too."
After graduating in 2012 with a culinary arts degree from Anne Arundel Community College, Johnson worked as a sous chef for Cucina by Wolfgang Puck in Las Vegas and as an executive sous chef at the Kimpton Hotel Monaco in Baltimore, before coming to JBGB's in Remington.
In addition to working the dinner shift at JBGB's, Johnson now oversees a new lunchtime sandwich concept—a kind of restaurant within a restaurant—dubbed The Butcher and the 'Wich.
"It's like a deli inside of a restaurant with the butcher shop up front, but it's not your traditional Italian deli," he says. "It's an Italian deli without the Italian part. It's the same attention and level of detail you'd expect from a John Brown product, but without the need to label ourselves an Italian deli."
What's the secret to making a good sandwich?
For us, it starts with the proteins. We get high-quality proteins and treat them well. We're not trying to reinvent the wheel as much as recreate that feeling of, say, your favorite ham and cheese sandwich. Our ham and cheese is just house ham, Gruyére, Swiss cheese, pickles, and mustard. It's about creating simple memories and recreating the very best version of what that thing could be.
What should first-timers get with so many options?
Get the roast beef, the turkey, or the ham. You want to get something basic. If a place can't get that right, there's no sense in ordering anything else.
Is there one product that stands out as being something that you can only get at The Butcher and the 'Wich?
Our Italian beef. We treat a chuck roll—that's the neck of the cow—almost like you would a piece of capicola pork. We take that same cut on a cow, cure it, steam it, and use it for our Italian beef sandwich—it's delicious.
With the rise in the demand for plant-based cuisine, how do you see the consumption of meat trending?
People are vegan for health and sustainability reasons, but if you go to a local butcher shop, you'll find they're sustainable and healthy. If the animals are raised well and the practices are right, it's a healthy product—not just for us but for the environment. If they're not over-farmed, and they're not eating things they shouldn't be, they're not causing environmental issues.