John Greene Knew He Wanted to Be a Butcher Since Age 13—Now He's Living the Dream
The owner of Greene's Family Butcher Shop in Kingsville is one of only a handful of small, independent butchers in the Baltimore region.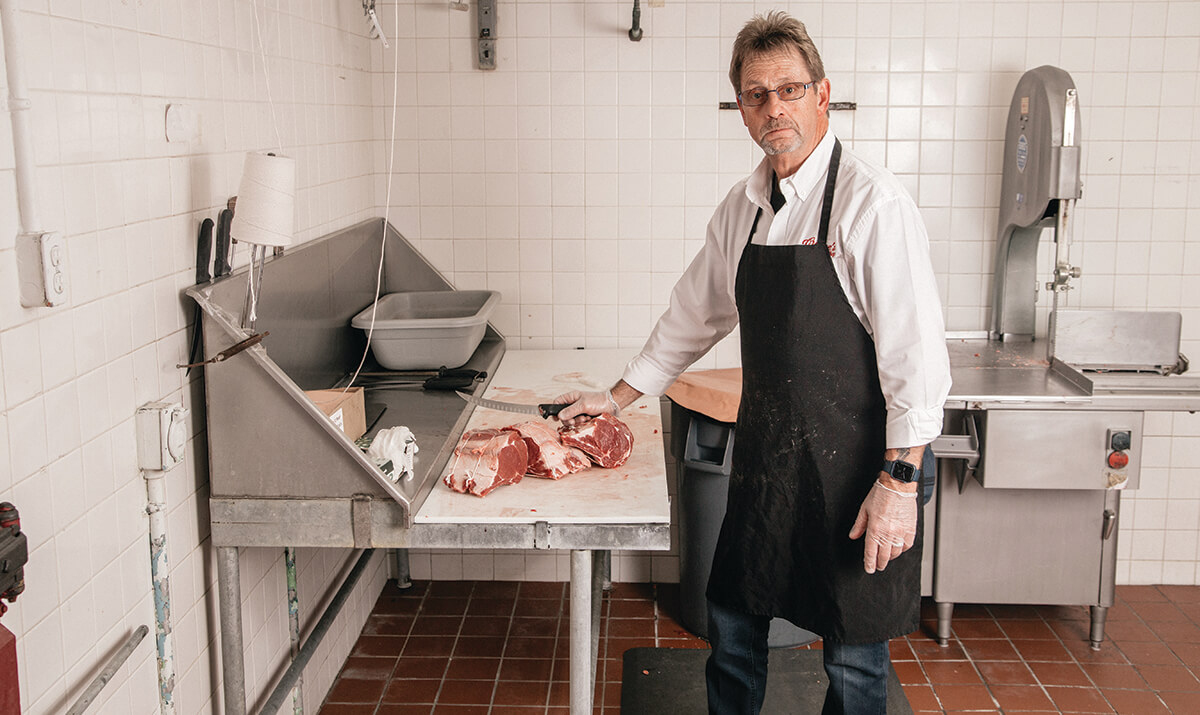 Most days at no later than 5:30 a.m., in the back room of a small store in Kingsville, you can find an artist at work.
Dressed in a red, long-sleeved shirt, jeans, and sneakers, John Greene puts on a black apron and steps up to a stainless-steel table covered in white compressed Fiberglass that's as hard as nails. He puts on plastic gloves and picks up a Victorinox knife—German and made of steel that he sharpens every single day. He pulls a large, red hunk of meat toward him and lifts his right arm. As his hand comes down with the knife, the magic begins. Slice…slice…slice…slice…slice…slice. And just like that, he cuts a sirloin tip into steaks, the knife gliding through it like butter.
Greene, 58, has been the owner of Greene's Family Butcher Shop since 2019. He's a dying breed, one of only a handful of small, independent butchers in the Baltimore region. But he has a dedicated following. People from surrounding areas outside Kingsville travel distances to get their meat hand-cut at Greene's. In addition to getting the exact cut of meat they want, from the perfect roast to the slimmest pork cutlets, they can also buy things they can't at grocery stores, like organ meat or marrow bones. All perfectly wrapped in white butcher's paper.
While the shop is relatively new, the story of Greene's Family Butcher Shop began decades ago, in the late 1970s when Greene—the youngest of seven children—was a 13-year-old News American paperboy. With two canvas bags full of papers, he'd ride his bicycle through the Baltimore Highlands, where he grew up. Every single day, in the middle of his route, Greene would stop at Ray's Food Center and buy a three-pack of Tastykake cupcakes and a Yoo-hoo as a snack.
One day, in the dead of winter, the owner, Ray Ehling, said to Greene, "Why don't you come here and work for me? You can stock shelves, sweep floors, whatever," Greene recalls. It was warmer inside, so Greene took the job. "I still delivered newspapers, just not all week long."
After school, Greene worked for Ehling and he began watching him cut meat. "He would always hand-cut everything. I could walk in and say, 'Ray, I want one top-round steak,' and he would cut that. My mother would send me to the store to get some round steak for sandwiches, and he would cut it then," says Greene.
About six months after he had been working there, Ehling said, "You've been paying a lot of attention. You want to learn this, don't you?" Greene said that he did. His brother, Jeff, who was 10 years older than Greene, had already been working for Ehling cutting meat. Ehling gave Greene a wooden knife with a six-inch blade—a boning knife—and told him to hold on to it. "We'll start one of these days," Ehling said to him.
Weeks passed, and Greene was wondering if Ehling would ever start teaching him. Then, that special day came—but not exactly the way he expected it.
At the time, everything came to the store in the back of Esskay trucks. One day, a hind-quarter, which weighed about 145 pounds, was being delivered. Ehling told Greene to get it.
"I'm a 13 year old, 75 pounds soaking wet. He tells me to hit the hoof and let it land on your shoulder," Greene recalls.
That was what was supposed to happen. Instead, when Greene tried to put the hindquarter over his shoulder, he lost his balance and the enormous piece of meat flew behind him and straight down the steps to the store's basement. Ehling picked up that boning knife and said to him, "You want to learn? Well, you're not carrying it back up the steps. Go downstairs and take it apart."
Greene was stunned. "He didn't show me what to do. Just said to go downstairs and take it apart." It was clear that Ehling wanted to see what Greene had picked up from watching, but that first time wasn't pretty. "I hunked it, I chunked it, and I destroyed it. It all went into the dumpster," remembers Greene. "That was my very first time cutting meat—on the basement floor of Ray's Food Center."
Soon after, Ehling began to actually teach him. By the time he was 16, Greene was considered a great meat cutter, but he was too young to join the meat cutters union, the Local 117. By this time, his older brother, Jeff, was working as a meat cutter at the local Pantry Pride store. His boss, the meat supervisor, was impressed with the younger Greene's skills.
"I HUNKED IT,

I CHUNKED IT, AND I DESTROYED IT."
"He gave me a job, and hid me on the night crew in Hollinswood Shopping Center. I would work there overnight and then go to high school at Lansdowne High in the morning," Greene says. When Pantry Pride was bought by Food-A-Rama, Greene went to work in the one then located on Eastern Avenue and Eaton Street in Highlandtown.
Finally, at age 18, Greene was able to take a "block test" to see if he was good enough to get into the union. During the eight-hour test, he was given a whole lamb. Union members and supervisors from Food-A-Rama watched him the entire time he was butchering, making sure that he got the right kind and number of cuts out of the lamb, and checking to see if he made as much money from the animal as he could.
Greene finished in two-and-a-half hours. "You're done," was all they said to him. Greene began to panic, thinking he had done something wrong. Instead, he had nailed it. And his salary immediately doubled. He spent 18 years working with the company through all its transitions. Much of that time was spent as a butcher, doing the work he loved. But the grocery-market industry was changing. For a while, Greene worked as a "fix-it" guy, someone who would supervise the grand reopening of a store, figure out why one place had problems with its meat inventory, or why another was throwing too much away. He changed companies and worked in various roles. But no longer as a butcher.
As supermarkets evolved, instead of having butchers on-site, they brought in pre-packaged cuts of meat. Greene believes this is because pre-packaged meat is produced by machines run by computer systems that are programmed to cut certain sizes, greatly reducing a business' overhead. While more-efficient customers could no longer ask for a specific number of pounds or to have a roast—or any other kind of meat for that matter—cut smaller, or thinner, or just the way they wanted it. They had to buy what was there.
"If I had to guess, I would say that with meat, the labor cost has been cut about 75 percent," says Greene.
Greene was working about 100 hours a week and had traded in his butcher's apron entirely. "I was a suit-and-tie guy, believe it or not," he says. Then one day he stopped home just after Thanksgiving. His daughter, Erica, who was about 11 at the time, looked up at him and asked, "Daddy, when's the next time you're going to be home?"
"I melted," admits Greene. He told his employer that after the Christmas season he was leaving. He went to work at another grocery-store chain as the meat manager, but soon realized the job wasn't what it was billed to be. Greene says that all the meat workers, instead of cutting meat, had to stand on the sales floor and schmooze with customers about what they were having for dinner that night, and did they want to try a nice rump roast?
"They wanted me to be a freaking salesman. That was it. I was done. I retired from the meat industry," says Greene.
Sometimes, though, life has a way of calling you back where you belong.
While shopping in Reds, which was located in the store where Greene's is now, Greene realized that they sold meat in addition to liquor, beer, and wine. He looked over their merchandise and said he could do better. They hired him in 2018 and Greene tied the butcher's apron back on. When Reds closed in December that same year, people told Greene he should open his own store, which had always been his dream. He went home and talked with his wife, Dawn, but they decided that it was beyond their reach.
Fast forward to February 2019. On the weekend of their wedding anniversary, Greene and Dawn were sitting on the sofa watching a movie on the Lifetime channel, when he got the feeling he was being stared at. When Greene looked at Dawn, she was watching him and crying her eyes out.
"What's wrong?" he asked. She had been thinking about him and his dream of opening a store. "You need to go fulfill that dream," he remembers her saying. "Go open that store."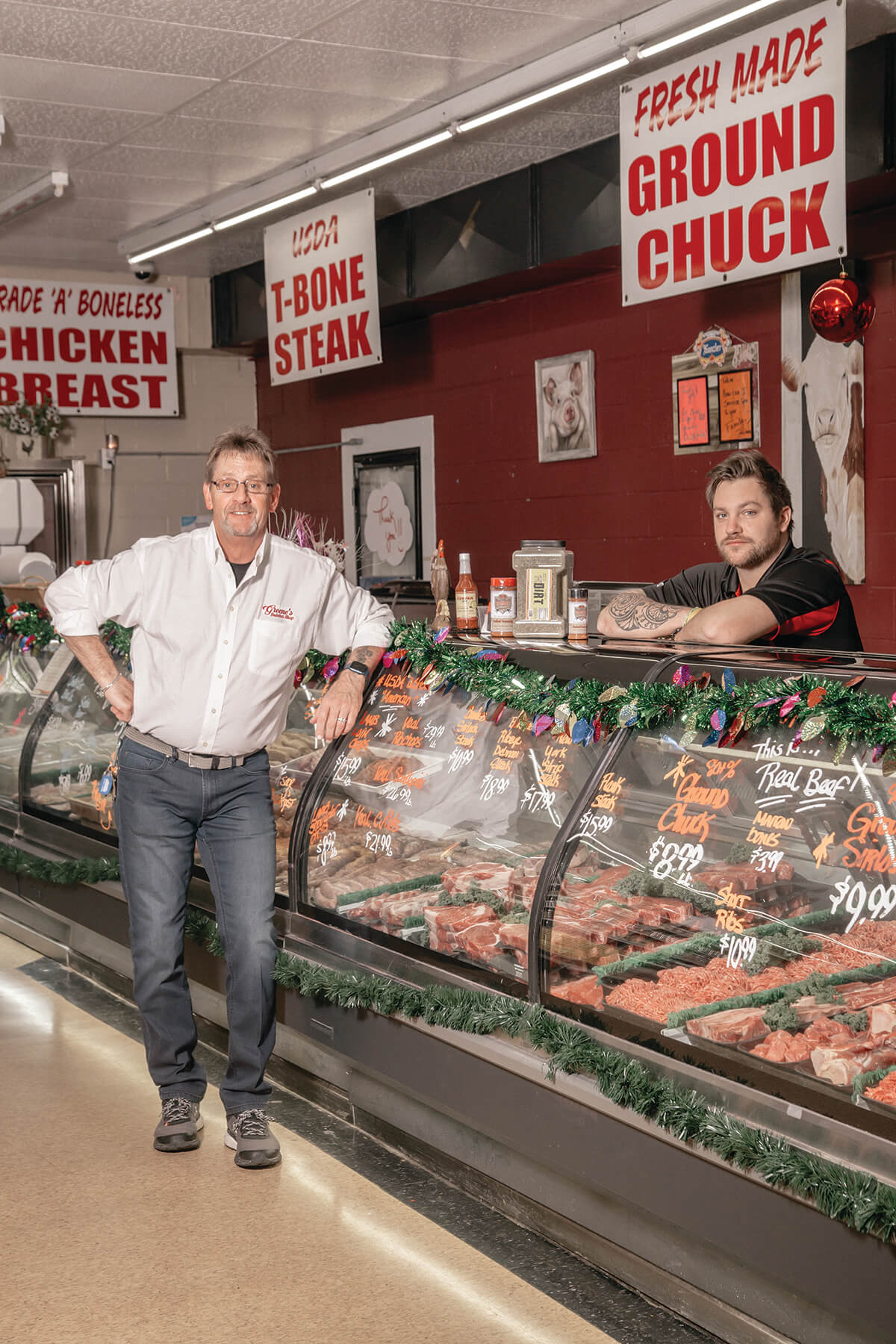 Greene managed to cobble together the funds and on Mar. 1, he signed the lease to the location on Belair Road in Kingsville. For two months, Greene worked by himself to prepare the store, scrubbing every wall, floor, the cases—everything. He repainted. He built a coffee bar that people see as soon as they walk into the store. He had no suppliers yet. Didn't even own a cash register. So he reached out to everyone he knew in the industry. The hard work paid off.
When Greene's Family Butcher Shop opened in June 2019, Greene wanted to bring back the old-fashioned family butcher and great customer service that he had learned all those years ago working at Ray's. Today, Greene sources his beef from Nebraska, Iowa, and Colorado, and other major cattle farms in the Midwest; his poultry from Mountaire Farms of Delmarva; his pork from fresh hog farms in Pennsylvania and North Carolina; and his lamb from Pennsylvania. He hand cuts everything from pork chops to lamb chops for his customers—whatever they want, exactly how they want it.
In March 2020, Dawn suggested that her husband begin doing a Facebook Live session every morning before the store opened. It proved to be serendipitous, as the pandemic would halt much in-person retail later that month. Greene continues the sessions to this day, offering customers views of the groceries, meats, and specials, so they see everything before they come in to shop. He ends every one by thanking his customers for their support.
Greene has some challenges, as all businesses do. One is paying his overhead.
"Your bills are going to keep coming, even if people don't," he says.
So he keeps giving people what they want—including products from other local small businesses. Greene's carries products from Jeppi Nut, Todd's DIRT (dry rubs and marinades), Berger Cookies, Fisher's Popcorn, J.O. Spices, South Mountain Creamery, Log Cabin Candy, as well as produce from Lohr's Orchard in Churchville, Zeke's Coffee, and Woodlea Bakery items, among others. He recently added honey from a local beekeeper—and sold out of it immediately.
But meat is his passion. As for his personal favorite cut, Greene says, "I'm a sirloin steak eater, and that will never change. I love loin meat. It's got a great flavor and a little chew to it." That's one reason he takes special orders—he wants all customers to get what they want, too.
He can also stand behind the provenance of his meats. Greene says that large packing houses that supply pre-packaged meats can kill 5,000 head of cattle a day. Particularly when buying pre-packaged ground beef, one could be eating meat from many different animals. At Greene's he cuts one animal at a time.
"I don't ever combine them," he explains. "The flavor's going to be different; the fat content will be different."
He removes the cartilage from ground meats, too, resulting in a taste that's far superior to anything you can find in the typical grocery aisle. Customers can tell the difference. Regular customer Dawn Borowy comes from Joppa to buy meat for her family.
"If you go to the grocery store and buy any kind of roast, you have to take what they have. You can't always get what you want," she explains. "I can go to Greene's and buy a one-pound filet and have it cut into quarters. Sometimes you spend a little more, but other times you don't. For example, if the whole filet is $29.99, the four pieces are just $7.50 each. You can't buy a filet mignon for that price in the grocery store."
Borowy also shops there because she likes that the meat is bright red, as opposed to pink, as it is in many grocery stores. "You're not going to get the same quality of meat in a grocery that you get at Greene's. It's fresh meat without preservatives," she says. "And I can get exactly what I want."
"'YOU NEED TO GO FULFILL THAT DREAM,' HE REMEMBERS HER SAYING. 'GO OPEN THAT STORE.'"
Jane Dorsey is a family friend who has known Greene for more than 30 years. "[Customers] want an excellent product, and they want excellent customer service. You're going to find both here. He takes pride in what he does," she says. "This is his dream, and it's finally come true."
Besides taking you back in time with fresh meat wrapped in white butcher paper, Greene does something else that small corner stores used to do. Every adult who comes in gets a free cup of coffee, and every child gets a treat.
"They don't want to be in here with mom or dad. They want to be outside playing," he says. "But they see Mr. John, and they get a pack of cookies or a candy bar."
This personal touch keeps people coming back. And people appreciate that Greene's is a family affair. Out of the seven kids in his blended family with wife Dawn, two of them—Josh and Gavin—work full-time at the store. While Gavin eventually wants to work for the Maryland State Police, Josh, who has learned to become a butcher like his dad, can see himself taking over the business one day.
While the number of butchers has shrunk, Greene is not going anywhere for quite some time.
"There's none of me left. I was taught by dinosaurs, and all [those] dinosaurs are dead," he says. "Now, I'm the dinosaur."