John Shields Shares Recipe and Talks New Cookbook
The owner of Gertrude's has a new cookbook and new perspective on life.
More than 20 years ago, long before farm-to-table became a catchphrase, there was John Shields, who traveled up and down the Chesapeake Bay meeting with oystermen, fishermen, and growers, and helped define modern-day Mid-Atlantic cuisine.
With the release of his latest cookbook, The New Chesapeake Kitchen, the veteran author and owner of the newly named Gertrude's Chesapeake Kitchen is once again reimagining regional fare, not only because the bay has changed, but because he has changed.
"Seven years ago, I had a heart attack," say Shields. "I had to be really mindful of what I was eating. That got me thinking about how we've eaten for thousands of years, and it has been primarily a plant-forward diet."
To that end, he calls the recipes in his new book both "bay- and body-friendly." We sat down with Shields to talk about his latest venture, how he got his start in the field, and keeping company with John Waters.
Why did you want to write this book?
The idea for The New Chesapeake Kitchen came about 10 or 12 years ago. I started making notes of what I was eating and where I bought it, and I asked myself if what I was purchasing was benefiting the community. Also, I don't want to sound morose, but it's the thing I want to leave—it's my legacy.
Where did the book's name come from?
I looked at what went wrong and where we are and what could possibly be a vision for the 21st century. We have to keep one foot in the past to see our way forward, but we need to have a whole new look at the way we eat—a lot of the fish that we used to have in the bay aren't here. Some of the protein is so precious that we can't eat it the way we used to. Then we have some species that weren't here before. We have to take a snapshot of now.
How do you want people to use the book?
It's a cookbook, and there are a lot of fun recipes, but I also hope that they notice the way it's put together. I've separated the recipes by cooking techniques because I think it takes us back to the idea of plant forward. The idea is to stretch the protein. If we made crab cakes, that could be $60 a pound right now, which would feed three people. But if you turn it into soup, you could make something that is quintessentially Chesapeake and feeds eight to 10 people. It's bay- and body-friendly.
Why did you thank your cardiologist, Sonia Baker, in the dedication to the book?
There were some not-great things happening with my heart, and I was having a hard time finishing the book. She said to me, 'Now, listen, it's a book. How many of these have you done? Just finish it up—you know how to write a cookbook.'
Why did you want to be a chef?
I was working at some clubs in Cape Cod playing the piano. I was with John Waters' repertory company—we are still friends. A friend of mine, who was a sous chef at the Provincetown Inn, broke his ankle. He said, 'Hon, you have to go up and cook tonight.' They brought out these big mesh bags of garlic. I had never seen a whole head of garlic in my life—I was Catholic. That's really how I started cooking. There was no thought at all.
---
Recipe: Crispy Rockfish Tacos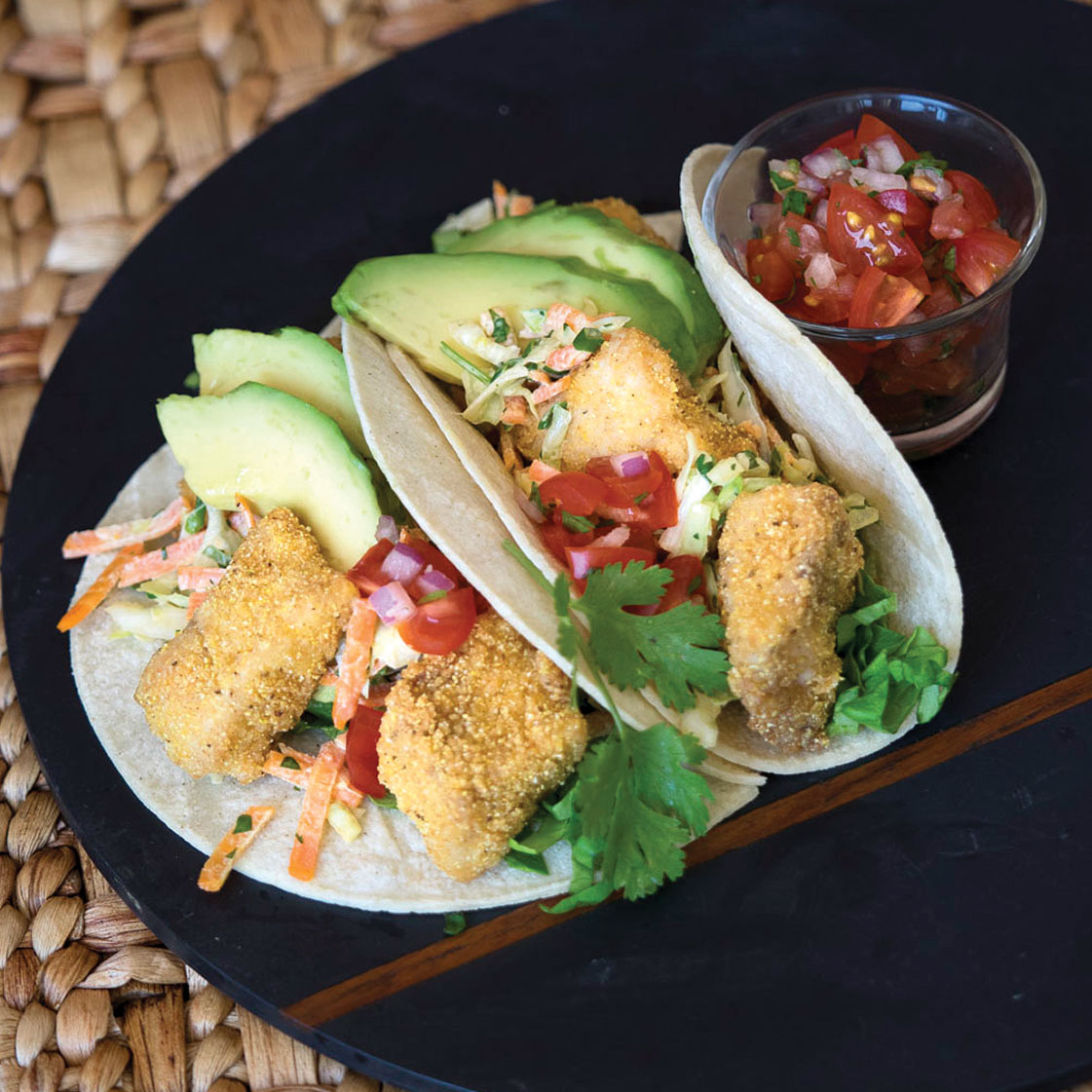 This is some of the Chesapeake's plant-forward eating at its best. A whole slew of wonderful vegetables coming together, all wrapped in a warm corn tortilla, with crispy pieces of the Bay's favorite finfish, the rock—a.k.a. striped—bass. This dish works well for a party if you set up a taco station with all the ingredients, allowing guests to make their own. Serves 4.
Ingredients
1 pound rockfish filet
1 cup flour
2 teaspoons salt
1 teaspoon cumin
1 teaspoon garlic powder
½ teaspoon chipotle powder
½ teaspoon paprika
¼ teaspoon cayenne pepper
¼ teaspoon freshly ground black pepper
Oil for frying
8 fresh small corn tortillas
Lime-Jicama Slaw
1 cup shredded cabbage
½ cup shredded jicama
¼ cup chopped green onion
¼ cup julienned carrots
1 tablespoon chopped cilantro
¼ cup mayonnaise
Juice of 1 lime
Avocado Cream
2 ripe avocados
½ cup sour cream
Juice of ½ lime
Pinch of ground cumin
Salt, to taste
Directions
In a bowl, combine the cabbage, jicama, green onion, carrots, and cilantro. In another small bowl, combine the mayo and lime juice. Pour over the top of the vegetable mixture, tossing to coat well. Refrigerate for one hour before serving.
Cut the rockfish filets into 1½-inch chunks. In a bowl, mix the flour with the salt, cumin, garlic powder, chipotle powder, paprika, cayenne, and black pepper and blend well. Heat oil to a depth of 1½ inches until quite hot. Dust the rockfish pieces with the flour mixture and shake off excess. In batches, fry fish until golden brown and cooked through. Remove the pieces of fish with a slotted utensil and allow to drain on paper towels.
While cooking fish, heat a dry (not oiled) cast-iron skillet and warm the tortillas for about 30 seconds on each side. Wrap tortillas in a damp towel and keep warm while heating the rest of the tortillas. To assemble the tacos, place a spoonful of slaw in the center of each tortilla, followed by several pieces of fish and a dollop of Avocado Cream. Remove the skin and pit from the avocados and place the flesh a bowl. Mash the avocado and then add the remaining ingredients.
Garnish with a teaspoon of salsa, plus radish. Serve lime wedges on the side.

This excerpt is taken from The New Chesapeake Kitchen by John Shields. Published by Johns Hopkins University Press © 2018. Reprinted by permission of the publisher.