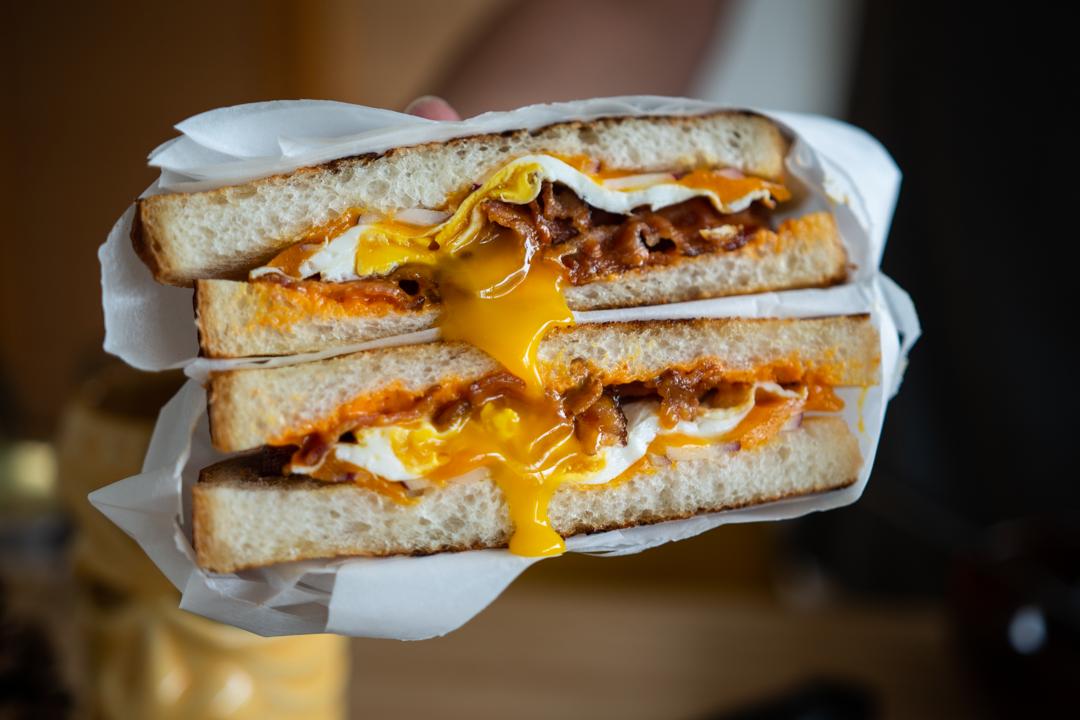 Photography by Justin Becks
Those hoping to start their day with a delicious egg sandwich in Tuscany-Canterbury will soon need to look no further.
Kitsch, a cafe offering griddled egg sammies, La Colombe coffee, a small selection of pastries, and locally sourced snacks, is aiming to open the week of October 12 on the ground floor of The Carlyle Apartment Homes on West University Parkway near the Johns Hopkins University Homewood campus. Owner Jacqueline Mearman, former executive pastry chef for Atlas Restaurant Group, and her team will serve up quality egg sandwiches—as well as some non-traditional specials.
"We've got a few surprises," Mearman says. "It won't just be all egg and cheese."
The cafe is using bread from Stone Mill Bakery that will be griddled (instead of toasted) using Made In cookware on induction burners, "so that we have a really consistent product," Mearman says. "With our experience in fine dining, that's the goal, even if it's an egg sandwich, it still needs to be a quality product."
Customers can build their own sandwiches and select different cheeses, meats, and veggies. A rotating specialty sandwich will always be on the menu, and will probably be "a little over the top," according to Mearman.
Although Mearman has previously worn many hats within the restaurant industry—including working as a sous chef and even a distiller—most of her career thus far has focused on pastry. In keeping with that background, there will, of course, be a limited selection of sweet treats.
"I am doing a very small pastry offering because I don't think I'd be able to get away with not doing it," she says with a laugh.
Expect desserts such as a to-go cheesecake trifle made with local chutneys and a fudge-like chocolate bar filled with butterscotch, pretzels, and marshmallows.
Speciality coffee roaster La Colombe, out of Philadelphia, will provide the coffee, but Mearman says just about everything else will be sourced from around the region—including the hand sanitizer, which comes from Mount Royal Soaps in Remington. Wild Kombucha products, from Mobtown Fermentation, will also be available. Other locally sourced snacks include Capitol Kettle Corn out of College Park and beef jerky from Landcrafted Food out of Southwest Virginia. (Mearman says the Cajun-flavored sticks are a can't-miss.)
All will be easy to grab-and-go out of Kitsch's 400-square-foot space, which Mearman is renovating herself.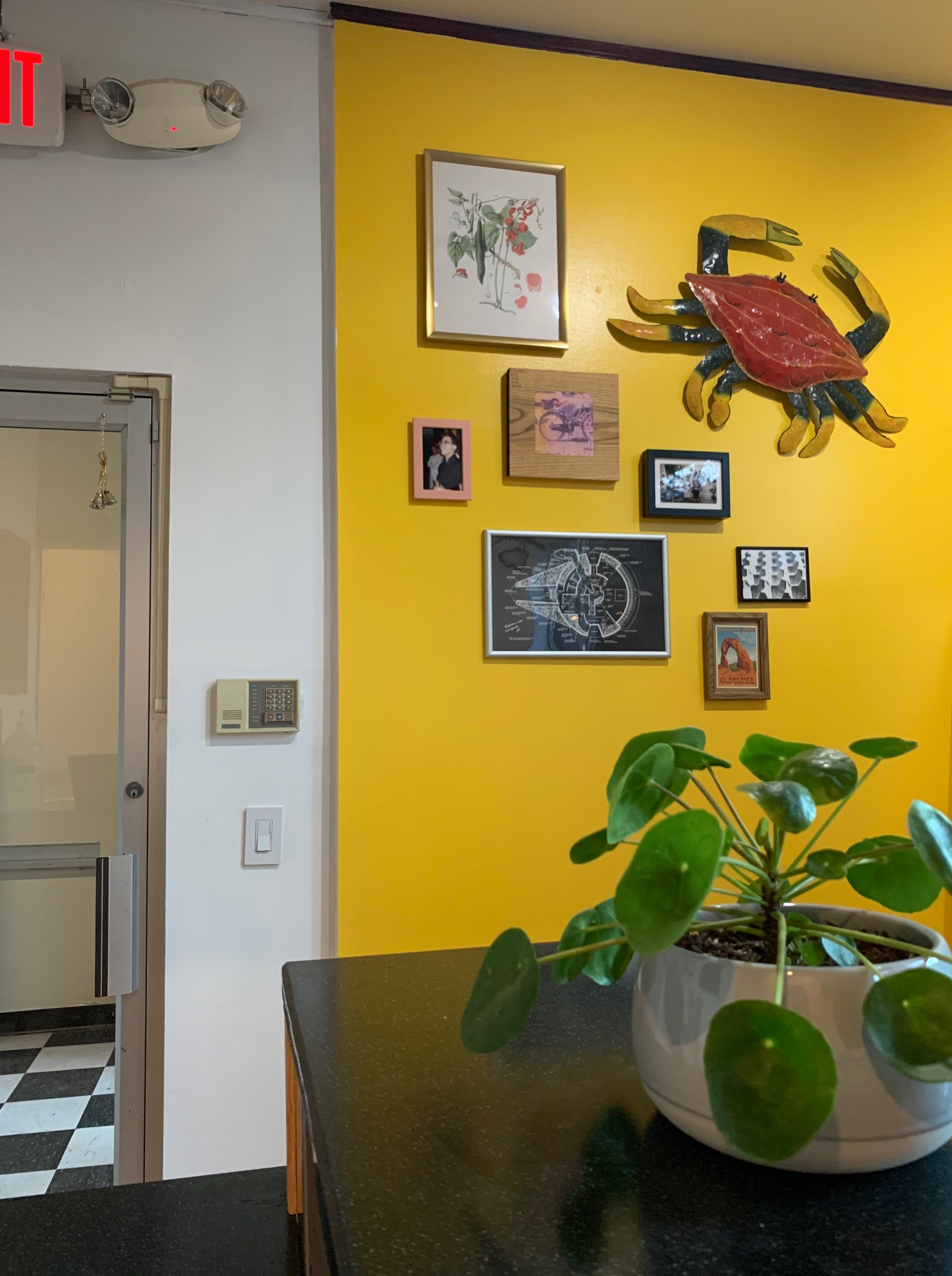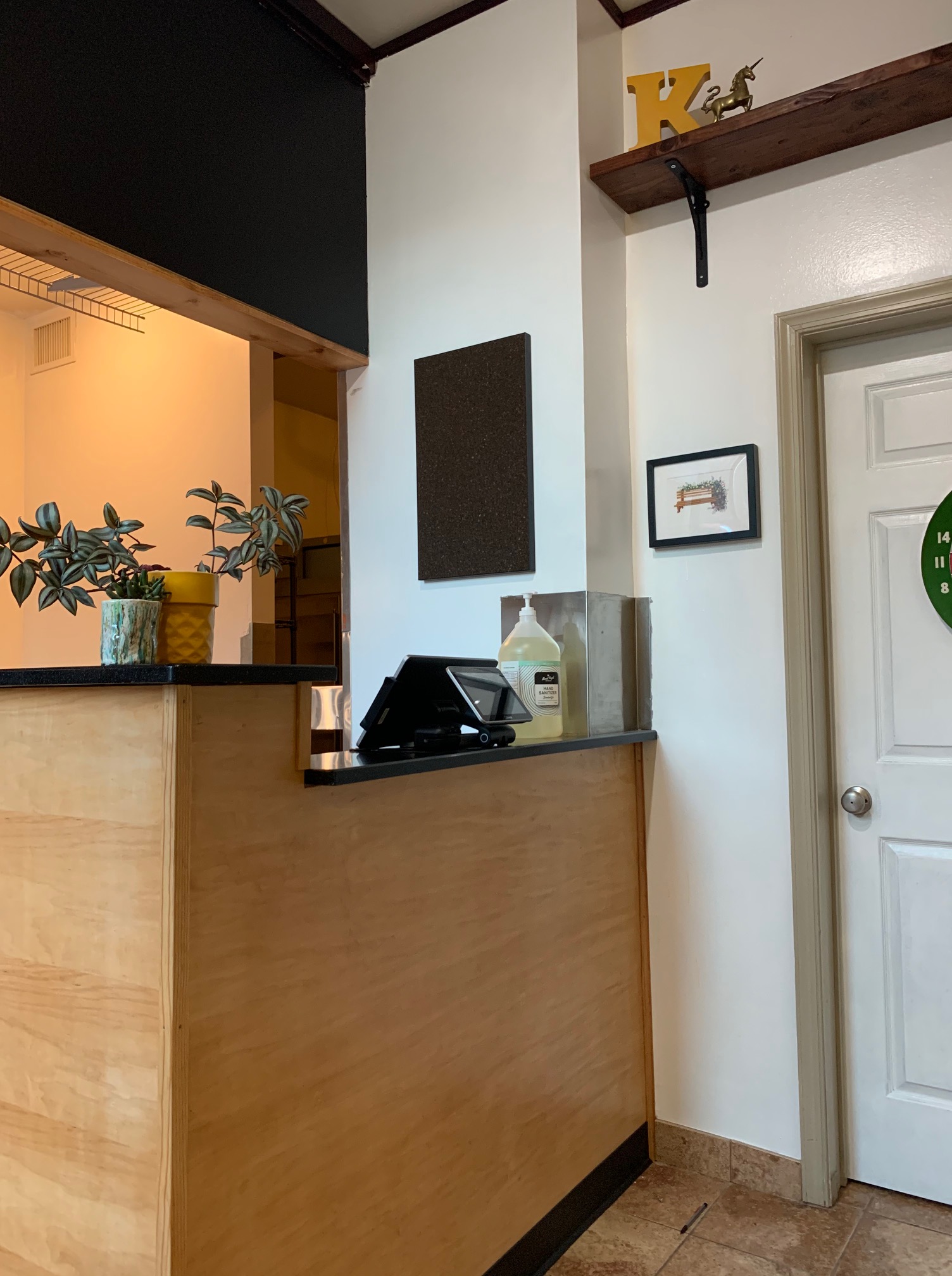 She says that the cafe's inception was nothing short of serendipitous. The concept came after seeing the space, which went up for rent at a low price while Mearman and her partner, also a chef, were quarantining in their home—which is very close by—this spring and summer. The size and location of the space, coupled with the makeup of the neighborhood, called for something easy and efficient, but still delicious.
When the space became available, it was also a time when the restaurant industry was very much in flux due to shutdowns from COVID-19.
"We knew and accepted that we were going back into an industry that was going to be a complete 180," Mearman says. "And it was very disheartening."
She made it one month back at her previous job before she realized it wasn't nearly the same, and some of the issues facing the restaurant industry were more prominent than ever.
"This is something that [famed Momofuku founder] David Chang is talking about a lot right now—that our industry, in more recent years, even before COVID-19, is kind of going off the rails," Mearman says, "We have employees that don't make livable wages. A lot of times they don't really have training available to them to move up. It's just something that's been talked about in the restaurant industry for the last few years. Why are we working 70 hours a week? Why don't we have lives? Why don't we have time for our families and our kids, if we have them?"
Mearman sees Kitsch as a place to start changing the narrative, and to create a better work-life balance for herself and her staff. She supports raising the federal minimum wage to $15, and plans to pay that rate to her employees. Her workers will also all begin at the same level and learn every task required to make Kitsch run smoothly.
The cafe also has a community-focused mission, with one percent of proceeds benefitting two local organizations dedicated to health education.
"We really believe in the city," Mearman says. "If I can just create five jobs for people that don't have them right now because of what's happened [with COVID-19], or give a little bit to these organizations so they have just some way of growing and improving our community, then I'm happy. That's the most important part to us."
Kitsch will be open 7 a.m. to 4 p.m. Monday through Saturday. But Mearman hints that once breakfast gets rolling, she won't stop there. She has plans to host an evening pop-up inside Kitsch down the road. Stay tuned.