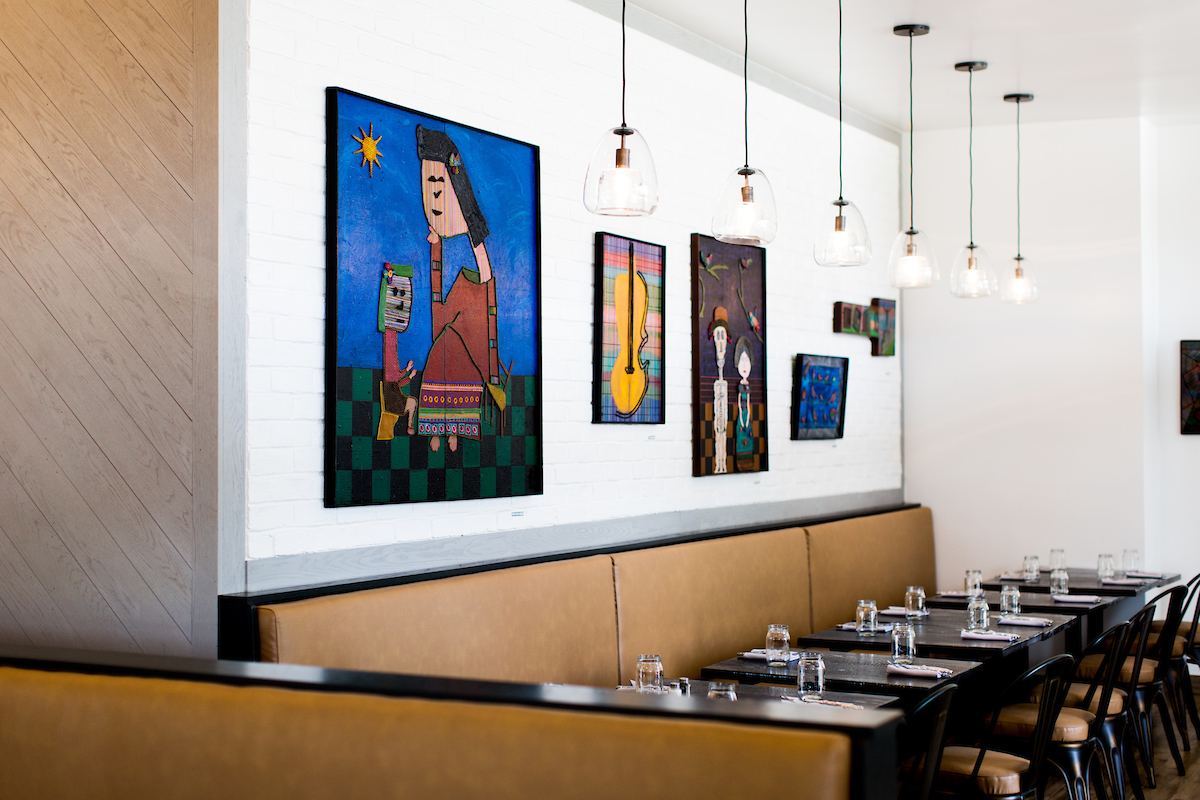 Photography by Justin Tsucalas
In only four months, Chad Gauss, the chef best known for churning out creative comfort food at The Food Market in Hampden, has managed to transform a vacated Italian restaurant into a colorful space that celebrates his unique takes on Central and South American cuisine.
La Food Marketa will open its doors for dinner service on Thursday, September 8 in Pikesville's Quarry Lake at Greenspring—a mixed-use development that Gauss is now putting on the map as a fine-dining destination.
"From a chef standpoint, you never want to do the same thing twice," Gauss told us last spring. "And Baltimore is too small to have two Food Markets."
The "Spanglish" concept, which was inspired by a pop-up that Gauss hosted at The Food Market during Winter Restaurant Week, highlights a menu listing everything from small "chiquita" and "pequeño" plates (think cilantro tuna and buffalo chicken taquitos) to larger entrees including Corona shrimp, beef tenderloin tostada, and a South American twist on classic meatloaf with mesquite rice and salsa verde.
Adds Gauss: "And, yes, we'll also serve simply grilled meats and fish—and of course, we'll have a bangin' burger."
The chef, who has become known for putting his own spin on the classics, has promoted longtime Food Market employee John Bedingfield as head chef at La Food Marketa to help execute his vision.
"He started at the bottom, learning the ropes in the kitchen," Gauss said. "We have a similar style and it makes perfect sense to incorporate him to lead the effort here."
A brand new beverage program inspired by the theme will complement the restaurant's cuisine. Along with a variety of mojitos, sangrias, and Mexican sodas, the bar will offer a cocktail menu including staples like "The Pikesville Colada" (white rum, mango puree, agave nectar, chipotle syrup) and "The Greenspringer," which fuses reposado tequila with lime, cilantro, avocado, and cayenne.
The space itself was built by Charles Patterson of SM+P Architects—the local firm that has designed the likes of La Cuchara, Boathouse Canton, and Alma Cocina Latina in addition to The Food Market. The restaurant, which highlights custom banquettes, intricate light fixtures, and colorful artwork that serves as a nod to South American culture, seats 130 inside and 64 on its outdoor patio.
La Food Marketa will join other eateries such as Jasmine Asian Bistro, Pizza Blitz, and Quarry Bagel Cafe in the 230-acre community. Citron, a new contemporary American concept from local caterer Charles Levine, is also slated to debut in Quarry Lake this fall.
Gauss says that he is excited to provide county residents with a new "go-to" spot.
"I like giving people food that they want to eat," he said. "It's that simple."