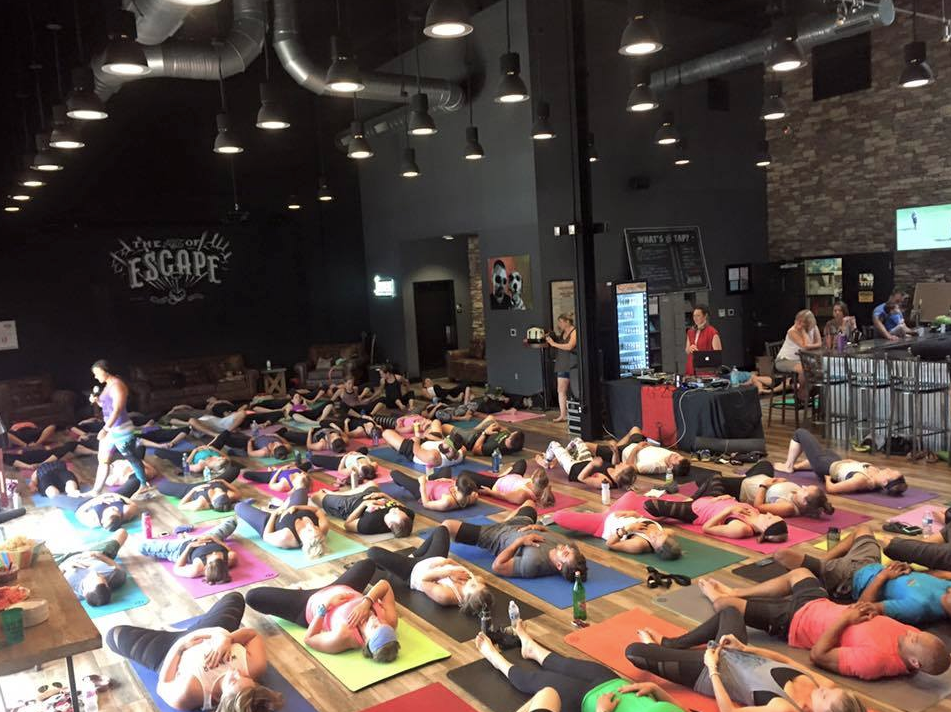 Courtesy of Jailbreak Brewing
A few dozen yogis unfurl and slap down their mats, as four Lululemon-clad instructors take their perch at the front of the room. Class is about to begin and, since space is tight, one of the instructors calls out to students trickling in, "Just set up on top of the bar." Suddenly, you realize this isn't your typical yoga class.
In fact, this is the scene at Jailbreak Brewing in Howard County, which hosts a monthly Sunday program called Yoga on Tap. Partnering with nearby studio Yoga Love, the brewery houses more than 80 students in its taproom for an hour-long session of Power Flow, an upbeat program complete with a DJ. When class is done, students fold up their mats and throw back a few pints.
"These days, people want to get in their workout and social time all at once," says Liz Sheer, who runs Jailbreak's marketing, social media, and events. "People are so busy and this is a way to fit in yoga, beer, and shuffleboard all under one roof."
Jailbreak, whose next event is this Sunday, is not alone in capitalizing on this concept. This Saturday, Union Craft Brewing is hosting Grateful Phlow, featuring yoga instruction by Nila Mechali and Jason Herd to jam-band tunes, a free Union beer, live music, and arts and craft vendors.
"We want to introduce the yoga world to this amazing home brewery," says Mechali, who teaches at M.Power Yoga and is expecting about 150 people during the 75-minute Vinyasa flow in Union's parking lot on Saturday. "And also tell the greater public that yoga is not just about putting yourself in these pretzel-like poses." M.Power itself also hosts Natty Bohga, a creatively named series that takes place on the rooftop of the Natty Boh building.
And, just last week, Heavy Seas Beer launched a monthly series called Bend & Brews, where students take a Vinyasa class in the brewhouse among the shiny tanks, led by Charm City Yoga's Kelley Stump. A $25 ticket gets you the hour-long class, a beer tasting, $1 off pints, and $1 off brunch provided by a local food truck. The next two classes are August 9 and September 13.
"Craft beer is exploding with the younger population," says Heavy Seas events coordinator Clare Bublitz. "But people still want to feel healthy. The idea is you do yoga so you can have that craft beer afterwards."
In fact, the health aspect is a big reason why craft beer and yoga may have such similar fanbases. The idea of organic ingredients and supporting local community speaks to beer enthusiasts and yogis alike.
"People that do yoga are very in tune with what they put into their bodies," Sheer says. "And we at Jailbreak make a huge effort to be eco-friendly. We give all our grain back to a Frederick farm and get all of our fruits and vegetables within walking distance. Everything is organic and locally sourced."
Sheer says she's even done beer tastings at Lululemon stores and envisions starting to offer more frequent Yoga on Tap classes at the brewery. "I just see this continuing to grow," she says. "It's mind-blowing how much our taproom fills up every Sunday."