Burger Kings
With four locations—and still counting—locals are flipping for the patties at Abbey Burger Bistro.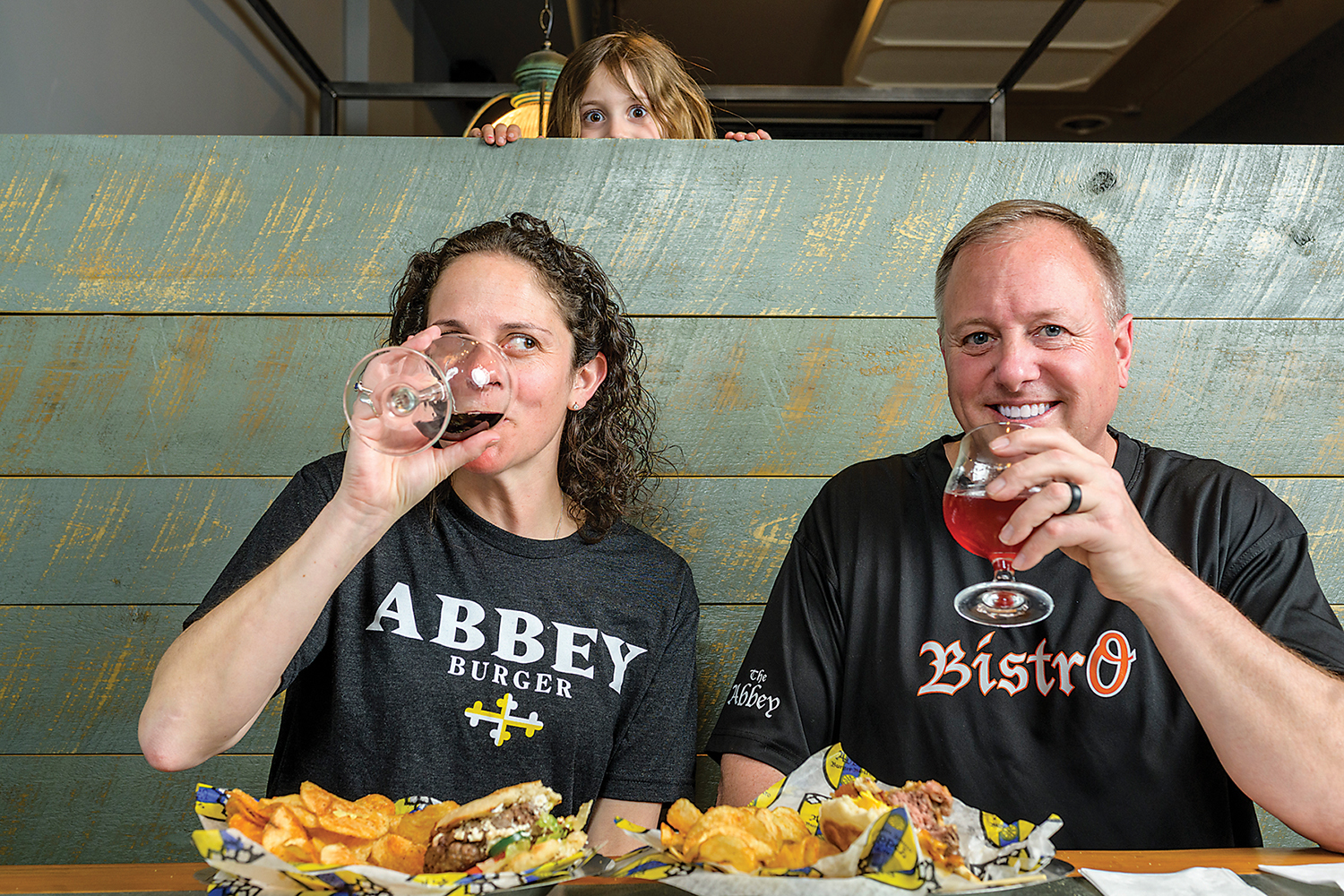 Adam Jones needed one last fix. In January, a few hours before the Ravens' shocking playoff loss to the Tennessee Titans and a couple weeks before he and his family would relocate halfway around the world, Jones strode into Abbey Burger Bistro. As usual, the former Orioles star—who had just signed a two-year, $8.2-million-dollar contract to play in Japan's Nippon Professional League—ordered the SimplyAJ10. A colossal kitchen-sink creation (think Kobe beef, pepperjack, avocado, bacon, and jalapeños on an English muffin) that he concocted and that's named after his heavily followed Twitter account, it has been a permanent item on the menu ever since 2012, when the outfielder led the O's to their first playoff appearance in forever.
Although Jones is gone and the Birds have fallen flat on their face, Abbey Burger is still going strong.
"He's good people," says Marigot Miller of Jones. Seated at a quiet booth in Abbey Burger's newly opened Mount Washington restaurant, the 39-year-old owner and mother of two—Raegan and Liliana—describes how Jones was instrumental in putting the restaurant on the map. How he started coming in after games during that 2012 season and how his brainchild burger eventually became a fixture. How MTV soon caught wind of it and came to Fed Hill to film Jones devouring the thing for an episode of Off the Bat. How, even today, after 11-plus years in business and numerous menu iterations, the Simply AJ10 remains a popular menu item at one of Charm City's most popular establishments. But Abbey Burger's success story is less about Baltimore's Jones and more about America's jones for patty perfection.
Legend has it that the hamburger was invented in 1891 by a German cook who lived in the town of Hamburg. Around that same time, according to a different tale, brothers Frank and Charles Menches begat the burger when they ran out of sausage at a county fair and used chopped beef as a stand-in. Others claim that the hamburger hatched in 1900 at a New Haven, Connecticut, joint called Louis' Lunch (not for nothing, the Library of Congress supports this story). Regardless of which account you believe, there's no denying that Americans—with an assist from iconic chains such as White Castle and McDonald's—fell hard for hamburgers. It's a love affair that refuses to flame out.
"It's still the favorite entrée for lunch or dinner in the United States," says Bret Thorn, senior food and beverage editor at Nation's Restaurant News. "Americans could eat hamburgers all day long." Since the turn of the millennium, the Yankee obsession has reached new heights. In 2001, acclaimed French chef Daniel Boulud opened Bistro Moderne, a midtown Manhattan spot that featured a sirloin patty stuffed with short ribs and foie gras (still on the menu today, it goes for a cool 35 bucks). Just like that, the gourmet burger boom was off and running.
"It's still the favorite entrée for lunch or dinner in the United States."
Like most culinary crazes, the haute hamburger took time to penetrate American cities not named New York or Los Angeles. Early in 2008, when native Baltimorean Russ Miller was looking to open his own Federal Hill restaurant in the building formerly known as Sky Lounge (where he'd been a manager), he enlisted the help of pal Patrick Morrow. A self-made chef who was working a couple doors down at Ryleigh's Oyster, Morrow suggested to Miller that gourmet burgers—a trend that hadn't really reached Charm City yet—were the way to go.
That summer, the two friends hightailed it to Manhattan for a one-day burger crawl that included stops at seven well-known haunts. They hit JG Melon on the Upper East Side. Then down to the West Village, where they sampled Corner Bistro. From there, it was a short walk to The Spotted Pig. That's when Morrow had his light-bulb moment. "Hands down the best burger I've had," he says. "Ever."
By the time Morrow and Miller drove home to Baltimore that night, they knew exactly how they wanted to do business. Unlike some kitchens that use broiling (no crispiness) or grilling (only crispy where the grill bars touch the burger), they would employ a flat-top griddle to allow for maximum searing and therefore maximum texture. Every patty would be hand-formed, and every patty would weigh in at exactly seven ounces. Oh, and one more thing: "We knew we wanted a checklist," says Morrow, who designed the original menu and still serves as a consultant but has no ownership stake in the restaurant. (When asked what his title he is, he says simply, "Russ' friend.") From the very beginning, the menu's itemized checklist—which today boasts 94 different options (from grilled pineapple to spicy crème fraîche) across eight different categories—included exotic meats like lamb and bison. It also featured foie gras, which didn't go over very well with animal-rights supporters.
When Abbey Burger first opened its doors in November 2008, an angry throng of PETA activists was waiting outside. They didn't like the idea of fowl being force-fed through a tube. "They were at the front door with bullhorns," says Marigot Miller, who holds a master's from Loyola in early childhood special education and back then was busy plying her trade as an autism consultant. Although she performed the occasional odd job around the restaurant, she had no intention of becoming business partners with her then-fiancé, Russ. More than a decade later, foie gras is long gone from Abbey Burger. As for Marigot, that's a different story.
​
Fun Fact
What's In A Name
How Abbey Burger got it's moniker.
Uptown Abbey.
That's how Abbey Burger's newest place in Mount Washington has come to be known internally. Russ Miller's mother came up with the nickname because A) the store is eight miles north of the Federal Hill location, B) it has a distinctly more uptown feel, thanks to design choices like luxury laminate flooring and see-through garage doors that allow plenty of light to pour into the space, and C) well, the TV show. But don't let the moniker fool you.
The naming of the original downtown Abbey Burger had nothing to do with the six-time Emmy-winning series. Truth is, Downton Abbey didn't hit the airwaves until September 2010, nearly two years after the Baltimore burger joint opened. So where exactly did the dubbing come from?
"There was this big steel door on the front," says Miller of the first time he got into the Fed Hill building after buying it. "It kind of looked like one of those doors in a church that would lead to the catacombs."
A graduate of Loyola High School, Miller knew all about abbeys and monks and their place in brewing history. He also knew that he wanted to open a bar that specialized in Belgian beers and, oh, by the way, offered some burgers. So he christened his baby accordingly. In fact, if you look at the restaurant's logo, which features Loyola's blue and gold colors, you'll see that "The Abbey" is the featured part of the name, while "Burger Bistro" is almost an afterthought beneath it.
As it turned out, the burgers became the star of the show. A dozen years later, regulars and staffers alike refer to it simply as Abbey Burger. Or Uptown Abbey, as the case may be.
Shortly after her second daughter was born in October 2013, the longtime vegetarian went all-in on the burger biz. Maybe it was the meat cravings she'd had during pregnancy. (Her favorite burger today is the build-your-own bison with goat cheese, mushrooms, jalapeños, and spicy crème fraîche on an English muffin.) Or the fact that, a few months earlier, Abbey Burger had opened a second location in Ocean City. Regardless of the reason, the bottom line was that the Millers weren't just spouses anymore: They were co-workers.
"Working with your husband is challenging," says Marigot, who handles front-of-house duties such as customer service and staffing, while Russ focuses on back-end tasks like finance and maintenance. "All of our stresses are the same stresses. I don't know how many times I told him I quit. But we've come into a nice balance." That's not to say there haven't been other obstacles.
In the famously fickle F&B industry, gold mines can become land mines in an instant. Trends like Beyond Meat, or like Popeyes' chicken sandwich breaking the internet, have taken a bite out of the burger biz. The highly publicized Freddie Gray incident—not to mention the current COVID-19 crisis—continues to aftershock Baltimore's retail community, restaurant and otherwise. And let's not forget about location, location, location: Abbey Burger's Ocean City spot, which at 7,500 square feet is roughly triple the size of the other outposts and has an extremely seasonal appeal, has been something of a money pit. But the most challenging thing for the Millers—more than food fads or urban flight or tourist traffic—is family.
"It was much easier before kids," says Marigot. Seated at that quiet booth in Mount Washington, she wears a necklace that Russ gave her for Mother's Day that has two interlocking silver rings, each bearing the name of one of their daughters. Even when they're not with her, they're with her. Which is a good thing, because these days, with four locations up and running and a fifth slated to open this summer in Havre de Grace, together time is at a premium.
Although there's more flexibility during the week—when Marigot serves as Girl Scout leader and runs the Miller Family Shuttle with nonstop service to and from school—the weekends can be tricky. Most Fridays and Saturdays, at least one parent is working until midnight. This past October, in what could be the most telling sign of all, the Mount Washington store had its grand opening on Raegan's sixth birthday.
"Everything always goes over time and budget. We just wanted to get open," says Marigot. "But we had lots of friends and family there, and we sang happy birthday, so she felt good about it." She pauses. "Besides, now I won't forget when the birthday is for this place."
The restaurant itself didn't receive any gifts that day, but it has earned numerous awards over the years. In 2013, in a list of the best burgers in the country, USA Today singled out Abbey Burger as Maryland's lone representative. Last year, the national newspaper named it the best place to get a milkshake in the Old Line State. But perhaps the highest of all the honors is that, after nearly a dozen years, it's still around.
The recession came and went. So, too, did competitors like Elevation and Smashburger. Meanwhile, Abbey Burger keeps chugging right along, with its flat-top griddles and a prep cook who answers to the name of Maestro and is responsible for hand-forming every patty. And that checklist.
"You see more checklists now," says Marigot, bemoaning the fact that rivals such as Kooper's and Red Robin have also waded into the make-your-own market, while also acknowledging that Abbey was hardly the first to go that route. "Nobody's totally reinventing the wheel. It's still a burger, and burgers are a staple in America. They're not going away."
By the looks of things, neither is Abbey Burger.