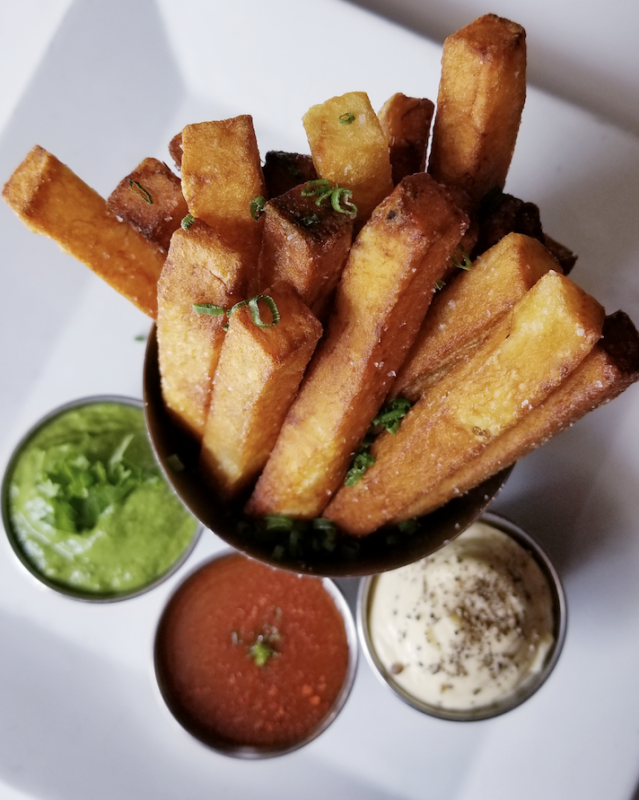 Courtesy of Ludlow Market, Bar & Bottle Shop
When Baltimore-born chef Christopher Audia first met with Wine Market Bistro owner Chris Spann about launching a new concept in the Locust Point space, it didn't take long for the two to come to an understanding about the menu.
"Chris explained that he wanted this to be more of a neighborhood spot that people would visit fairly frequently," Audia says. "He wanted to make it so that people could stop in and get a few dishes to share with friends, and really make the experience a little more playful."
Locals will be able to try out the new concept for themselves when Ludlow Market, Bar & Bottle Shop—named after its proximity to Ludlow Street in Locust Point—debuts to the public in mid-June.
The space formerly housed Spann's Wine Market Bistro, which he closed in March after 13 years due to lack of business. This time around, the spot will have a more casual feel with expanded food and drink menus at varying price points, an updated interior, and a focus on small-batch offerings in its attached wine shop—which remains open throughout renovations.
Audia plans for the locally sourced menu to fit all occasions, whether diners are looking for small plates, sandwiches, or more elaborate entrees. The chef, who was born in Hampstead, went to Johnson & Wales University in Rhode Island for culinary school, and later moved to Boston to work at French restaurant No. 9 Park. He recently moved back to the area to be closer to family, and built his resume at D.C. hotspots Mirabella and Tail Up Goat.
"I've worked in a fair amount of classical kitchens," he says. "I never got the chance to actually eat at Wine Market Bistro when it was still open, but I think the style of food will be similar. It's going to be contemporary food, but executed in a more classical sense."
Though Audia is still hard at work testing dishes, he is eager to introduce eats like his grilled lamb ribs with hazelnut harissa and herb salad, Belgian frites finished in beef fat served with three dipping sauces, and toasted crostini topped with house-made ricotta, pea pesto, and grated parmesan.
The bar program is also aiming to accommodate a wide range of tastes by introducing draft beer, boozy slushies, and a gin and tonic menu, while keeping Wine Market's lengthy wine list.
"We're trying to pair all of the classical food with these very much Old World wines," Audia says. "And we're going to focus on making sure that the cocktails go well with the shareable appetizers. We want to be able to use the pairings to guide guests into any specific experience."
While the space inside the historic Foundry Building won't lose its industrial feel, the team has enhanced it with new furniture and tabletops, a fresh color scheme, and more lighting on its outdoor patio. Spann has added a partition wall to separate the bar from the dining room in hopes of making it its own destination.
Additional changes are in the works at the adjoining bottle shop, which will expand its offerings with more beverages from family-owned wineries, distilleries, and breweries. With the neighborhood in mind, Spann is also adding refrigeration space to the shop so that locals can stop in to grab cured meats, cheeses, and other gourmet takeaway items. 
Audia is also excited about embracing the local community, not only through exploring Chesapeake flavors, but also by getting to know the Locust Point neighborhood
"Baltimore has such an up-and-coming food scene with so much potential," he says. "Being a part of something that can create more of a community and a culture in the city has always been a dream of mine."