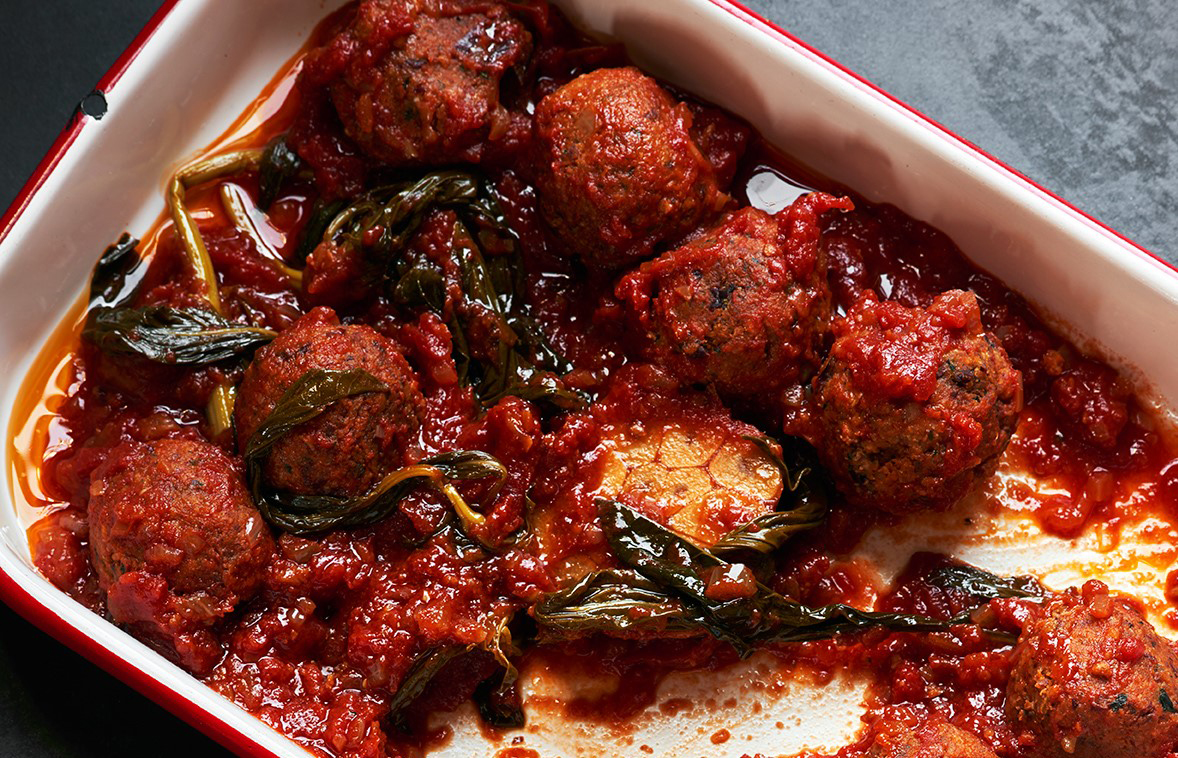 The baked vegan meatballs with ricotta marinara at Double Zero. —Courtesy of Double Zero
Asking for vegan options shouldn't always be complicated—so when Naijha Wright-Brown went to a restaurant, asked for cheese to be removed from a dish, and was told to eat at a vegan restaurant around the corner, she knew something had to change. 
At the time, Wright-Brown, owner of local vegan haven The Land of Kush, was looking for her next plant-based project after co-founding Vegan Soul Fest. Coincidentally, she went to Golden West Cafe in Hampden during their Vegan Week—a week of daily plant-based specials that the restaurant had been hosting since 2012. From there, Wright-Brown partnered with Golden West owner Samantha Claassen to expand the promotion throughout Charm City and offer an epicurean event for its growing demographic of herbivores. Says Claassen: "They want to eat like everyone else." 
Since Maryland Vegan Restaurant Week's inception in 2017, it's been a big hit. (One post on social media even called the partnership between Land of Kush and Golden West Cafe the "collaboration of the century," Wright-Brown says.) The special week, which was dubbed the first Vegan Restaurant Week in the country, happens twice a year, once in August and again in February. 
And Vegan Restaurant Week is different from other restaurant weeks, Claassen says. For starters, instead of offering the typical multi-course menus at a fixed price point, Vegan Restaurant Week ensures that every participating spot has plant-based options that are accessible across socio-economic demographics. 
Plus, this year, the week has expanded to run throughout the entire month—August 6-29—after the founders received feedback that people wanted the specials to last longer. "If there's 40 restaurants to visit, it gives you time to hit all of those and taste as many things as you can," Claassen says. 
And it's grown to get more of the surrounding counties involved, too, with restaurants as far as Bethesda, Towson, Owings Mills, and Takoma Park now on board. The hope is that the week will also inspire more eateries to create interesting (and affordable) vegan options. 
"We don't want another freaking salad," Wright-Brown says. "Chefs can be a lot more creative."
To that end, we've curated a list of six mouth-watering dishes to try this month—whether you're  a vegan, vegetarian, or even an omnivore who wants to get out of your comfort zone. 
Vegan Baked Meatballs: Double Zero
Celebrity chef Matthew Kenney's fourth location of Double Zero recently celebrated its debut on Light Street, offering plant-based pizza and other Italian dishes. Among the must-trys are the vegan meatballs with macadamia ricotta and marinara sauce.  414 Light St.
Vegan Cheesesteak: Hue Cafe & Apothecary
Looking for an alternative to the beloved Philly cheesesteak? This plant-based restaurant and tea shop in Owings Mills is serving a fresh-baked roll filled with "steak" strips, onions, peppers, faux cheese, lettuce, tomato, and banana peppers. 10210 S. Dolfield Rd. 
Rainbow Pad Thai: STEM Farm + Kitchen
Located within the R. House food hall, this spot grows its own leafy greens and herbs at its urban farm in West Baltimore. The rainbow pad thai is one of the signature bowls, topped with fresh bean sprouts, pickled purple cabbage, spinach, and rice noodles. 301 W. 29th St.
Tempeh Tantrum: Blue Zone Bagels
Nothing makes a hearty breakfast complete like a good bagel, and this plant-based BLT will give you the protein you need to start the day. The inspiration for these bagel creations comes from blue zones across the world, where people live the longest and have primarily plant-based diets.  1216 N. Charles St.
Chana Masala: The Verandah
Enjoy Vegan Week specials at this Indian restaurant in Hampden. The chana masala is the perfect comfort food option, highlighting slow-cooked chickpeas, onions, and tomatoes infused  with rich spices. 842 W. 36th St.
Cucumber Margarita Sorbet: The Charmery
Cool down with this boozy dessert by Baltimore-favorite The Charmery, which operates locations in Hampden, Towson, Federal Hill, and Columbia. The sorbet features cucumber, lime, orange, tequila, and triple sec. Multiple locations. 
Check out the full list of participating spots—including the likes of Friends and Family, Char'd City, Great Sage, Gangster Vegan Organics, Refocused Vegan, and Atchara Baltimore—here.