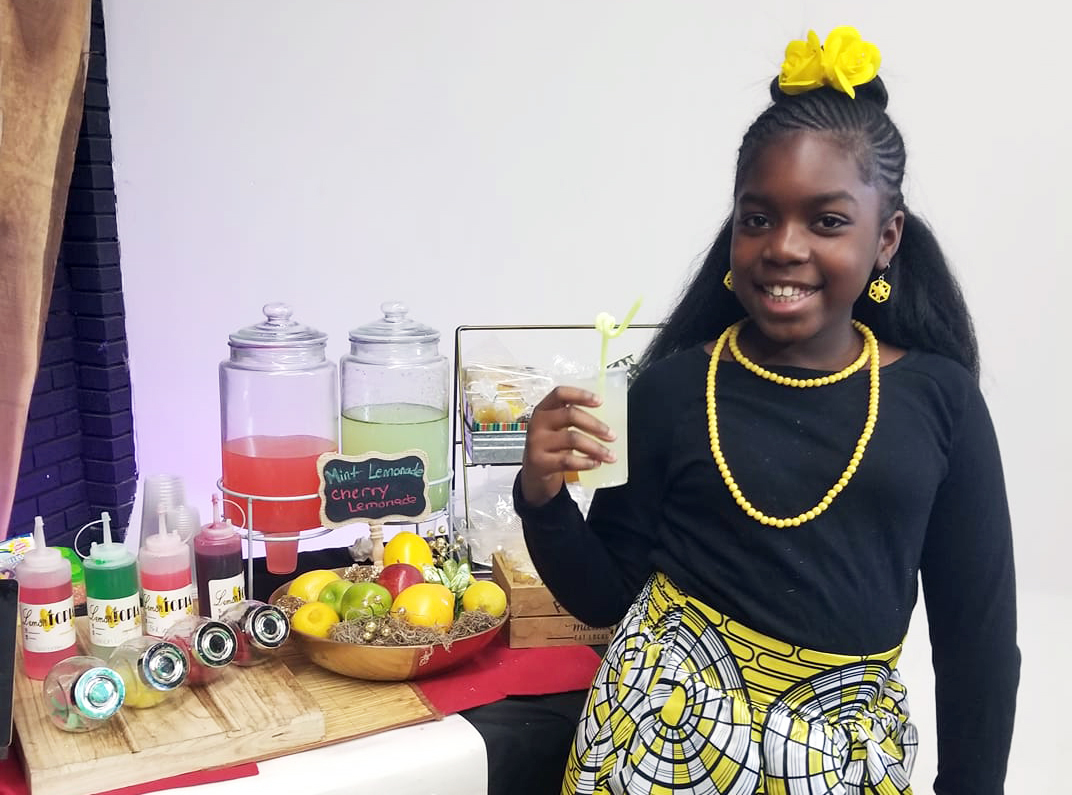 LemonTopia
On their routine trips to local farmers' markets around town, Jasmine Hall and her daughter, Jamaria Crump, have always made two requisite stops. The first is to the classic lemonade stand run by veteran vendor Stephen Posey.
"She always wanted a push cart just like Mr. Steve," Hall says of her 11-year-old. "They became friends and he started talking to her about how to perfect her recipe."
Their other visit is to Dorian Brown of Neopol Smokery, who introduced Crump to his signature cardamom lemonade.
"When she met him, she didn't even know what cardamom was," Hall says with a laugh. "But they had a whole conversation about how it's a spice that people usually don't think to add to lemonade. They went back and forth about all of the other things you can add to it."
Crump has since turned all of her knowledge from these business owners into LemonTopia—her own lemonade stand and bakeshop that is operating a temporary stall inside Cross Street Market until she begins sixth grade in the fall.
After years spent begging her mom for a lemonade stand, the young entrepreneur—who grew up squeezing lemons with her grandmother—hosted her inaugural pop-up at Govans Elementary School's Winter Fest bake sale in 2016.
"At first I wanted to just do lemonade," remembers Crump, who says she has a passion for being in the kitchen. "But they said that lemonade isn't a baked good. So I thought of all different lemon-flavored desserts I'd heard of before, like lemon bars and lemon cakes."
Since then, Crump has been peddling her signature lemonades (think mint, cherry, and a signature "Unicorn" flavor mixed with Nerds and Pop Rocks) and sweet treats at events across town, including a pop-up inside the old Pixilated space in Federal Hill, The Living Well's Handmade Holiday market, and last year's Red Bull Amaphiko festival.
"The festivals are the most fun," Crump says. "I love getting to meet all different types of people and other business owners."
Social skills are among the many lessons that Crump has been able to practice while running the business. Preparing her products has also put her math abilities to the test—especially when she has to double recipes for larger events.
"I have to calculate how much of every ingredient goes in," she says "and how much I have to sell it for to be able to make a profit."
Crump's willingness to learn has connected her to many local business owners including Dominic Nell of City Weeds—who supplies her with farm-fresh produce to make sustainable apple-cucumber and watermelon-radish lemonade flavors—as well as the owners of Dovecote Cafe, who have given her free reign to sell on their sidewalk whenever she pleases. She has also enjoyed getting to know Juan Nance of Healthy People Juice, who taught her how to properly press all of her liquids.
Hall, a teacher who decided to have Crump home-schooled for most of elementary school, says that she is grateful her daughter was able to have experiences with other food startups that took her beyond the classroom.
"Seeing the outpouring of people in the local community who are willing to teach her has been amazing," Hall says. "Her connections gave her the right people to educate her on all of the subjects that are relevant to her life right now. It got her back in that place where she was excited about learning. As a mom, that's been the best part."
Looking ahead, Crump hopes to make LemonTopia a mobile kitchen—but she says it won't be a typical food truck. Her "tiny house cafe" would ideally be located in an RV so that customers can come in to peruse her products, and enjoy their lemonade under a retractable awning out front.
"I hope that it goes to Paris," says Crump, an aspiring chef and model. "I want to travel all over the world with it and meet all different types of people."