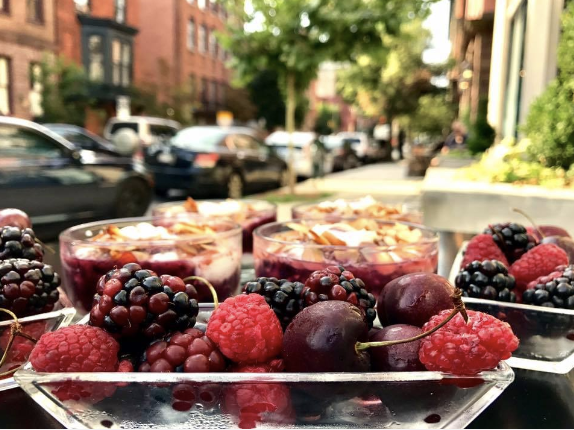 Cafe Fili via Facebook
Charm City is home to a colorful combination of cuisines, and this summer is the perfect time to expand your culinary palette. Baltimore Restaurant Week is back July 27-August 5, with more than 100 places bringing the best to your plate.
In its 13th year, the summer food frenzy is the longest running promotion in the region to offer delicious discounts. Participating restaurants will have special selections on fixed brunch, lunch, or dinner menus for the week, fueled by the collaborative support of the Downtown Partnership and Visit Baltimore.
For brunch and lunch, restaurants offer choices for two courses that range from a total of $12-20, and for dinner diners will have choices for three courses ranging from $20-$35. Reservations can be made online or through the mobile app Opentable, which is also partnering to sponsor the event.
New this year, nearby parking garages sponsored by LAZ Parking will have a $5 weeknight rate and a $10 all-day weekend rate, according to Jessie Krebs, Visit Baltimore's public relations manager. While in years past the biggest obstacle might have been getting a parking spot downtown, Visit Baltimore wanted to make that easier.
"We realized that over time there has been perception that parking downtown can be a hassle for customers," said Visit Baltimore president and CEO Al Hutchinson. "This year we wanted to show that that perception isn't a reality. We're hoping that that will be something special for this restaurant week."
This summer, more than 100 restaurants are participating in Baltimore Restaurant Week, so we wanted to narrow it down to some of the highlights.
Unbeatable Brunch: Wicked Sisters
The brunch bites at this Hampden site are looking wicked good. We like french toast. We like muffins. We're ready to try the French toast muffin. This first course menu option starts with a cinnamon sugar muffin, and is stacked with maple syrup bits, whipped cream, and Nutella powder. You just can't make this stuff up. 3845 Falls Rd., $15-33, (410) 878-0884
Unrivaled Lunch: Tio Pepe
Stopping in for lunch at Restaurant Tio Pepe's brings you straight to Spain. This year, the homemade Spanish cooking comes in several options for two midday courses at $15. Take time to try authentic dishes like gazpacho a la andaluza to start, and finish it off with tortilla Espanola Don Quijote or filete Tio Pepe. 10 E. Franklin St., $15-35, (410) 539-4675
Most Creative Menu: The Food Market
Does the idea of worms in dirt make you salivate? If your first thought is dark chocolate pudding with oreo crumbs, then you have the right instinct about dirt cups. The Food Market is making Restaurant Week extra fun with funky desserts and dishes like loaded nachos, duck confit potato skins, lobster-salted fries, and more. 1017 W. 36th St, $35, (410) 366-0606
Vegetarian-Friendly Place: Encantada
Last summer, this enchanting New American menu was our favorite sustainable option of Charm City's restaurant week. And this year, not much has changed as Encantada still brings us back to basics of fresh eating, from vegan to vegetarian to virtually any diet. Through brunch, lunch, and dinner, the menus are almost entirely meatless, including choices like tofu tacos and cauliflower steak. Take your time atop the American Visionary Art Museum, and enjoy $15 bottomless mimosas, Bloody Marys, Evolution Craft Brewing drafts & sangria at brunch and lunch. 800 Key Highway, $20-35, (410) 752-1000
The Newcomer: Chez Hugo Bistro
The latest French bistro has had our hearts since its opening this past Valentine's Day. Its spacious dining room is best for big parties and its semi-casual ambience is ideal for families, friends, and food. For restaurant week features, you'll find French classics like soup à l'oignon, Croque Monsieur, and steak frites for lunch or dinner. 206 E. Redwood St, $20-35, (443) 438-3002
Outdoor Option: Cafe Fili
Fill up at Cafe Fili with mediterranean mezze meals that will make you want to come back for more. From paninis, hot dips, cold dips, and a baklava selection, the adventurous eats are ideal when paired with fresh air while dining al fresco out front. The cute corner cafe is modest and quaint, making for a casual outing in Mt. Vernon. Another bonus: its lunch and dinner menus have many vegetarian options. 816 Cathedral St., $12-20, (410) 244-1600
Sweet Spot: Kora Lee's
Even the most savory items are prepared with a sweet spin at this gourmet dessert cafe, which is perfect for our indulging our inner sweet tooth. For a $15 lunch, options include ricotta heirloom tomato tart, blueberry feta salad and pineapple Thai chicken. But bring your appetite for brunch if you want a really tasty treat, like the Nutty Buddy banana pudding French toast. Yum. 602 N. Howard Street, $15, (443) 602-0167
Neighborhood Spot: Annabel Lee Tavern
While restaurant week is the best time to try something new, it's also great to get deals at your local favorites. And Annabel Lee is a classic we can't get enough of. The traditional American tavern is offering a $28 three-course dinner. Start with Old Bay gazpacho, an ode to Maryland heritage, and find other fan favorites like the crab cake platter or petit filet mignon. 601 S Clinton St., $28, 410-522-2929
Biggest Bargain: The Black Olive
The authentic Greek fish tavern in Fells Point offers an array of elegance and fine dining. Their menu is still in the works, but you'll feel especially fancy with their upscale seafood options, for no more than $35 at dinner. 814 S. Bond St., Price TBD, (410) 276-7141
Best Beverages: Petit Louis
Last but not least, Petit Louis completes our week with French food and fabulous wine—oh la la! Imagine you're sharing a tartelette aux peches or mousse au chocolat blanc. You'll need a perfect wine to complement your dessert, and Petit Louis' selection of pairings is set at $19. 4800 Roland Avenue, $35, (410) 366-9393