Mera Kitchen Collective Has Cultivated a Community as Expansive as Its Menu
The catering company, which now has its own restaurant in Mount Vernon, works to recalibrate the relationship between food systems and the hospitality industry.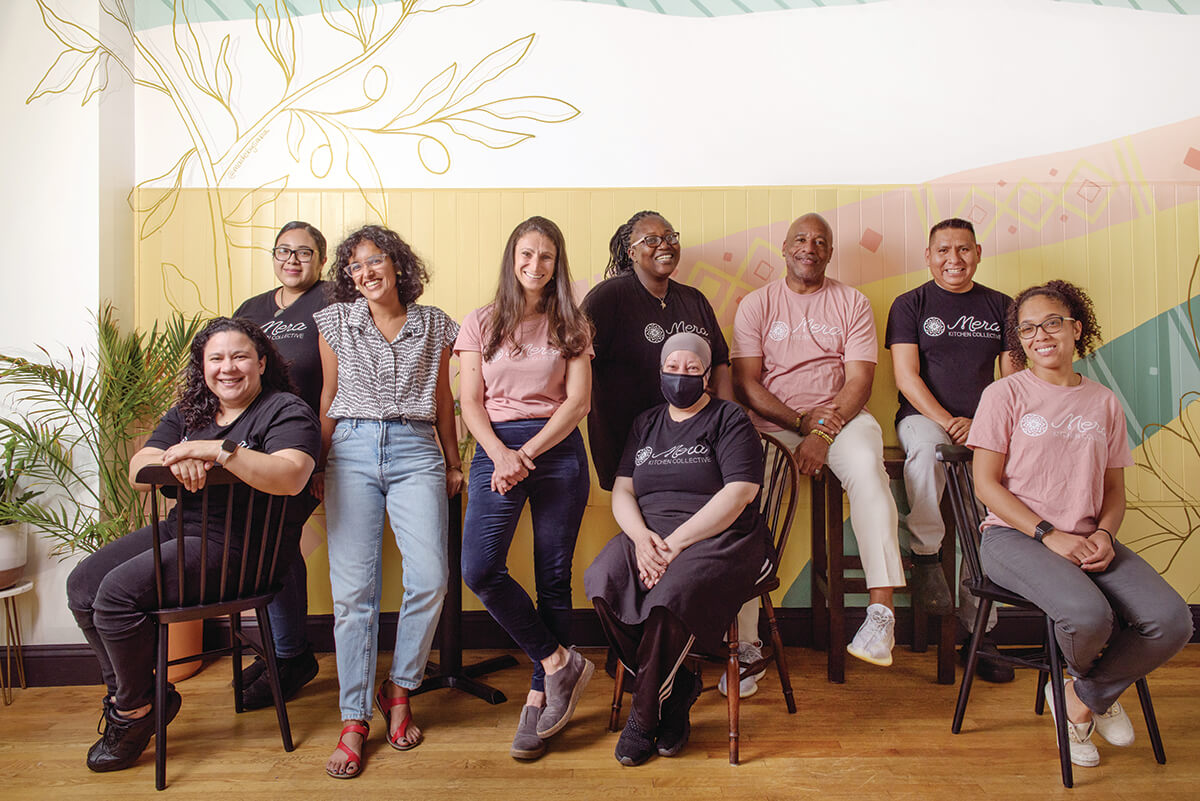 On a recent afternoon in the tiny kitchen in the back of Mera Kitchen Collective, a restaurant in Mount Vernon, Iman Alshehab perched on a stool, chopping carrots. A pot of chicken tamales stayed warm on a nearby back burner; a hotel pan of roasted eggplant waited, like deflated balloons, to be transformed into her ethereal mutabal, a popular dish both at the restaurant and Mera's farmers' market booth.
Alshehab started cooking in her native Syria when she was 13, then traded her family's kitchen for a professional one when she was still a teenager. She came to Baltimore in 2016 and, two years later, founded Mera with three food-minded friends, Emily Lerman, Liliane Makole, and Aishah Alfadhalah.
The four women began by hosting dinners, united by their interest in how food brings diverse communities together; soon they and a growing network of friends were bringing a mashup of Middle Eastern, West African, and Mexican dishes to the Sunday downtown Baltimore farmers' market.
Mera grew into a catering business and a nonprofit foundation, separate from the for-profit cooperative, that works to address food insecurity and recalibrate the relationship between food systems and the hospitality industry. They opened the restaurant in November 2021.
"It worked to our advantage that we had no background in food," says Lerman, who previously worked with Doctors Without Borders. "We were like, 'Let's try.'"
"We really didn't have a plan," says Alfadhalah, who came to the U.S. from Kuwait as a student and is now a speech therapist for children with autism.
As for what they decided to put on the menu, she says, it was as simple as, "What do you like? What do your children like?"
During COVID-19, Mera pivoted to providing free meals for those in need, through money raised by a GoFundMe and through funding provided by World Central Kitchen. At the height of the pandemic, Mera was cooking 700 meals a day, six days a week; after the restaurant opened, they were still providing 600 meals every week. Now eight people share the cooking duties, while others work the front-of-house and help with the cleaning, duties that are shared by everyone.
Though Makole has returned to Africa, others have joined.
"Certain environments preserve your identity," says Alfadhalah, who lists Arabic, French, and Spanish among the languages spoken in the kitchen. "Food is a way of maintaining cultural identity. For me, it's more of a community."
And it's a community that's as expansive as Mera's menu. "Iman has a huge repertoire," Lerman says of Alshehab, who spent years cooking at the Four Seasons in Damascus, then at the Lord Baltimore Hotel after moving to Baltimore.
Alshehab has loaded Mera's menu with falafel, qatayef, vegan stuffed grape leaves, and za'atar and lamb flatbreads. Asked what else she'd like to put on the menu, Alshehab laughs as she continues chopping vegetables, and says simply: "Everything."