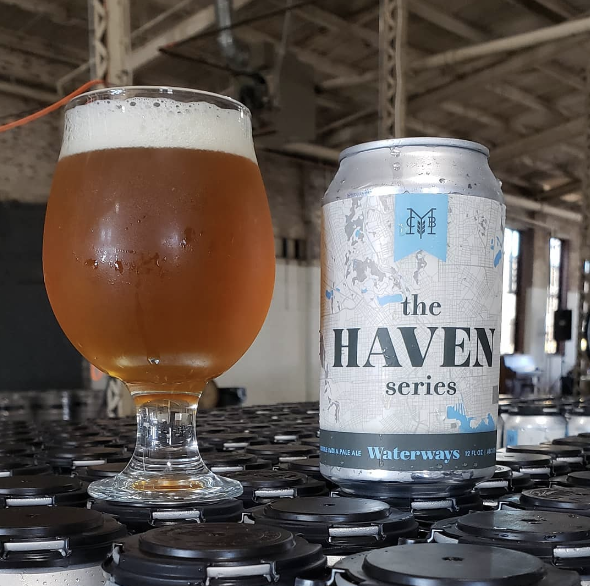 @monumentcitybrewing via Instagram
Recently, locals have been noticing something different about the way that their cocktails and cold brews arrive across the bar. As the city's food and drink scene continues to become more sustainable—ditching Styrofoam, and plastic straws and six-pack rings—Monument City Brewing in Highlandtown is strengthening its own environmental ethos with a new beer series dedicated to cleaning up our waterways, parks, and streets.
"It's always been part of our core values to get involved in our community and give back where we can," says Monument City co-founder Ken Praay. "It's about more than just creating a cool community space here. We want to keep the city in mind and make the neighborhoods where we live, work, and play clean and enjoyable."
Monument City's commitment to the environment has been on display previously at large-scale events like Light City and Artscape, where Praay worked closely with the Baltimore Office of Promotion & The Arts to add accessible recycling and garbage collection systems throughout the festival footprints.
Now, the brewery is continuing that mission with its three-part Haven series. A portion of all proceeds from limited-release double IPAs will be donated to local environmental organizations Blue Water Baltimore, which works to restore the quality of the city's rivers, streams, and harbor, and Trash Free Maryland—a nonprofit focused on preventing garbage pollution throughout the state.
The campaign was largely inspired by Monument City's sales manager Jack Obermaier, an avid litter collector who recently joined the board of Trash Free Maryland.
"I do a lot of trash cleanups in my neighborhood, and I think it's frustrating when you go out the next day and the area is just as littered as it was before," Obermaier says. "We really want to increase awareness and hopefully work toward a day where we don't have to do as many cleanups."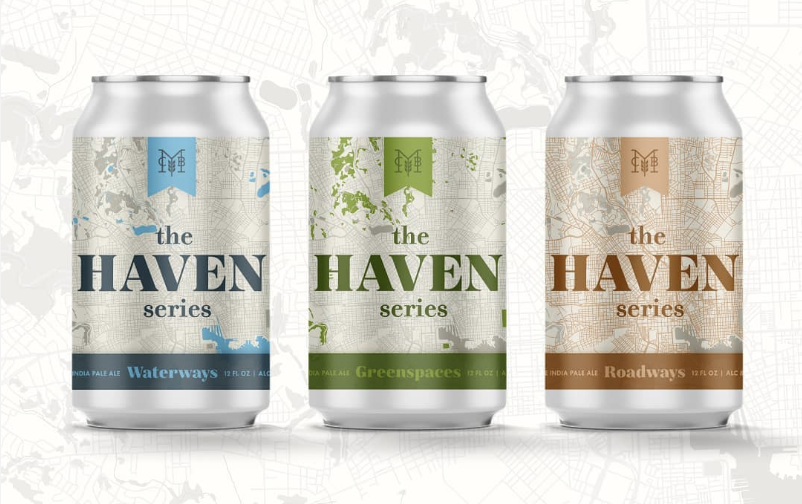 The team debuted the first of the three beers, a West Coast-style IPA called Waterways, earlier this month. Praay says that the brewing process was meant to reflect the mission of Blue Water Baltimore: "It's not a hazy style," he says. "We purposefully wanted to make it as crystal clear as we could to reflect the idea of clear water."
The second beer, Greenspaces, will be a juicier New England-style double IPA brewed with a higher hop presence to pay homage to its name. Its release will coincide with a city-wide trash pickup on September 8, which Trash Free Maryland and Blue Water Baltimore are organizing in partnership with the Brewer's Association of Maryland.
From 9 a.m. to noon, eight breweries across the city will be leading cleanups in their neighborhoods and rewarding volunteers with post-parties at their taprooms. Participating spots include Waverly, Union Craft, Peabody Heights, The Brewer's Art, Charm City Meadworks, Oliver Brewing, Checkerspot Brewing, and Monument City.
"I really love that there are so many breweries sharing this information across the board," Obermaier says. "We all have pretty large audiences, and together, there are a lot of people that we can touch to make a big change."
In October, Monument City will unveil the third and final beer of the Haven series, Roadways, which will use the brewery's flagship 51 Rye as a base: "We thought that the balance between the citrus and that spicy rye played well with the idea of roadways," Praay says. "It's a harder working beer."
The can art for each of the brews, produced by local graphic design studio White Coffee Lettering, features maps of the city that highlight each of the causes. Obermaier hopes that the cans themselves will serve as conversation starters to get more patrons on board with the sustainable mission.
"We want to do everything we can to protect the city and keep it clean," he says. "And I think you can see that in the cans. When you look at them, it makes you think of how we're all connected in different ways."