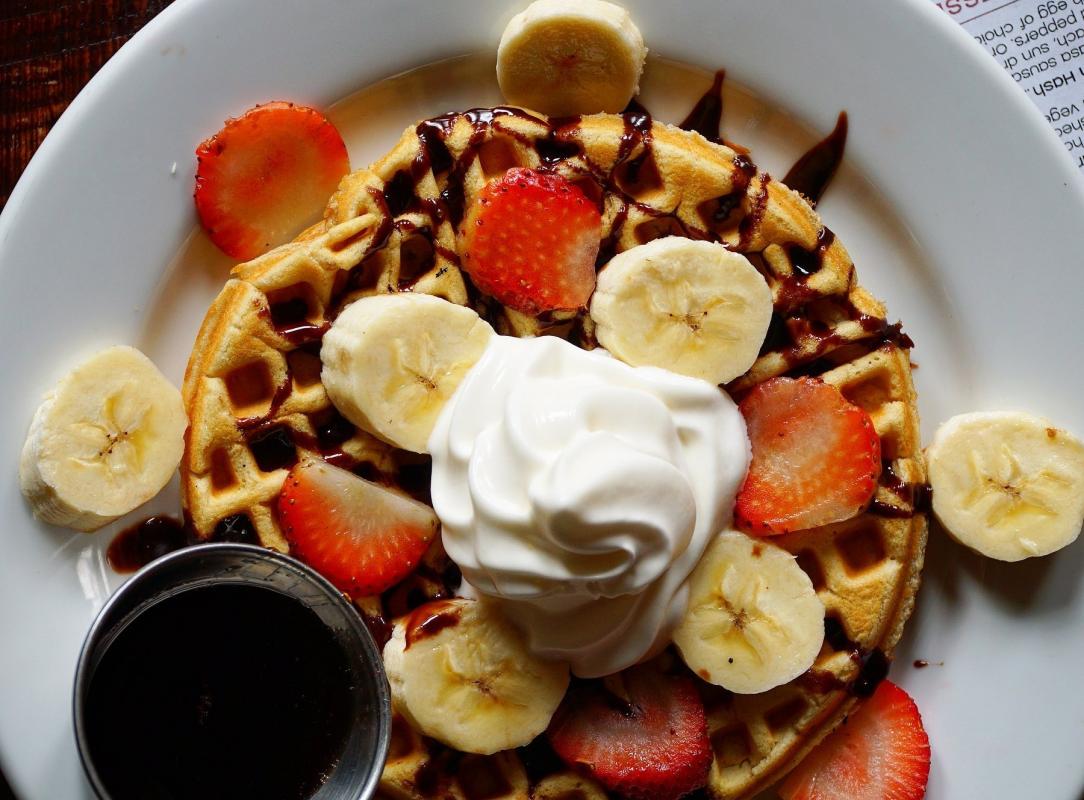 Waffles with whipped cream will be a highlight of the Mother's Day Drag Brunch spread at Guilford Hall Brewery. —Courtesy of Guilford Hall Brewery
When we think Mother's Day, our minds automatically go to brunch—and for good reason. It's a great way to allow the special woman in your life to sleep in a bit and spend time breaking bread with loved ones. This year, there are, of course, tons of classic brunch options if you're looking for a fancy prix-fixe or full-blown buffet. But if you're hoping to turn the experience up at notch, area eateries are also offering drag brunches, jazz performances, trivia matches, and sip-and-paint fun. Below, we round up a few options:
INTERACTIVE EVENTS
Disney Trivia & Mother's Day Celebration: Whimsy, wonder and magic will headline this Mother's Day event at Jimmy's Famous Seafood in Dundalk. In a Disney-decorated dining room, mamas will enjoy plates from the regular brunch menu (crab avocado toast and classic chicken and waffles are among favorites) and special fantasy-themed cocktails while testing their Disney knowledge with the whole family. Teams can range from groups of two to 12, and the top three will walk away with aptly themed prizes. 6526 Holabird Ave. 10 a.m. 
The Ultimate Mother's Day Drag Brunch: Hit the ATM for dollar bills and head to Guilford Hall Brewery near Penn Station for the ultimate show with the ultimate woman in your life. A buffet-style dining experience ($18-30) with optional bottomless mimosas ($15) will feature bottomless eats like pastries, scrambled eggs, bacon, waffles with whipped cream, veggie panini bites, and polish sausages. The live drag lineup includes performances by Alondra Sanchez, Pariah Sinclair, Kayden Chloe, and Egypt Chloe. 1611 Guilford Ave. 10:30 a.m.- 1:00 p.m. $25.
Mother's Day Morning Stroll and Tea: This self-guided stroll at Oregon Ridge in Cockeysville is perfect for moms who like to be at one with nature. After spending some quality time snapping selfies on the trail, stop by the Nature Center to sip tea together while making a keepsake craft. 13555 Beaver Dam Rd, Cockeysville. 10 a.m.- 1 p.m.$4-6
Mother's Day R&B Brunch on Top of the World: You can't beat a brunch set against the backdrop of 360-degree views of the city. Head to the World Trade Center's 27th-floor observation tower in the Inner Harbor to groove to live tunes by vocalist Stoney Ellis and saxophonist Eddie Baccus Jr. All the while, dig in to an all-out brunch spread with eats including Southern fried wings, catfish nuggets, mac and cheese, breakfast potatoes, French toast, egg frittatas, and a selection of desserts. 401 E. Pratt St. 12-3 p.m. $65.
Mother's Day at Black Ankle Vineyards: Pack up the fam and take a scenic drive to this Mt. Airy vineyard, where moms can indulge in special wine and pastry flights. The team has partnered with Frederick County neighbor Daddy Boy Bake Shop to offer flights that pair Black Ankle's Sauvignon Blanc with salt and pepper pie chips; rosé with Dubliner scones with Kerrygold butter; Passeggiata with triple berry tarts; and the toasty Slate 8 with dark chocolate cherry brownies. There will also be a scavenger hunt and craft-making for kiddos, as well as local Two Boots Farm flower bouquets ($27-33) for sale. 14463 Black Ankle Rd, Mt. Airy. 12-5 p.m. $40-47
Mother's Day Painting Extravaganza: At Baltimore County's Fallston Barrel House, get in touch with your artistic side by treating mom to this sip-and-paint class. The $42 price of admission includes access to the class, a raffle ticket, and a door prize ticket. The restaurant's a la carte brunch service will also be in full swing, complete with classic mid-morning eats and plenty of mimosas to go around. 2403 Belair Rd. Fallston. 11:30 a.m.- 2:30 p.m. $42
Mother's Day Jazz Brunch on the Water: Sign up for this afternoon experience on board The Raven, a 1900s-inspired steamboat equipped with a full-service cherry wood bar and elegant windows. Depart from the Inner Harbor to treat mom to a three-hour sail with live jazz music, a gourmet spread, giveaways, and endless '"Mom-osas". Watermark. 555 Light St.12-3 p.m. Tickets start at $125. 
Mini Mother's Day Market: Is there anything better than letting mom pick out her own gift? At R. House in Remington, catch this mini market of scratch-made makers including Wink Way Candle Co., Petit Loup Ceramics, Papaya Jewelry, Earth & Resin Artworks, and Maxi Cif Designs. After browsing all of the booths, head inside the food hall to grab lunch from vendors like BeBim, Amano Taco, or the new Koshary Corner and Doppio Pasticceria. 301 W. 29th St. 12-6 p.m.
CLASSIC BRUNCHES
Ananda: Live jazz music will permeate the stunning dining rooms and outdoor patio at this Maple Lawn gem. While enjoying the smooth sounds, hit the buffet to fill your plate with seafood specialties and Indian favorites. While the menu is still in the works, we can only expect Ananda classics such as the crispy gobinda cauliflower roasted with tamarind and lime, and the sweet gulab jamun for dessert. 7421 Maple Lawn Blvd, Fulton. 11:30-2:30 p.m. 
Cinghiale: Settle in at this Harbor East hangout with the whole family to enjoy the entire a la carte menu, plus specials like squid ink ravioli filled with lobster, fava beans, and lemon basil butter. The kitchen will also whip up a special Marubini primavera filled with house-made ricotta, artichokes, peas, mushrooms, and local asparagus. If mom is a wine lover, this is the place to be. 822 Lancaster St. 
The Corner Pantry: Looking to cater breakfast in bed? This Mt. Washington mainstay is offering a special a la carte menu for pick-up. Place orders for noshes like a gravlax platter, French toast casserole, deviled eggs, or a goat cheese tart with caramelized onions. Orders must be placed by May 5. 6080 Falls Road. 9 a.m – 3 p.m.
The Four Seasons Baltimore: Reserve a table to enjoy this swanky meal from the outdoor terrace of The Four Seasons in Harbor East, which features unrivaled views of the harbor. Curated by executive chef Tristan Baker, the brunch spread will feature freshly shucked oysters, balsamic-drizzled watermelon salad, chia parfaits, a selection of poke and ceviche, and a Mexican street corn bowl station. Be sure to save room to stop by the charcoal grill, which will serve up jumbo prawns, rockfish, and Black Angus skirt steak. End with sweets like strawberry shortcake and pina colada panna cotta. 200 International Drive. $65-155.
Gunther and Co.: Treat your mom (and her tastebuds) to a flavorful brunch on the patio or against the backdrop of the thriving interior greenery wall at this Brewers Hill beauty. A two-course prix-fixe includes options such as spicy pimento cheese, crispy pork belly, blackberry poundcake, spring pea risotto, Gulf shrimp and grits, and farm scrambled eggs with goat cheese. 3650 Toone Street. $42
Woodberry Kitchen: If you haven't yet checked out the newly reimagined Woodberry Kitchen with mom, make reservations quick. The scaled-down tavern is bringing back brunch service on Mother's Day, featuring all-you-can-eat pastries, crab cakes Benedicts, ribeye steak and eggs, shakshuka, cheese frittata, sweet and savory crepes, and chicken and waffles. Moms will also be treated to a special strawberry Bellini welcome cocktail.2010 Clipper Park Rd. 10 a.m.-12 p.m. $75