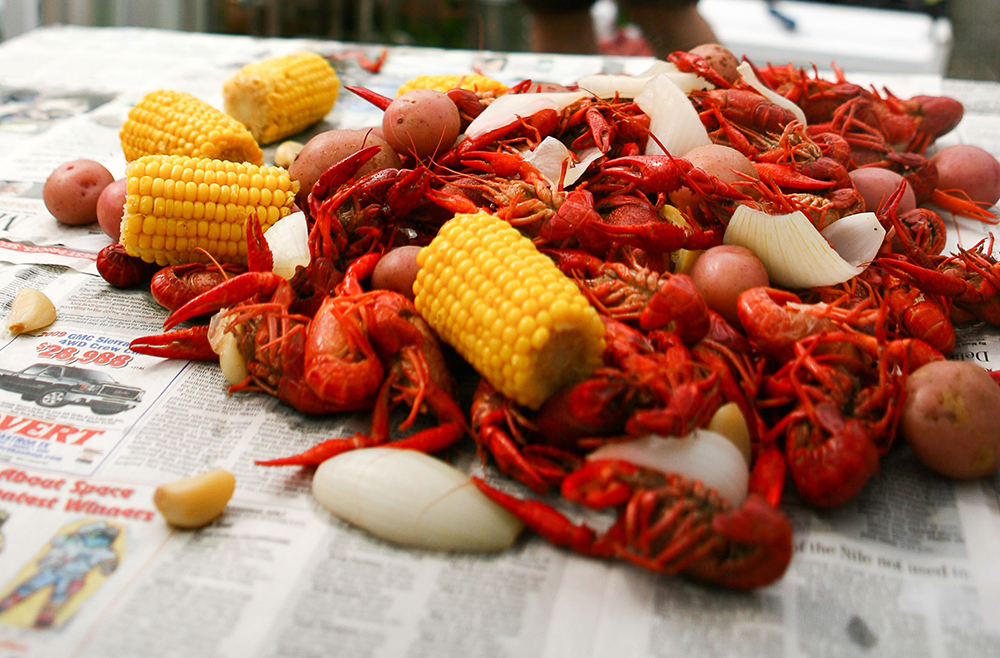 Courtesy of Flickr
No need to worry if spending Mardi Gras in New Orleans is still on your bucket list. Whether you're hoping to sip Sazeracs and Hurricanes or feast on gumbo and king cake, the local bar scene is offering plenty of opportunities to get an authentic taste of the Big Easy by way of Charm City on Fat Tuesday.
One of the many establishments throwing its own Bourbon Street bash is Mt. Vernon Marketplace, whose vendors have been coming together to organize festive events since the communal food hall opened in October.
"It's all about bringing the neighborhood together," says The Local Oyster owner Nick Schauman, who shucks the shop's namesake bivalves from his corner stall. "It's neat that there are so many options under one roof, and it helps that the market is big enough to accommodate such large crowds."
On February 9 from 7-11 p.m., The Local Oyster, along with other outposts like Cultured and Edible Flavors, will host a special Fat Tuesday celebration at the marketplace, complete with festive cocktails, food specials, and live jazz by Big Bertha's Rhythm Kings.
In true NOLA fashion, Schauman will be stirring up a crawfish boil fusing potatoes, carrots, onions, Cajun seasonings, Natty Boh, and, of course, Louisiana crawdads.
"The trick to making them really good is putting them straight into a cooler once you pull them out of the pot," he says. "As they sit in the cooler they essentially steam themselves, and all of that nice aroma permeates into the tail meat."
Cultured owner Andrew Cole says that the Mardi Gras menu at his charcuterie spot will highlight $6 Negroni cocktails, $7 Corpse Revivers, and the iconic Sazerac.
"Over the past couple of years, there's been an increase in desire to see cocktails being made the old-fashioned way," Cole says. "And the Sazerac was the first one made in America, so it has its own right on any cocktail menu." See recipe below.
Other festive offerings to look out for during the event will include Muffuletta sandwiches and jambalaya at Cultured, Hurricanes at The Local Oyster, gumbo at The Big Bean Theory, and king cake at Edible Flavors.
If you're searching for even more Mardi Gras madness around town, check out these other happenings:
Mardi Gras North: Now in its 19th year, this annual event hosted by Fells Point neighbors Kooper's Tavern and Slainte Irish Pub celebrates all things 'Nawlins. On Fat Tuesday, bounce back and forth between the two bars to chow down on seafood gumbo, jambalaya, and po'boys while getting down to the sounds of DIG Jazz Combo. Both spots will also offer drink deals such as $3 Miller Lites, $4 Blue Moons, $5 Cajun Marys, and $6 Sazeracs. 1700 and 1702 Thames St., 410-563-6600.
Fat Tuesday Party at Paladar Latin Kitchen: This Annapolis spot is culminating its two-week Carnival celebration with its annual Fat Tuesday party. Throw on some beads, dance to live music, and enjoy half-off mojitos and margaritas all night long. Additional specials of note include discounted rum flights and a $5 street menu with dishes ranging from lamb kibe to Brazilian cheesy bread. 1905 Towne Center Blvd, Annapolis, 410-897-1022
Mardi Gras Festival: Power Plant Live is kicking off the festivities early by hosting this massive celebration on Saturday, Feb. 6 at 9 p.m. For the price of admission, bar-goers can enjoy no-cover access to all of the spots in the district, while also enjoying live Zydeco music and sipping bottomless Hurricanes from a souvenir glass. 34 Market Place, 410-727-5483
Phat Tuesday at Mother's Grille: As always, the annual "Phat Tuesday" party at this Federal Hill favorite will feature live DJ entertainment, Hurricanes, and plenty of colorful beads to go around.As an added bonus, the neighborhood spot is also throwing some special food items into the mix for the occasion, highlighting dishes such as Basin Street catfish, crawfish cakes, and chicken and sausage gumbo. 1113 S. Charles St., 410-244-8686
Sazerac from Cultured:
Ingredients:
1 medium to large sugar cube
2-oz. Pikesville Rye whiskey
8-9 drops of Peychauds bitters
1 splash of Absinthe
Ice cubes
lemon twist
Directions:
1. Chill a rocks glass with ice and water.
2. In another glass, place sugar cube at the bottom and cover with drops of bitters.
3. Muddle until crystals from the sugar are all broken down.
4. Add 2-oz of Pikesville Rye whiskey and swirl around.
5. Fill the chilled glass with ice. Then, dump absinthe and roll it around until it covers the bottom.
6. Take whiskey mixture and pour into the absinthe wash glass.
7. Squeeze lemon twist over top of the drink. Then rub it around the rim of the glass two or three times, twist it up with your fingers, and drop it in.