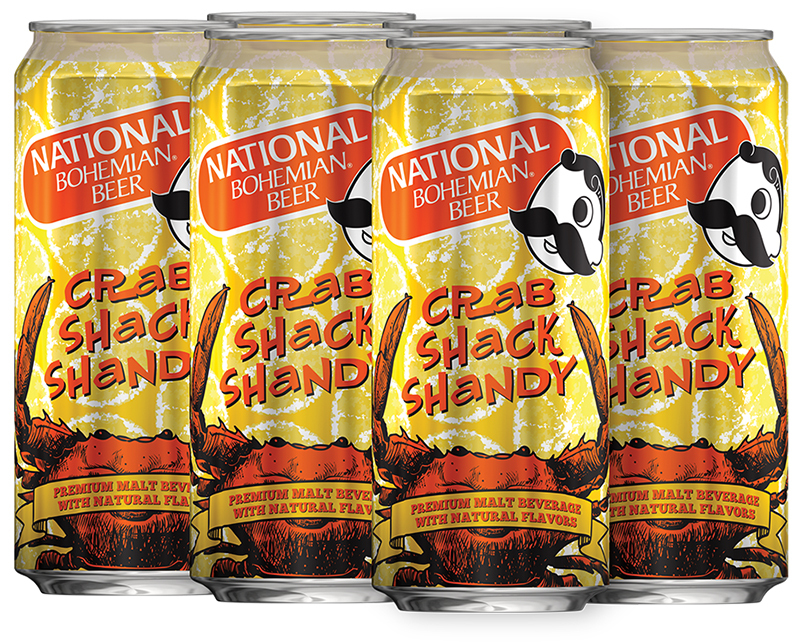 Pabst Brewing Company
Crab feasts are generally pretty low-maintenance affairs, but require a few essentials: a stack of newspaper, steamed hardshells, maybe a couple of plastic knives, and, of course, ice cold beer.
Now consumers will have a new option to pull out of the cooler when they sit down for this beloved Baltimore ritual. For the first time in more than 30 years, National Bohemian is releasing a new beer, a seasonal lager dubbed Crab Shack Shandy that will be available now through the end of summer.
"If you think about the beer market 30 years ago, if you were a Boh guy, you were just a Boh guys," says Natty Boh brand manager Chris Molloy. "People didn't dabble much. But now consumers have thousands of flavor options and we wanted something new that also felt authentic. This was already a no brainer."
Molloy said the company was inspired by its customers, who were already making homemade Natty Boh shandies (beer and lemonade) during the hot, summer months and, of course, cracking the beer during family crab feasts.
"For some people, beer reminds them of college," Molloy says. "But with Natty Boh, it's more of an emotional connection. We wanted this new product to feel reminiscent of time spent with family and friends, on the water, or at a ballgame."
Crab Shack Shandy is a 4.2 percent ABV lager that pours a golden-straw color and is infused with notes of citrus and a hint of lemon and orange zest.
"A question I've gotten a lot is whether it has crab spice in it," Molloy says. "But this beer is designed to pair well with crabs, not taste like them. This is really citrus forward with the nice, dry finish of a Natty Boh. And just like the original, it's nice and sessionable, so you can have a few of them."
The new release will be available in 16-ounce can six packs ($8.99) and 12-ounce can 12 packs ($14.99) in Maryland, Pennsylvania, Delaware, Virginia, and Washington D.C. Molloy said to look out for the beer anywhere Natty Boh is already sold.
Though peak crab season isn't for another few months, the brand decided to get ahead of the region's "unpredictable" weather so that it could be available on the unseasonably warm days of spring.
Crab Shack Shandy is being brewed in Latrobe, Pennsylvania, but Molloy is hopeful to partner with local breweries to do some experimental small-batch brewing, as well as area crab houses for tastings. Though there is no official release party, he is confident that "many unofficial release parties will happen all over town."
As for the brand returning to Camden Yards this season?
"Of course, we'd hope so, but that's not something we can really control," Molloy says. "I know that many of the big bars right around the stadium will carry it, though."
Molloy, a former Natty Boh mascot who has a Boh tattoo on his chest, says the brand is—quite literally—near and dear to his heart.
"Natty Boh has been part of the rich history and DNA of this community since 1885," he says. "As soon as a consumer sees the Boh icon, there's an instant smile that comes to their face. I hope that will still be true with this fresh new take."