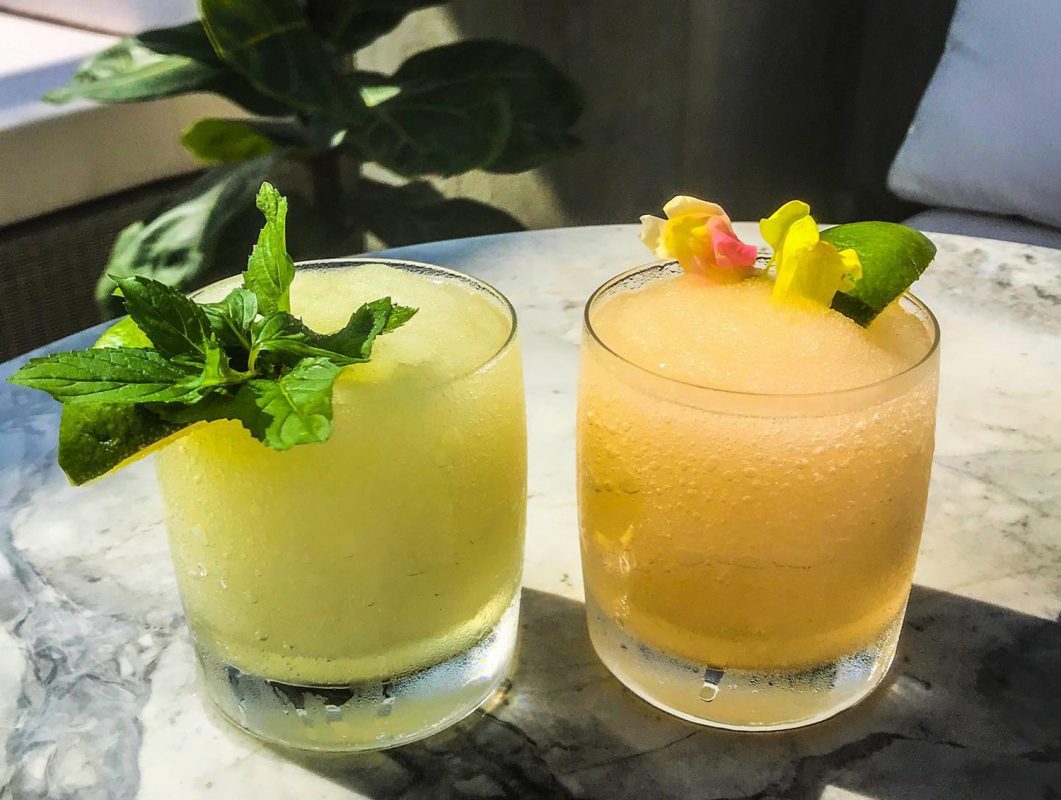 Courtesy of Ouzo Beach
As the sun beats down on Baltimore in these dog days of summer, everyone could use an excuse to cool off. And spots all across Charm City are offering unbeatable drink specials on Wednesday, July 24 in honor of one of our country's most arbitrary holidays: National Tequila Day.
Taking the cake for, perhaps, the most creative drink we've seen in tequila's honor is one that seems to intoxicate and re-hydrate you at the same time: a frozen Patron Pedialyte margarita (Patron Silver, strawberry or blue raspberry pedialyte, lime, and agave) created by bar manager Liz Jankiewicz of Ouzo Bay and Ouzo Beach.
"Not only is it good to throw some electrolytes at the guest while it's hot out," Jankiewicz says, "but it actually pairs really well with the tequila because of the level of salinity in it. Just like if you're having your margarita with salt on the rim."
And this holiday will be a chance for those who haven't made it out of town this summer to get a taste of an island vacation: "Having a margarita taps into the idea of a destination," Jankiewicz says. "It turns your normal watering hole turns into a getaway."
Whether you want to sip on a frozen margarita, or throw back shots like it's your day job, there are plenty of places to partake. So get your sliced limes and salted rims ready, and check out some of the best spots to spend the holiday.
Blue Agave: Named after tequila's essential ingredient, this Federal Hill destination is certainly ringing in the holiday with cheer. The bar will feature $2 discounts on all-things tequila-related, including margaritas, flights, and shots, as well as discounted bottle club membership offers. And with their featured tequila of the month being Casamigos, no one will leave unsatisfied.
Canton Crossing Wine & Spirits: If you're looking for a bargain, this Canton spirits shop will offer free—yes, we said free—samples of various Rooster Rojo tequilas, which are made from 100 percent Blue Weber agave. Make sure to swing by between 4 and 6 p.m. to try blanco, reposado, and anejo varieties.
El Bufalo Tequila Bar & Kitchen: Wondering why this Canton spot is a rightful place to celebrate the Mexican spirit? The name speaks for itself. El Bufalo's specials include $6 shots and $8 margaritas that make use of the restaurant's catalog of more than 50 tequila brands. Any purchase of a Casamigos, Don Julio, or Olmeca Altos drinks will get you a raffle ticket for a Bottle Club giveaway.
Lee's Pint & Shell: This Canton haunt is the place to be for Don Julio fans. Lee's is offering a $10 deal that includes two 5-oz. margaritas, a shot of anejo, and a shot of blanco—all of the Don Julio variety.
Nacho Mama's: Both the Towson and Canton locations of this Elvis-themed cantina will feature all-day specials for tequila lovers. Flights of Casamigos, Patron, and Herradura will be served along with presentation mats and tasting notes. If you're not up for that, try a special shot in one of the bar's renowned hubcap margaritas. We recommend the "Pama Sunset" (Pomegranate liqueur, house tequila, and homemade lime mix), the "Blue Suede Shoes" (El Jimador, Blue Curacao, and homemade lime mix), or the "King" (Don Julio Reposado, Limeade, and Grand Marnier float).
Ouzo Bay: Harbor East's Mediterranean mainstay is offering a lineup of can't-miss cocktails for the holiday. Mention this very write-up for $9 drinks like the "Aleppo Pines" made with Patron Roca Silver, yellow chartreuse, retsina reduction, oregano honey, and lemon. Or, head across the street to it's outdoor sister bar Ouzo Beach for the frozen Pedialyte margarita or a "Paloma Collins" (Patron Roca Silver, pamplemousse, honey, lime, club soda, and salt and a tri-peppercorn rim). All frozen Patron drinks at Ouzo Beach are blended using a stationary bike, so be prepared to bike your own drink if you choose.
Vida Taco Bar: Casamigos is the tequila of choice at this fan-favorite taco joint. Locations in Annapolis, Severna Park, and Harbor Point will serve $10 Casamigos cocktails all day long. Specials include the "Basic" (Casamigos Reposado, Fever-Tree citrus tonic, and fresh lime), the "Mexican Spa Day" (Casamigos Blanco, Fever-Tree cucumber tonic, and fresh mint), and the "Smokey Ginger" (Casamigos Mezcal and Fever-Tree smokey ginger ale).