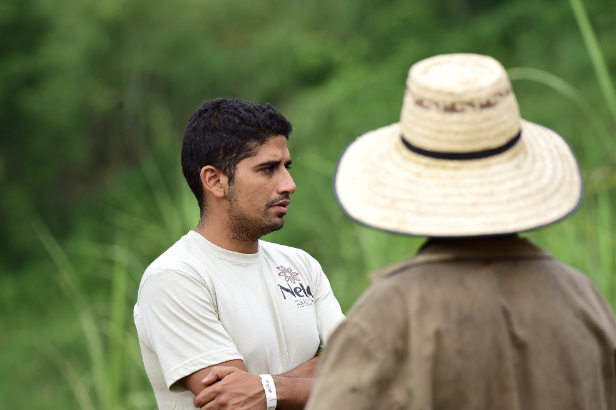 Courtesy of Nela
Ravi Chhatani never had a huge sweet tooth, but on a diving trip in the Gàlapagos a few years back, he was introduced to panela—a natural, unprocessed sugar made from evaporated cane juice.
"The dive master was like, 'You need to put this stuff in your coffee and sprinkle it in your yogurt,'" Chhatani remembers. "And I said, 'I don't really do sugar.' But he explained what it was and told me it was going to give me the energy that I needed to dive for 45 minutes three times per day. And he was right."
Little did Chhatani realize, he had consumed panela throughout his entire upbringing in Lima, Peru—where the sweetener was referred to as chancaca. After doing some research, Chhatani found out that the product had different names in many parts of the world (in India it's called gur, in Mexico it's piloncillo), but it wasn't widely distributed in the United States.
That's why earlier this year, Chhatani—who immigrated to Maryland from Peru with his family when he was 17—made it his mission to make panela a part of the local food culture. He and his business partners, Rogerio Marques and Dan Smith, launched Nela (short for panela) in February of 2018, and have since connected with more than 30 local restaurants, bakeries, and cafes that have incorporated the sweetener into their offerings.
"Baltimore is a unique market with a lot of support for other small businesses," says Chhatani, a former consultant for Laureate International Universities. "People are receptive to new products. There's this culture of sharing ideas and working to make the food scene better than what it already is."
Produced on a farm near Colombia's coffee region, the cane juice is filtered, boiled, hand-pulverized, and packaged before being shipped to Nela's headquarters in downtown Baltimore. Aside from the nutritional benefits (there are no additives and it has a lower glycemic value than traditional sugars), Chhatani says that the organic, gluten-free ingredient also has a positive impact on the taste and texture of certain foods.
"When it's mixed with a latte or a cappuccino, it brings down the acidity that's carried in coffee inherently," he says. "And in desserts, it gives you more of a smooth taste. It still has sweetness to it, but it's not that strong that it overpowers the other ingredients in a recipe."
Since its debut, area eateries have come up with creative ways to feature Nela's product on their menus. Diners can find it in everything from caramelized panela cocktails at Clavel to yucca doughnuts with honey syrup at Puerto 511. Other spots making use of the sugar include Spro in Hampden, Melody Cafe in Mt. Vernon, Dessert Fantasies in Locust Point, and Culinary Architecture in Pigtown.
At Cocina Luchadoras in Upper Fells Point, owner Rosalyn Vera says she particularly enjoys using Nela during the winter months when she serves atole—a traditional, warm Mexican beverage made with masa and rice that gets its sweetness from the panela.
"It tastes like the piloncillo that we grew up with," says Vera, whose family hails from Oaxaca and Puebla. "It's really pure. You can actually taste the cane."
It is also sold by the bag at neighborhood markets including OK Food Store in Mt. Vernon, Natural Food Market in Timonium, and Glen's Garden Market in Washington, D.C. The team is hoping to distribute to Eddie's and MOM's Organic Market in the coming months.
Looking ahead, Chhatani is excited to expand Nela's footprint with even more collaborations. Currently, he's working with the team behind Wild Kombucha (whose co-owner Sergio Malarin also has ties to Peru) to create a line of aguapanela—a well-known drink in Latin America that combines panela with water and lime juice.
And although the business may expand to bigger markets as panela continues to catch on, Chhatani says that Charm City will always be home.
"Baltimore has always been very kind to immigrants who come from all over the world," he says. "In my particular case, I felt like I had a debt to pay back to the city for being so receptive to a young Peruvian guy coming in and getting help from the people and institutions that took me in like their own son."