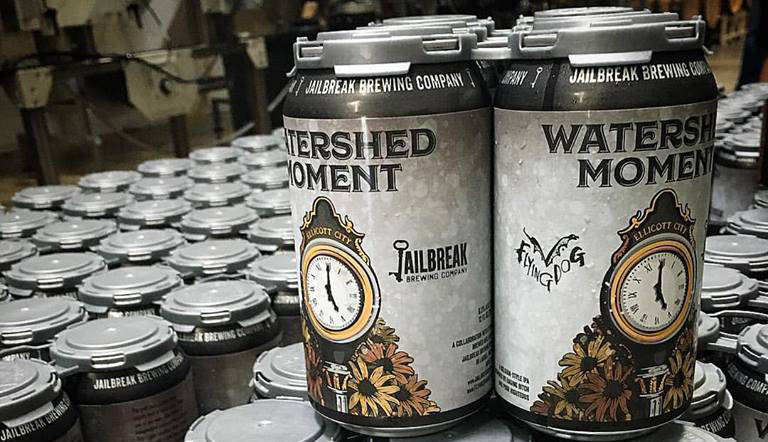 If there is any silver lining from the devastating flood that ravaged Ellicott City in July, it's been the overwhelming support of the community in its aftermath. To help Main Street get back up on its feet, there have been countless events, fundraisers, donations, and now—beer.
The brewers at Flying Dog in Frederick and Jailbreak Brewing in Laurel have come together to collaborate on Watershed Moment Belgian IPA, which will debut in Ellicott City on Friday, September 9 and 100 percent of the profits will benefit flood relief.
"I was born and raised in Ellicott City, so there is a lot of nostalgia there for me," said Flying Dog CMO Ben Savage. "Plus, Main Street is littered with small, independent businesses, which is really important for us to support."
The actual beer is a combination between Jailbreak's new Poor Righteous IPA and Flying Dog's popular Raging Bitch Belgian-Style IPA, with the malt being from the former and the yeast from the latter. The two breweries, located on either side of Ellicott City, agreed that it was a no-brainer.
"It's been an honor to be accepted into the Howard County community," said Jailbreak's co-founder and CEO Justin Bonner. "So when Ellicott City called upon its community for assistance, we felt compelled to help our neighbors in their time of need.
The beer will be released next week at Judge's Bench and The Wine Bin, which both just reopened on Ellicott City's Main Street. Savage said the beer will be available in craft-centric bars and liquor stores after that. Savage said they are encouraging retailers to also donate a portion of the profits to the Ellicott City Partnership.
"The craft-beer community is extremely tight knit," Savage said. "The people that work here and are responsible for this brand all have a connection to that community. If our neighbors are in need, it's normal for us to join together and help out."