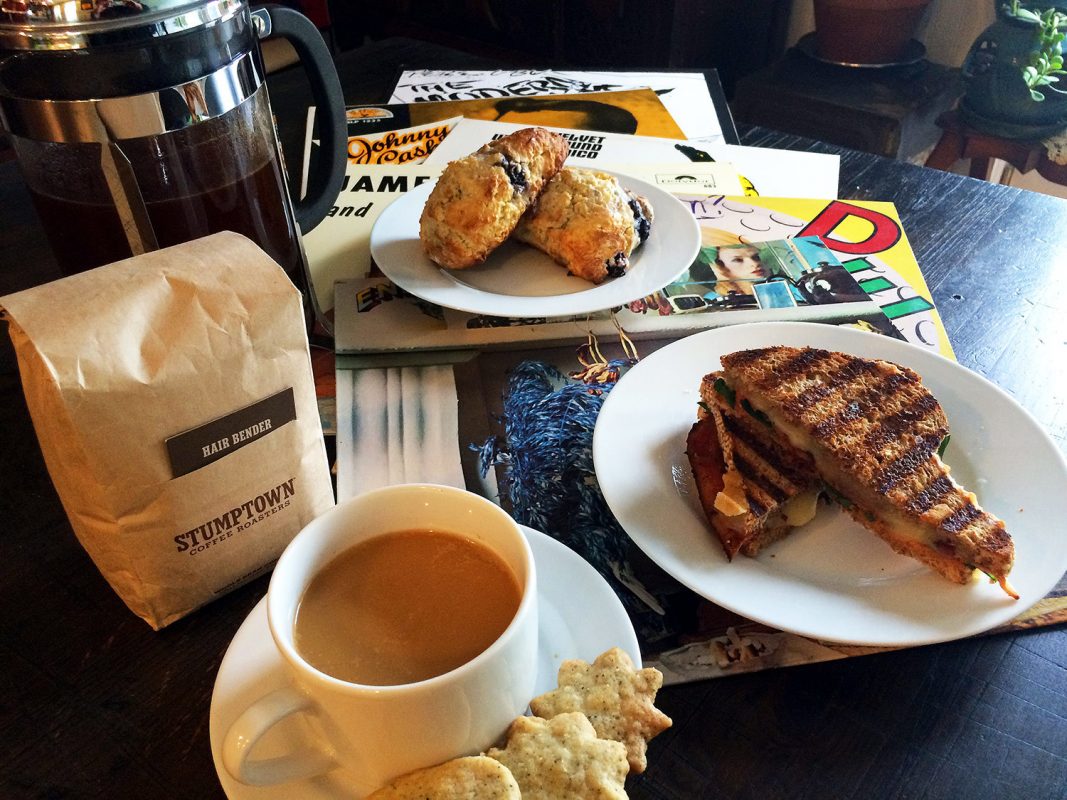 Courtesy of Shirlé Koslowski
Though streaming services and digital downloads now make listening to music easier than ever, there is still something about dropping the needle on a vinyl record.
Hampden locals David and Shirlé Koslowski agree and recently opened Baby's on Fire—a new Mt. Vernon hangout where music lovers can savor light fare while flipping through bins of new, used, and collectible albums.
When it comes to the resurgence of buying music the old-fashioned way, David's theory is that millennials want something tangible (a phenomenon that we recently covered).
"Most of them grew up in the digital age and really only listened to MP3s," he says. "It's human nature for us to want to hold and own things. The younger generation grew up without that, and once they get tapped into it, it's kind of mind-blowing."
The owners, both musicians, met while playing a benefit show at The 8×10 in the early '90s. After relocating to Durham, North Carolina for 14 years to pursue other careers (David went to art school while Shirlé started her own personal chef business), the couple moved back to Baltimore in 2012 with hopes of turning their longtime dream of opening a record store cafe into a reality.
With the help of Hampden community leader Lou Catelli, the owners found the space, a former skate shop at 1010 Morton St., which will double as basecamp for Shirlé's personal chef company Four Corners Cuisine. A Kickstarter campaign to help cover extra build-out expenses raised more than $10,000 in less than one month.
"What spoke to us about Mt. Vernon is that it was the neighborhood that both Shirlé and I lived in when we were here in '89," David says. "We literally lived one block from each other but somehow didn't meet until '92. So it just made sense. It's like we're starting a second life together back where we both started."
The cafe's menu, handcrafted by Shirlé, lists affordable scones, pastries, muffins, artisanal paninis (think ricotta, sautéed kale, roasted red peppers, and local Tanner's pickles on multigrain bread), and a variety of coffee drinks made with Portland-based Stumptown Coffee. Eventually, the owners hope to implement tapas-inspired happy hour specials and designated nights to showcase international foods inspired by their travels.
Named after one of David and Shirlé's favorite Brian Eno songs, Baby's on Fire will also be used for intimate gatherings like documentary screenings, acoustic performances, DJ nights, and open forums with local musicians.
Its grand opening celebration on June 18, for example, will feature live DJ sets throughout the day and performances by Arbouretum frontman Dave Heumann and Brooklyn-based pianist Hans Chew starting at 7 p.m.
David says that the 20-seat cafe has been well received by the neighborhood so far, noting that Dan Deacon even stopped by the soft launch last weekend.
"One of the things I've always loved about this city is the sense of community and approachability," he says. "You can go to a restaurant and strike up a conversation with anyone here. Baltimore is that sweet spot with the drive of the north and the southern hospitality, and when you put that together it strikes a really nice yin and yang."