Nine Female Bartenders You Need to Know
What used to be a "boys' club" is showing off the skills and drive of some seriously talented women.
Baltimore's bar scene is changing (and growing) as quickly as you can down your next drink. That means we're seeing more talent than ever before, and what used to be a "boys' club" is showing off the skills and drive of some seriously talented women—and our drinks are all the better for it. We sat down with nine notable female bartenders to discuss their favorite drink trends, the local industry community, and where they spend their days off.
You can check some of them out and many others at the "Lovely Ladies Bartender Competition," which is the kickoff to Baltimore Cocktail Week this Sunday, April 10, at Pen & Quill.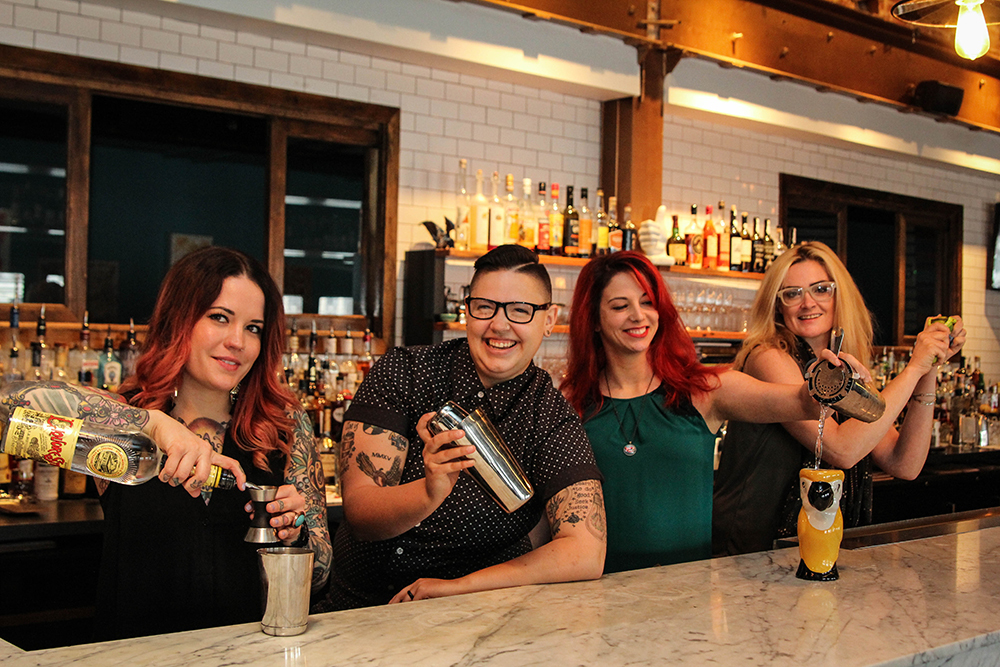 Name: Briana Savage
Home bar: Bookmakers Cocktail Club
Years in the industry: 13 in the industry, 6 behind the bar
What's good? "People ask me for Malört drinks, because I like Malört [Swedish wormwood liqueur] and I might be the only person that does. Basically they only drink Malört in Chicago and Scandinavian countries. But the way I was introduced was through the Bittermens Malört called Bäska Snaps, and that one is viscous and has a better flavor. I like it just like someone might like Campari or Fernet."
Most exciting thing about Baltimore's bar scene: "For me, I think, it's the amount of passion I see among other bartenders. We're all really supportive in a way I don't see other places… Baltimore is all about trying new things."
Name: Chelsea Gregoire
Current Bars: Pen & Quill (and Head Honcho at Drinkable Genius)
Years in the Industry: 10 in the industry, 2 behind the bar
What's good? "Good egg white cocktails. I've taught more than one person how to properly shake egg white and humans are catching on and it's great!"
Most exciting thing about Baltimore's bar scene: "I love that this city, like nobody else, can do a fancy restaurant and a dive in one. I guess it's because Baltimore buildings are generally small, so the spaces they have to put businesses in are small. So it's dive-y in that it's small and dark, and then you notice it's got this incredible food program.
"Every bar in Baltimore is a little dive-y maybe in that it's in the attitude of the bartender or it's in the atmosphere. And they do it really well. Every time people come from out of town who are in this industry, they're like, 'I really love how everywhere feels like Holiday Cocktail Lounge in [New York City].' That's a huge compliment."
Name: Amie Ward
Current bar: Aggio
Years in the industry: 7
What's good? "I'm really striving for us to turn Aggio into Baltimore's amaro bar because we don't have anything like that . . . When I first started at Aggio, they were about to get rid of all the amaro [a bitter Italian liqueur] because it just wasn't selling, it didn't have any real big following behind it, and I said, 'Hold on, just gimme, like, a month and see what I can do with it.'
"I'm mainly focusing on doing the whole education of what is amaro . . .There are the people that like that really hearty stuff, like Fernet is like getting smacked in the face with a Listerine bottle, and I tell that very joyously to anyone who gets one of the flights, but that might not be what you like. So I've been working on the flights and then trying to figure out what [individual] people like too and I'll do custom flights on the fly as well."
When she's not working: "It used to be roller derby, but now it's in the gym being a meathead (picking up heavy things and putting them back down again). I'm training for my first Strong Woman Competition."
Name: Molly McNulty
Current Bar: Cultured
Years in the Industry: 8
Her favorite thing about bartending: "I'm actually also a painter, [I think of flavors] like colors. There's so many ways to go with colors; I approach drinks the same way I approach painting."
Advice for new bartenders: "I have a couple answers to this. Kindness is always the best tool in your kit. You don't have to have double jiggers and crazy bar tools. You just have to be kind. And it is totally ok to not know how to make something and to not feel ashamed about that. What's not ok is not having any curiosity about it."
Most exciting thing about Baltimore's bar scene: "There's a lack of pretention in Baltimore bartenders. People are really creative and pushing each other to do new things…[but] it doesn't feel snobby, it doesn't feel like we have sticks up our asses about being the best part of people's day—which is eating and drinking…People are doing really creative awesome things, but they aren't being douche bags about it."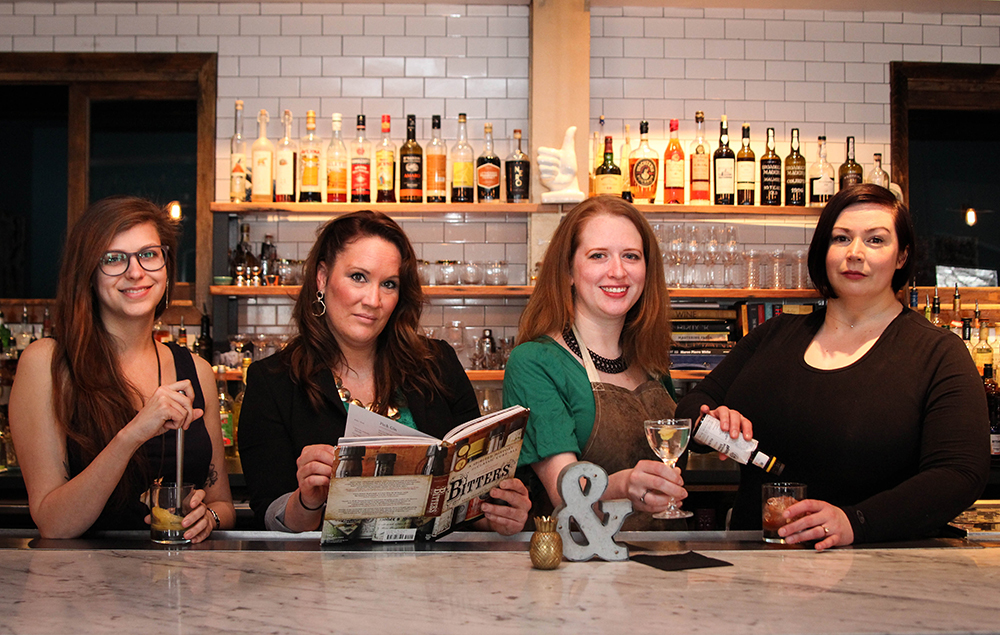 Name: Constance Belton
Home bar: Club Charles
Years in the industry: 3
Her favorite thing about bartending: "My favorite thing about bartending is my bar . . . It's the community of people who work there is amazing, like, Jeremy's been working there for 12 years, some of the girls have been there for 8 or 9 years. I'm actually pretty new. People don't leave; people love to work there.
"We have people that have come in the bar on a weekly or every other couple days basis for 20 years. A couple of months ago, a regular brought in her daughter on her 21st birthday…[and the mother] has been hanging out at the bar for more than 20 years and now she passes it along to her daughter. That's a story I've heard from more people. Friends have said, 'Yeah, my parents met at that bar.' It's has been open for more than 65 years. It was originally called the Wigwam, actually, when Ester opened it and now her daughter runs it."
Name: Melissa Ray
Home bar: Roof Deck Bar at Camden Yards
Years in the industry: 19 in the industry, 14 behind the bar
Her favorite thing about bartending: "I've tried other things and I always come back to this. I like making new relationships and having my regular business. I'm very family-oriented and when I have my regulars it feels like a family. "
Advice she'd give to new bartenders: "If you're excited about being in the business and you want to stay in the business . . . jump in and go crazy, learn as much as you can, get involved, ask questions, join the [Baltimore Bartenders'] Guild. Go to meetings. Get your feet wet.
"…And make sure you take care of yourself as well. Make sure you're doing things that make you happy when you're out of work. Go get a massage, get a facial, and go to the gym. Do things that help relieve stress. If you don't take care of yourself you'll feel like you're just living one long night."
Name: Pam Haner (not pictured)
Home bar: W.C. Harlan
Years in the industry: 10
What's good? "I really like to do sherry cocktails, stirred cocktails, [I] like complex sippers. We have on our new menu one of my favorites, The Hermez, which is a sherry cocktail with pot-still rum, Priorat vermouth, and dry curacao that I like a lot. [For it] I infused olive oil with orange pekoe tea for the garnish."
Her favorite thing about bartending: "It's super creative, like cooking. Finding new combinations that work together. My favorite thing that happens is when you really think something is not going to work and it really, really does. One of the things that I was really surprised by is banana cordial and Fernet Branca is really nice together."
Name: Anna Welker
Current Bars: Bad Decisions and B&O American Brasserie
Years in the Industry: 11 in the industry, 8 behind the bar
What's good? "One of my favorite things is to get people to like gin who think they don't like gin . . . Gin is just this big, beautiful world of all diffident styles that people don't even know exists. I like to consider myself a 'ginja' or a gin ninja, if you will."
When she's not working: "My background is in theater . . . I love seeing creativity in motion, and I watch the set and costumes just as much as the actors. I know how much work and heart go into each show, and I know it sounds cliché, but it's still magical to me. I still get butterflies watching a curtain go up."
Name: Ginny Lawhorn
Current Bars: Sticky Rice Baltimore and Landmark Harbor East
Years in the Industry: 18 in the industry, 15 behind the bar
How the bar business makes a difference: "What I find most valuable about the bar and restaurant industry is that our industry offers hands on, in-house training and advancement through hard work that is becoming increasingly difficult to find elsewhere. You are able to join a restaurant family as a busser, move to a barback and be trained as a bartender the same way you can start in a kitchen with prep, move to a line cook, and be trained as a chef. This means the industry offers a unique opportunity for growth that can directly support so many people who might otherwise struggle to get their foot in the door for other careers.
"We have a responsibility to pay these options forward to anyone willing to work for them as they were afforded to us. I wouldn't be in the position I am in if this weren't true. I am thankful every day to be able to have a restaurant where we can provide these possibilities."