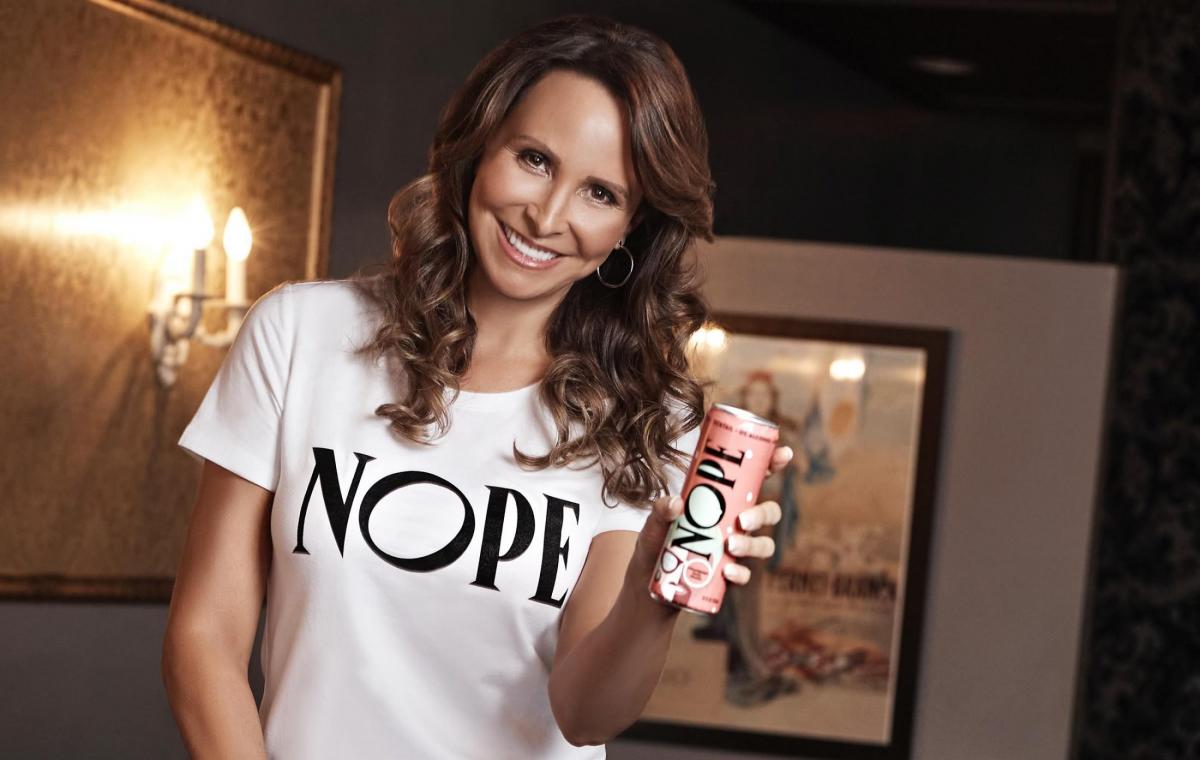 Baltimore County resident Beth Ann Shaeffer launched the business in December. —Photography by Roy Cox
Kimberly Cover put on her scrubs and clocked into Holy Cross Hospital early on New Year's Eve. The anesthesiologist has worked the same shift in the labor and delivery unit for eight years, and she's always intrigued by the excitement of possibly welcoming a New Year's baby into the world. Cover says that hospital workers typically gather in the break room for a mini-celebration minutes before midnight. This year, however, due to COVID-19, the tradition had to be skipped as workers maintained their distance.
Instead, she rang in the New Year at her desk with a nonalcoholic raspberry-lime ginger beer, one of the four flavors from alternative cocktail company, NOPE, which was founded by Cover's friend, Beth Ann Shaeffer. "I thought it would be a fun way to celebrate the stroke of midnight while I was at work," Cover says, "and a way to do it responsibly."
NOPE, a Baltimore-based beverage company, has been delivering alcohol-free cocktails to customers in a range of flavors—from strawberry basil to mango margarita—since its launch in December. Shaeffer perfected her formula from her experience making booze-free cocktail blends for her ex-husband, who has been sober for more than three years. "I just started making drinks for him using herbs and club soda or seltzer water and fruits," she says.    
Weary of wasting leftovers, Shaeffer decided to can her product one Christmas Eve. Soon after, she noticed alternative cocktails were in high demand and started crafting ideas for her own company. "I was looking to do something that inspired me," she says, "because I had taken time off to be home with my children and they're all growing up and in school now." 
Shaeffer, a Baltimore County resident, reached out to local breweries, bars, and comedy clubs to host taste tests as she refined her product, but starting a business in the middle of a pandemic didn't come without its challenges.
The early-summer release she had planned was placed on hold as bars and restaurants closed for business and the country experienced an aluminum can shortage. But, as the pandemic wore on, Shaeffner saw that people were looking to change their drinking patterns. She established a warehouse in Halethorpe, and decided on a Dec. 16 release date. "The timing was perfect," she says. 
It was important to her that the brand was accessible to all kinds of people, from those seeking sobriety like her ex-husband to others like Cover, who want to celebrate without the consequences—which is why she refrains from calling her beverages "mocktails." 
"We aren't imitating anything," Shaeffer says. "We're an alternative for people that still want to have a celebratory experience. They want to be part of the party, they just don't want to be drunk doing it."
Alt-cocktails have been rising in popularity throughout the past few years, according to Laura Silverman, founder of Booze Free in DC, a resource for DMV residents and travelers seeking an alcohol-free experience. Silverman says that, when she quit drinking in 2007, there were hardly any non-alcoholic cocktail options, but she's seen a rise in the market in the last three years.
When Baltimore underwent its first lockdown in the spring, liquor stores were among the few businesses that were deemed essential, and residents stocked up. Now, several months later, some are joining Silverman in a commitment to reducing alcohol consumption. Some are solely committing to Dry January, while others are making the lifestyle adjustment indefinite. 
Silverman recognizes the draw to alcohol in such a turbulent time. "It's just so easy to want to numb out with everything that's going on politically and social justice-wise with the pandemic," she says. "There's so much."  
She adds that options like NOPE make the lifestyle change significantly easier.   
"It's an opportunity to think differently and experience life differently [without] sacrificing our taste or the ritual," Silverman says.
Shaeffer has found that NOPE's delivery-only business model (with select locations for pick-up) and social media presence has made it easier to stay connected with customers like Silverman. She enjoys checking in with NOPE's followers, who often message her directly about their personal sobriety journeys. In the future, she plans on reaching out to distributors so that NOPE products can be available in stores.
"They're so happy to find a product that tailors to their needs," Shaeffer says. "I feel like people are making healthier choices and I see that NOPE really will fill that need for them."