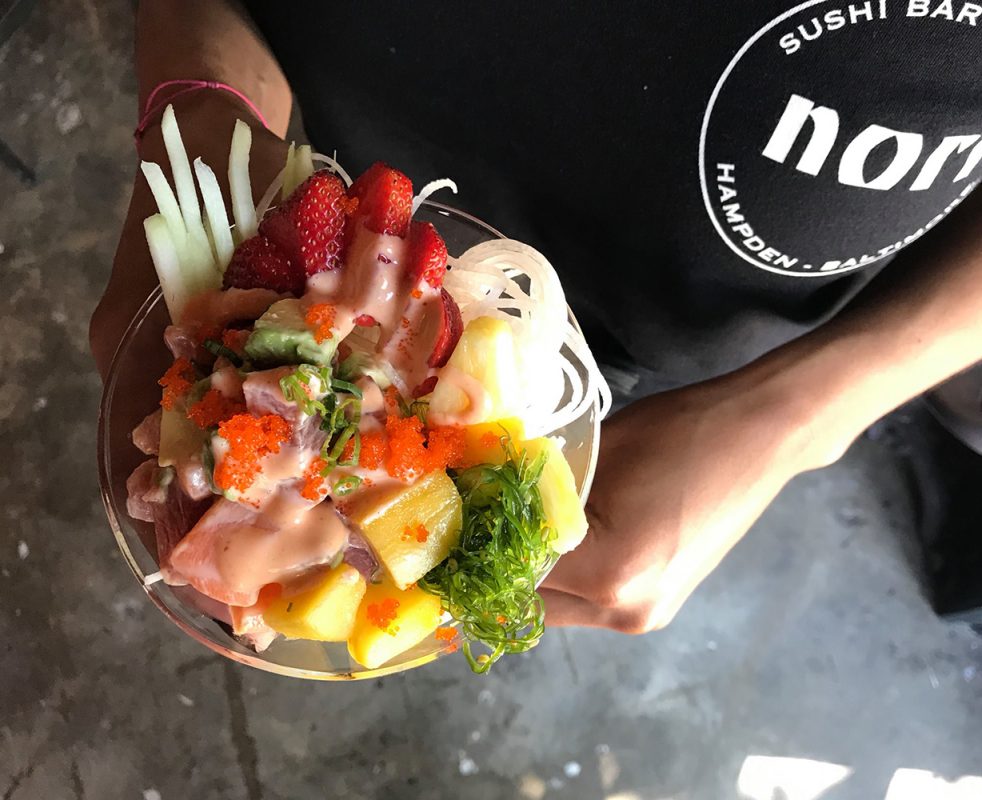 Courtesy of Nori
As the former owner of Ruby 8 Noodles & Sushi in Locust Point, chef Chil Chong has plenty of experience preparing Asian cuisine. But with his new Hampden venture, he is hoping to fine-tune his dishes and cater to the neighborhood's sophisticated palette.
"There are more foodies here," Chong says of the Hampden dining scene. "People are more understanding of sushi, so I'm excited to tweak the menu a little bit."
Expected to open in the former home of Corner Charcuterie Bar this weekend, Nori will feature Chong's elevated take on colorful sushi rolls and traditional Korean dishes, as well as an Asian-inspired bar program.
After being introduced to the space by community connector—and 2020 mayoral candidate—Lou Catelli, Chong agreed it was an ideal fit to launch the concept. He has updated the old aesthetic by painting the walls a cream color, bringing in new furniture, and adding a sushi bar so that patrons can see their rolls being made.
"Some places make the sushi in the back of the house," Chong says. "But I don't like the idea of customers not knowing what they're getting. Or not knowing whether the fish is fresh. This way, people can sit at the bar and watch us make the sushi order as it comes in."
The back bar area adjacent to the dining room, which was most recently a members-only cigar club, now has more of a lounge feel with sofas, high-top tables, television screens, and wood paneling. Chong opened the bar quietly last week, serving Asian cocktails like lychee martinis and sake old-fashioneds. He will also offer a sizeable collection of bourbon, Scotch, whiskey, and local beer from the likes of Heavy Seas and Union Craft Brewing.
"Opening the bar first was a good opportunity to introduce myself to the neighborhood," he says. "It's very tight-knit, so their opinion is important to me."
When the full dining room opens this weekend, the menu will highlight sushi, sashimi, and nigiri options, as well as Korean bibimbap, ramen with miso or chicken broth, and refreshing poke bowls that incorporate fresh fruit. Chong plans to rotate the sushi menu based on what is in season—making use of proteins including lump crab meat, lobster, and thin-sliced fish. All of his ingredients are hand-picked from local Asian markets like HMart in Catonsville.
"I'm a hands-on guy," he says. "Customers recognize it when they see you bringing the fresh produce in yourself. The restaurant is my investment, and I have a responsibility not only to myself and my family, but to the neighborhood to serve quality ingredients."
One of the things that Chong says he has enjoyed most about opening the new restaurant is getting to know the other businesses on the Avenue. In particular, he mentions chowing down on burgers at Five & Dime Ale House and tacos at Holy Frijoles as highlights.
"I feel heavier," he says with a laugh. "My stomach is used to noodles and rice, so I've definitely been stepping out of my diet. But it's great how all of the business owners support each other. That's what makes Hampden, Hampden."