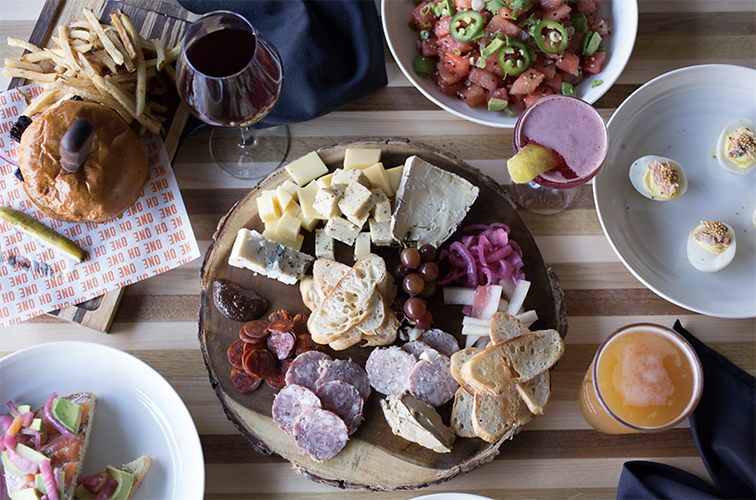 101 Baltimore
CH-CH CHANGES
101 Baltimore: Though this Federal Hill hangout initially debuted as a deli one year ago, it quickly became apparent that 101's true strengths were its sophisticated snacks, next-level cocktails, and approachable wine offerings—which we recognized with a Best of Baltimore award this year. Now, as the spot begins to hit its stride as a modern neighborhood bistro owner Sean White and his team have changed the name from 101 Deli Bar to 101 Baltimore. The refocused concept features new eats from chef Brian Mahon (think ricotta gnocchi and a watermelon poke bowl), a refreshed local beer lineup from general manager Sam Wyatt, and an expanded wine list crafted by new sommelier Dan Worrell—formerly of Minnow in Riverside. 1118 S. Charles St. 443-682-9480
Vida Taco Bar: Local diners were hyped when this Annapolis-based tacos-and-tequila spot unveiled a new location at Harbor Point earlier this summer. Now, executive chef Josh Brown is gearing up for fall by adding some new flavors to the taco menu. Favorite fillings like Buffalo cauliflower and chilled ahi tuna will be sticking around for the season, and will also be joined by new options like a fried octopus taco with yukon gold potato salad and chipotle aioli, and a sweet potato taco with black beans and pickled red onion. Additionally, the drink menu has been updated with new cocktails like the "24 Carrot," which highlights Suerte reposado tequila, fresh pressed carrot and apple juice, ginger margarita mix, and a salt-and-pepper rim. 1401 S. Point St. 443-835-8474
OPEN
Baltimore Spirits Company: This acclaimed distillery is officially opening the doors to its new production space and tasting room inside Union Collective this Saturday, September 15. The state-of-the-art facility boasts lots of character with a selection of fun bar tools from Cocktail Kingdom, reclaimed décor and furniture built by the co-owners themselves, and a brand new still that will allow for quadruple the output. Aside from the striking interior, the eco-friendly production space uses a custom geothermal system to sustainably distil its award-winning spirits like Epoch Rye and Shot Tower Gin. 1700 W. 41 St.
Well Crafted Kitchen: Speaking of Union Collective, this farm-to-table pizza purveyor also recently opened inside the space. The business—which started as mobile kitchen inside of a tricked-out 1949 Dodge pickup truck—specializes in wood-fired pizzas topped with everything from arugula and heirloom tomato to apples and caramel. The new headquarters is located just off of the Union taproom, making it easy for beer lovers to grab a snack while hanging out at the brewery. 1700 W. 41 St.
Roggenart: A new location of this heavenly Mt. Washington bakery is now open off of Dobbin Road in Columbia. The new spot continues the bakery's European-inspired flair, featuring display cases filled with fresh-baked baguettes, flaky croissants, and traditional pain au chocolat. Wash down on all of the eats with coffee drinks including espresso, macchiatos, and frothy lattes. The new cafe marks the second local shop for Serbian-born owner Nem Popov, who also owns a string of bakeries throughout Europe. 6476 Dobbin Center Way, Columbia. 443 583-7854
EPICUREAN EVENTS
9/20 & 9/27: Origins Speaker Series
We can't believe it's been three years since this sustainable speaker series debuted at Artifact Coffee. This month, the event is celebrating its long run by offering a two-part conversation about local sourcing from both the retail and the farmers' market point of view. The special program begins on September 20 with an intimate conversation between MOM's Organic Market CEO Scott Nash and Tracy Ward, executive director of food preservation organization Chesapeake Harvest. The talk will continue one week later on September 27 with special guests David Liker of Gorman Farms in Howard County and Mark Toigo of Toigo Orchards in Shippensburg, Pennsylvania. As always, both events will include drinks, appetizers, and a family-style meal with the speakers after the conversation. 1500 Union Ave. 6:30 p.m. $65 for one evening, $120 for both.
9/20: Dining Out For Life
More than 50 restaurants throughout the Baltimore-Metro area—including Hersh's, Linwoods, Square Meal, Woodberry Kitchen, and Annabel Lee Tavern—are participating in the 25th annual Dining Out For Life fundraiser on Thursday, September 20. In honor of the initiative, the restaurants have vowed to donate 25-50 percent of the day's dining proceeds to Moveable Feast, an organization that delivers meals to residents living with HIV/AIDS and other life-threatening illnesses. Check out the full list of participating restaurants here, and make a reservation to dine out for a great cause next week.
SHUT
Mueller's Delicatessen: Yet another iconic deli is shuttering its doors in Charm City. Last week, Mueller's Delicatessen in Northeast Baltimore announced that it would be closing after 71 years on Harford Road. "We would like to thank all of our loyal customers," the post reads, adding that the last day of service will be September 23. The news about the decades-old spot—best known for its spaetzle, bratwurst, and other German specialties—comes on the heels of other local deli closures including Lenny's Delicatessen on Lombard Street, Goldman's Bakery in Pikesville, and Suburban House on Reisterstown Road. 7207 Harford Rd.