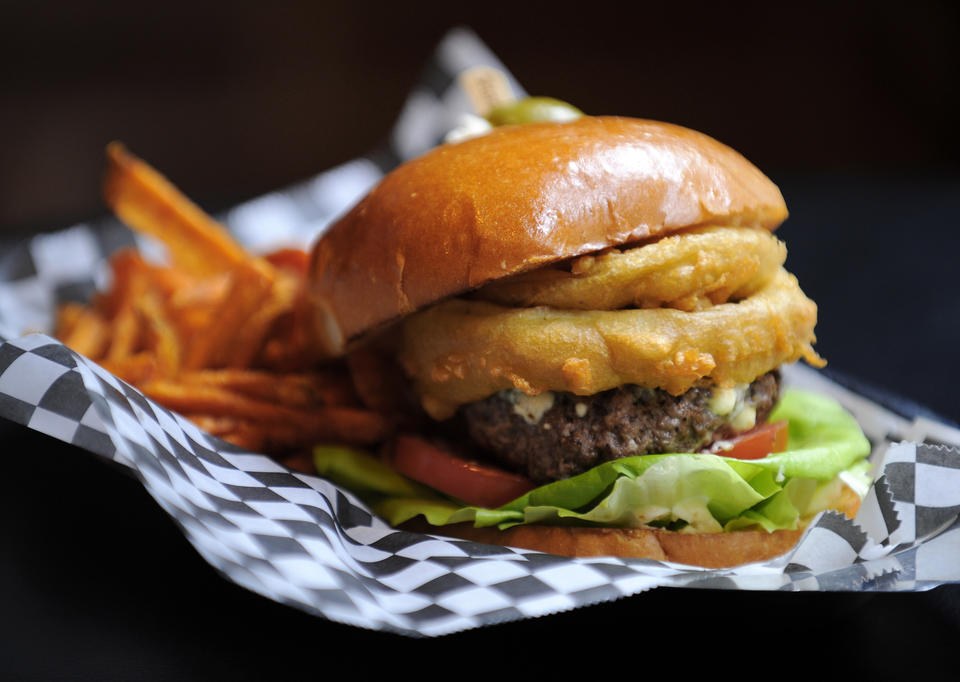 Courtesy of Abbey Burger Bistro
COMING SOON
Abbey Burger Bistro: Husband-and-wife owners Russ and Marigot Miller—along with their business partner Jason Zink of Smaltimore—have already graced Federal Hill, Fells Point, and Ocean City with their mouthwatering burgers and tots. This fall, they're expanding yet again with another Abbey spinoff in the former home of The Nickel Taphouse in Mt. Washington. This time around, the team is partnering with chef Patrick Morrow to add to Abbey's sports bar vibe with seafood steamers like shrimp and clams. "We want to use the Abbey concept and keep some of the exotic meats, but also add some things to broaden it up a little bit," Russ says.
A renovation will yield new floors and revamped bars that will emphasize local and Belgian craft drafts. Of course, in keeping with Abbey tradition, the plan is for the bar to be a hub for European soccer matches. Having grown up in the area, Russ adds that he's excited to enhance the dining scene in North Baltimore. "Our food scene in Baltimore is continuing to grow and get better and better," he says. "It's exciting that we're stepping up our food game and it's being recognized from all over." 1604 Kelly Ave.
On Top Hot Dogs + Burgers: Chef Federico Tischler is shifting his focus from Venezuelan street food to all-American classics at his stall inside R. House in Remington. This Friday, the former White Envelope concept will transform into On Top Hot Dogs + Burgers, Tischler's new brainchild inspired by his grandmother's ability to whip up meals using whatever she could find in the refrigerator. "You learn how to cook using recipes, but at the same time, using associations and the ingredients available to you," he says in a statement. In keeping with that mentality, Tischler will highlight hot dogs topped with mish-mashed ingredients. (The signature "Bullet on the Blue Sky" dog comes dressed with bacon, cheddar cheese, red cabbage, and ground crispy plantains.) Additionally, the menu features classic burgers with DIY toppings including everything from fried egg to confit cherry tomatoes and 12 different sauces. 301 W. 29th St.
Papi's Tacos: It's an exciting month for this Fells Point taqueria best known for its Mexican street vibe and killer margaritas. Not only is the Aliceanna Street staple celebrating its fifth birthday this week, but a second Papi's is expected to debut any day now in the former home of Dimitri's Tavern in Hampden. Opening across the street from its sister-restaurant Wicked Sisters on Falls Road, the new location will mimic the style of the flagship with its signature antojitos (small snacks) and build-your-own street tacos in a space decorated with interior greenery and lots of sugar skulls. While patiently awaiting the new opening, fans of the restaurant are invited to celebrate Papi's big birthday at the Fells Point location tonight. Swing by for specials including $5 house margaritas and house wines, $4 sangria, $3 draft beers, and $3 shots of tequila. 1703 Aliceanna St. 410-299-8480
NEWS
Yelp Names Baltimore a Top Foodie City: On the heels of last week's James Beard Award semifinalists announcement, the national acclaim keeps rolling in for the local dining scene. This week, Yelp ranked Baltimore among its top 10 foodie cities throughout the country. In compiling the list, Yelp's data science team examined factors such as ratings, reviews, cuisine diversity, and percentage of food photos to determine where users love to eat right now. Coming in at No. 9, Baltimore's write-up gives nods to our casual pubs, award-winning chefs, and food halls—specifically mentioning spots such as Water for Chocolate and Annabel Lee Tavern. We're in the company of famous foodie hubs including St. Louis, Houston, San Diego, Honolulu, and San Francisco.
Grand Central Sold to Landmark Partners: It's the end of an era for this decades-old dance club in Mt. Vernon, a landmark in the LGBTQ community, which was put on the market by longtime owner Don Davis more than a year ago. "My heart has always been there," Davis told us after making the decision in 2017. "I've met so many wonderful people in the past couple of decades. I'll miss it, but it's just time." Last week, it was announced that the club had finally sold to local developers Landmark Partners—the firm behind the City House coworking space located just a few blocks away from Grand Central on Eager Street. For now, the bar remains open under new management, but in the coming months the new owners plan to transform the space into an office building with two retail storefronts on the street level. Stay tuned for more updates. 1001 N. Charles St. 410-752-7133
Sandlot Sets Spring Reopening Date: The current frigid temperatures might make it difficult to envision sipping frozen cocktails at Sandlot in Harbor Point, but the waterfront hangout will be back up and running before we know it. The Woodberry Kitchen sister-spot will officially reopen for the season on May 3. Throughout the past two summers, we've gotten to know the beach-themed peninsula as a social spot for enjoying lawn games, live music, and eats on a stick. This time around, expect all of the same attractions with a slew of new events including silent disco parties, plant workshops with B. Willow, wine tastings with Old Westminster Winery, and sunset cruises on board the Baltimore Water Taxis. 1000 Wills St.
EPICUREAN EVENTS
3/8: International Women's Day at Topside
Gather your favorite boss babes and head up to Topside on the 14th floor of Hotel Revival for this Women's Day celebration benefiting My Sister's Place—a local resource center serving women and children experiencing homelessness in the city. The bar will be offering $5 wine specials for all of the ladies, and from 5-9 p.m., a percentage of all purchases will be donated to the cause. Aside from the wine, the bar team will feature a special cocktail dubbed the "Friday Evening"—a nod to Baltimore suffragist and philanthropist Mary Elizabeth Garrett and her friends. 101 W. Monument St. 410-727-7101
3/11: Moccagatta Wine Dinner at Cinghiale
Next week, Cinghiale in Harbor East is welcoming master vintner Martina Minuto all the way from the Barbaresco in Piedmont region of Italy. The wine-making expert works on her family's estate in Barbaresco, which has roots dating back to the 1800s, and will pair several of their wines with a special menu by executive chef James Lewandowski. Dishes on deck will include roasted forest mushroom bruschetta, beef tenderloin with smoked potato puree, and a hazelnut cake with dark chocolate cherry sauce. 822 Lancaster St. 410-547-8282. $129
SHUT
Lupa: Foreman Wolf Restaurant Group served the last meal at its Roman trattoria in Columbia last weekend. After transitioning from Petit Louis in January of 2018, Lupa quickly became a neighborhood spot for housemade pasta, focaccia pizzas, and some of the best gelato this side of the pond. "We love Lupa and will miss Howard County and all of our regular guests," Foreman Wolf co-owner Tony Foreman said in a statement. Foreman went on to explain that the restaurant's investors were no longer interested in funding the spot. "We're proud and grateful for our time here." 10215 Wincopin Cir, Columbia
Trinacria Cafe: Stationed on West Centre Street across from Mount Vernon Marketplace, this neighborhood cafe is a go-to for glasses of wine paired with Italian pastas and subs. (Not to mention the lively drag brunches.) But, for the time being, regulars are going to have to visit Trinacria's decades-old flagship market on West Paca Street to quell cravings. Owner Vince Fava posted a handwritten note to the cafe's front door last week, which announced that the spot will be closed "until further notice." Luckily, the downtown deli is open for business to hold everyone over until the Mt. Vernon location—hopefully—reopens in the coming weeks. 111 W. Centre St.