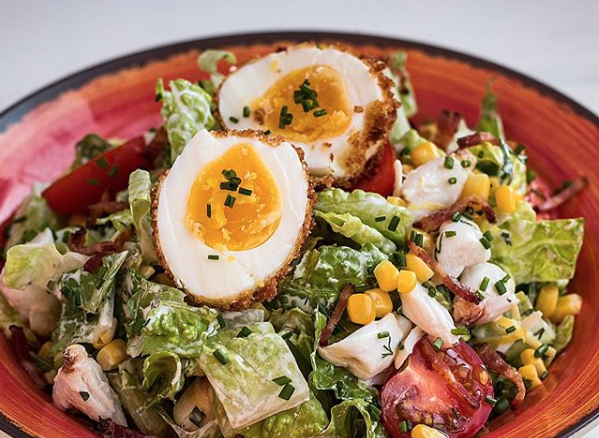 @ajsonhanover via Instagram
OPEN
AJ's on Hanover: Delia Foley's owners Andrew Carter and Jesse Selke are looking forward to debuting this new neighborhood hangout just across the street from their Irish pub in Federal Hill. The duo has spent the last few months transforming the former South Hanover Street home of Bluegrass Tavern into a brand new concept with rehabbed bars, floors, and fixtures. They plan to open the doors for the first time this Saturday, October 27. The menu helmed by chef Allysa Storms—formerly of Button, now closed for the season in Canton—features elevated pub fare like a Scotch egg cobb salad, flash-fried Brussels sprouts, and bourbon chicken with a cauliflower mash. All dishes will be complimented by a robust bar program featuring craft cocktails and local beer from the likes of Diamondback Beer and Key Brewing. 1500 S.Hanover St.
The Back Yard: Bartenders Lara Sumerson and Mike Cavanagh, who both formerly worked at The Elephant in Mt. Vernon, have breathed new life into the decades-old Patrick's of Pratt Street space in Hollins Market. Last month, the bar officially debuted as The Back Yard—a neighborhood pub offering eats, drinks, and plenty of flat screens for game-day watch parties. Expect to see local and regional draft beers, a lengthy wine list, and snacks ranging from colorful charcuterie boards to the bar's signature tinned fish imported from as far as Spain and Portugal. 131 S. Schroeder St.
NEWS
Southside Diner: There are big changes on the horizon for this reliable spot tucked in the Southside Marketplace shopping center off of Fort Avenue in Riverside. A few weeks back, brothers Nick and Steve Karvounis announced that they would be opening a new burger spinoff inside the renovated Cross Street Market next year. In addition to that new project, the family-owned diner will also be expanding with a second location at the Rotunda in Hampden in the coming months. Since its debut in 2012, the diner has become a go-to for breakfast platters, burgers, and and other classic diner fare. The spot will add even more diversity to the Rotunda's food offerings, which already include The Local Fry, MOD Pizza, and Moby Dick House of Kebab. 711 W. 40th St.
EPICUREAN EVENTS
10/28: Maryland Food Truck Week Finale Festival
Throughout the past week, dozens of local kitchens-on-wheels have been roaming the streets in celebration of Maryland Food Truck Week. The festivities will culminate this weekend with a full-blown foodie fest at the Baltimore Museum of Industry. Bring the whole family to enjoy live music, trick-or-treating activities, and, of course a lengthy lineup of local food trucks. Favorites expected to post up at the museum's waterfront lot include The London Chippy, Smoking Swine, The Green Bowl, GoGanics, Pasta La Vista, Bistro Lunchbox, and Quinn's Ice. A portion of all tips and proceeds will be donated to There Goes My Hero, an organization committed to supporting those impacted by blood cancer. 1415 Key Highway, 12-5 p.m.
10/31: Julia Child-Influenced Dinner and Discussion
If Halloween really isn't your thing, make your way to Gunther & Co. to spend the evening feasting on five courses inspired by the cooking style of late culinary queen Julia Child. Chef/owner Jerry Trice will serve his homage to the chef while diners listen in on memories and stories from Child's former assistant, Stephanie Hersh, who will also attend the intimate dinner. Optional wine pairings will be available for an additional $20. 3650 Toone St. 7-9 p.m. 443-869-6874. $75-109.
11/5: Vida Guest Bartender Series Benefiting No Kid Hungry
Starting in November, the first Monday evening of every month will feature a cocktail-filled celebration at Vida Taco Bar in Harbor Point. The spot is launching a guest bartending series that invites some of the city's top mixologists to take over the bar in support of No Kid Hungry. The first installment next month will spotlight tiki and tequila drinks from local favorite Aaron Joseph and Ezra Allen of the Sagamore Pendry Hotel. A $5 cover will be charged at the door with proceeds benefiting No Kid Hungry's Chefs Cycle program. 1401 Point St. 7-11 p.m. 443-835-3474. $5.
SHUT
Brio Tuscan Grille: On the heels of the closure of M&S Grill earlier this month, yet another Inner Harbor spot is also making plans to shutter its doors for good. According to the Baltimore Business Journal (BBJ), Ohio-based chain Brio Tuscan Grille is planning to close on November 4. An employee told the BBJ that part of the reason behind the closure was lagging sales due to "ongoing safety concerns downtown." There is no word yet on what will become of the 250-seat restaurant at Calvert and Pratt streets, or the former M&S Grill space. The closures come at a transformative time for the Harborplace development, which is currently undergoing renovations and lost longtime tenants The Fudgery, Five Guys, and Noodles & Co. in 2018. 100 E. Pratt St. 410-637-3440