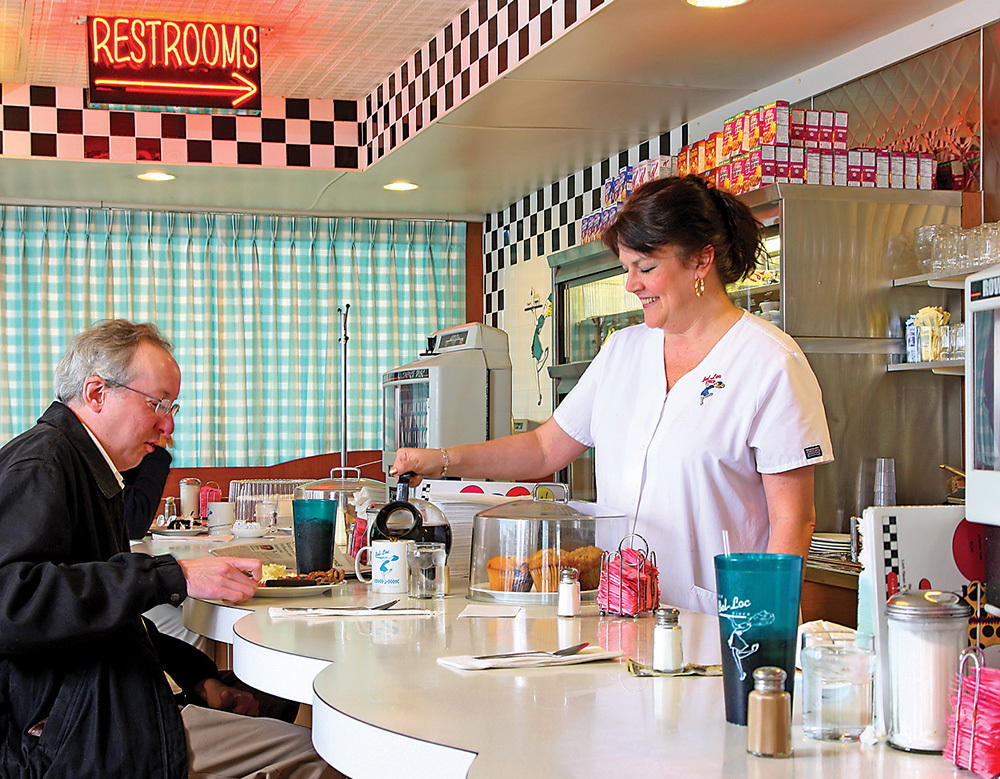 Photography by Stacy Zarin
OPEN:
Chaps Pit Beef: This stalwart smoke shack opened a larger spinoff in Aberdeen late last month. Situated in the former home of Gino's Burgers & Chicken, the new location features a spacious floor plan, outdoor seating, and the brand's signature red-and-black color scheme. "The last thing we want anyone to do is say, 'That still looks like Gino's," owner Bob Creager told us about the redesign. Though the new location has a revamped look, the restaurant's claim-to-fame barbecue recipes remain intact. Menu highlights include smoked sausages, burgers, hand-cut fries, and, of course, pit beef sandwiches topped with Chaps's signature Tiger sauce. 1013 Beards Hill Road, Aberdeen, 410-483-2379
Pop Tacos: Former Cross Street Market vendor Pop Tacos recently opened its first brick-and-mortar eatery around the corner in the space adjacent to The Local Fry. Influenced by Mexican and Korean flavors, the taco bar's menu features its classic burritos and quesadillas alongside new offerings like sushi and Korean rice bowls. The restaurant is the latest example in the every-expanding south side of Cross Street, which also boasts Bookmakers and Boiler Room.17 E. Cross St., 443-835-2489
COMING SOON:
Lotsa: On the heels of unveiling its first Maryland location in Towson, this fast-casual pizza palace recently announced that it's already expanding its footprint with another shop inside Westfield Annapolis Mall later this summer. Lotsa serves 11-inch, wood-fired pizzas, which diners can either customize themselves or order from a menu that lists flavor combinations like barbecue chicken, Hawaiian, and shrimp Old Bay. 2002 Annapolis Mall Road, Annapolis, 410-266-5432
Juniper Culinary Apothecary: Chef Sarah Acconcia—who previously headed up kitchens at Le Garage and Bookmakers before opening her own event planning business, Wild Thyme Event Studio—is joining the pack at Mt. Vernon Marketplace next month. Slated to open August 6, Acconcia's latest project, Juniper Culinary Apothecary, will be a small specialty food store offering an array of health-conscious comestibles including bulk tea, herbs, spices, and rare superfoods. 520 Park Ave., 888-897-8859
The Starlite Diner: Although the corner property at 510 E. Belvedere Avenue has been a revolving door for restaurant concepts over the past few years, local restaurateur Leonard Clarke is confident that he has come up with an idea that will stick. Clarke will open family-friendly Starlite Diner in the space later this summer, featuring a menu full of upscale comfort foods and healthy options for kids. Clarke previously owned Red Maple in Mt. Vernon, which was recently sold to Ryan Perlberg, who plans to transform it into a cocktail bar called Sangria. 510 E. Belvedere Ave.
CH-CHANGES:
Bel-Loc Diner: Though no plans are set in stone, Charm City locals have taken to social media to express their dismay about the potential closure of this 52-year-old Towson landmark. In a message posted to Facebook last week, a spokesperson for the diner revealed that owner Bill Doxanas is currently negotiating a deal to sell the old-school space to Starbucks Corporation, which plans to demolish the building to make way for a new coffee shop with a drive-thru attached. Local nonprofit Preservation Maryland has already launched a petition to save the structure. Bel-Loc—whose name was inspired by the Baltimore beltway and its location in Loch Raven—has long been a favorite for locals looking to sip fresh coffee, listen to jukebox oldies, and chow down on classic burgers and breakfast fare. The diner will remain open for breakfast and lunch until the sale is official. 1700 E. Joppa Rd., 410-668-2525
The Milton Inn: Owner Brian Boston is giving this fine-dining den a more modern makeover in hopes of appealing to a younger demographic. Situated inside an 18th-century fieldstone building in Sparks, the 70-year-old restaurant will undergo interior changes (like new furniture, lighting, and artwork) as well as outdoor upgrades like a revamped patio with a new pergola. Renovations are expected to be complete by the end of August. 14833 York Rd., Sparks, 410-771-4366
One-Eyed Mike's: At an auction held outside of this Fells Point institution last week, owner Mike Maraziti sold the 13-year-old staple for $1.25 million. Though neighborhood locals were filled with bittersweet emotions about the sale, new owners Akbar Vaiya and his mother, Susan Hormozi, assured the community that they plan to keep the original One-Eyed Mike's concept alive. Vaiya, a Le Cordon Bleu-trained chef from Towson, will shadow Maraziti in the coming weeks, and locals will be happy to hear that he will continue the bar's signature Grand Marnier club, which has eclipsed 2,600 members. 708 S. Bond St., 410-327-0445
Victoria Restaurant Group: Ellicott City sports bar Diamondback Tavern was recently sold to Randy and Mary Marriner, the couple behind Victoria Gastro Pub and Manor Hill Brewing Company in Howard County.The Marriners plan to convert the space into Manor Hill Tavern, which will showcase their craft brews alongside a menu of upscale pub grub when it debuts in September. Food Plenty, a third concept from the family that is slated to open this winter in Clarksville, is also in the works. Former Alewife chef Chad Wells has been hired as Victoria Restaurant Group's new executive chef. 3733 Old Columbia Pike, Ellicott City, 410-313-8530
SHUT:
Alchemy: Husband and wife owners Michael and Debi Matassa recently decided to close this New American restaurant on the Avenue in Hampden in order to focus their energy on their Bel Air spinoff Alchemy Elements. The second location boasts the same culinary flair with added amenities like a full bar and al fresco seating.