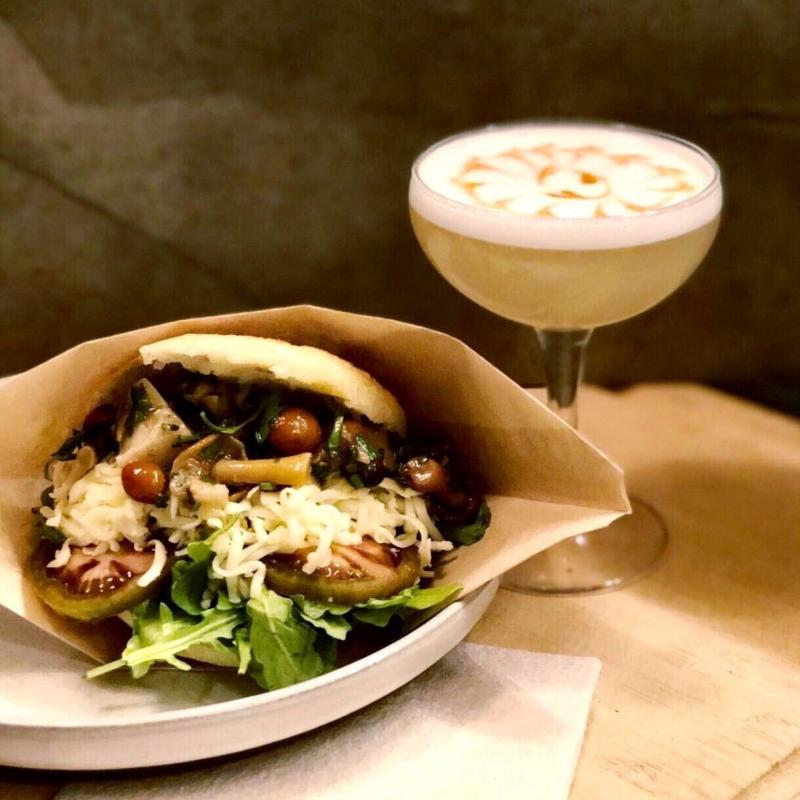 Alma is bringing its arepas and cocktails to Station North. —Alma Cocina Latina
NEWS
Alma Cocina Latina Moving to Station North: Last month, diners were saddened to hear that Alma Cocina Latina would be moving on from its longtime home at the Canton Can Company. But husband-and-wife owners Irena Stein and Mark Demshak were quick to assure the community that it wasn't a goodbye—and they meant it. Next month, the Venezuelan-inspired restaurant will breathe new life into the former home of Pen & Quill, which sadly shuttered in Station North in July. Not only will Alma be bringing its fan-favorite arepas and colorful plates to the new digs, but it will be sharing the 5,300-square-foot space with Mera Kitchen Collective. Together, the dedicated teams will use the space to launch Alkimiah, an initiative that will continue their work to feed those in need and address food apartheid throughout the city. 
Foreman Wolf Opening New Restaurant at Canopy Hotel: Our staycation options are set to expand this fall with the debut of Canopy by Hilton at Harbor Point. The 156-room hotel will feature killer waterfront views, meeting and event spaces showcasing local artwork, and, perhaps most notably, a new restaurant from Tony Foreman and chef Cindy Wolf—who already operate beloved fine-dining destinations Charleston, Cinghiale, and Bar Vasquez in the area. Details about the concept are still forthcoming (watch this space) but it's safe to say that diners can expect a top-notch wine program and the same level of hospitality that Foreman Wolf emphasizes at its other properties. The restaurant is slated to debut with indoor and outdoor seating on October 15. 
Dulceology: The Federal Hill dessert scene continues to expand with this new sweets shop scheduled to open on September 15. Neighbors have most likely noticed the bright pink storefront on South Charles Street, which will specialize in traditional Argentinian Alfajores (sandwich cookies filled with dulce de leche.) Sisters Alejandra and Nicole Leiva will also offer vegan empanadas, an array of gluten free items, and made-to-order cakes in colors as bright as the building's exterior. 
Vegan Juiceology: This homegrown juice bar is officially joining Cajou Creamery and Cuples Tea House in the refurbished Howard Row development. Come winter, the flagship location designed by Tiffanni Reidy will offer cold-pressed juices in varieties such as "Beet Lemonade" (beet root, pineapple, orange, ginger, and lemon) and "The Refresher" with cucumber, apple, and mint. Vegan Juiceology owner Dominique Allen recently took to Instagram to share her excitement about reinvigorating Howard Row alongside other Black-owned businesses: "The area, mostly abandoned for 40 years or more, is now in the process of revitalization with Black and brown individuals serving collectively as an anchor," she wrote. "We are growing businesses in the midst of a pandemic, in the midst of battling for equality, in the midst of literally fighting for our lives. We are strong to the core. Let's grow. Let's make it happen!"
EPICUREAN EVENTS 
Farm to Chef Maryland: This annual fall fundraiser benefiting TasteWise Kids is going virtual this year, but it's still sparking friendly competition among some of Charm City's best culinary creators. Grab your ticket and tune in on October 5 as two teams face off in an Iron Chef-style battle that will be livestreamed from Baltimore Chef Shop. But first, attendees are encouraged to vote for which teams they'd like to see duke it out on the big day. (Will it be Durian Neal of Good Neighbor paired with Doug Wetzel of Gertrude's? David Zumudio of Alma Cocina Latina with Just Call Me Chef founder Catina Smith? Or one of the many other dynamic duos?) Voting is open through September 12. 
SHUT 
Lobo: The closure of this Fells Point corner bar broke hearts all over the city this week. Owners Jamie and Pamela Hubbard took to social media to announce that, after six years—and navigating the struggles of COVID-19 for the past six months—they are moving on to focus on catering and private dining. The neighborhood gem was known for its raw bar, one-of-a kind snacks like the famous onion dip and cheeseburger tartare, and some of the best Old Fashioneds around. "To our guests, thank you," the announcement reads. "Words can not properly express our gratitude. You all have shared your lives with us. We hope you enjoyed." We certainly did.