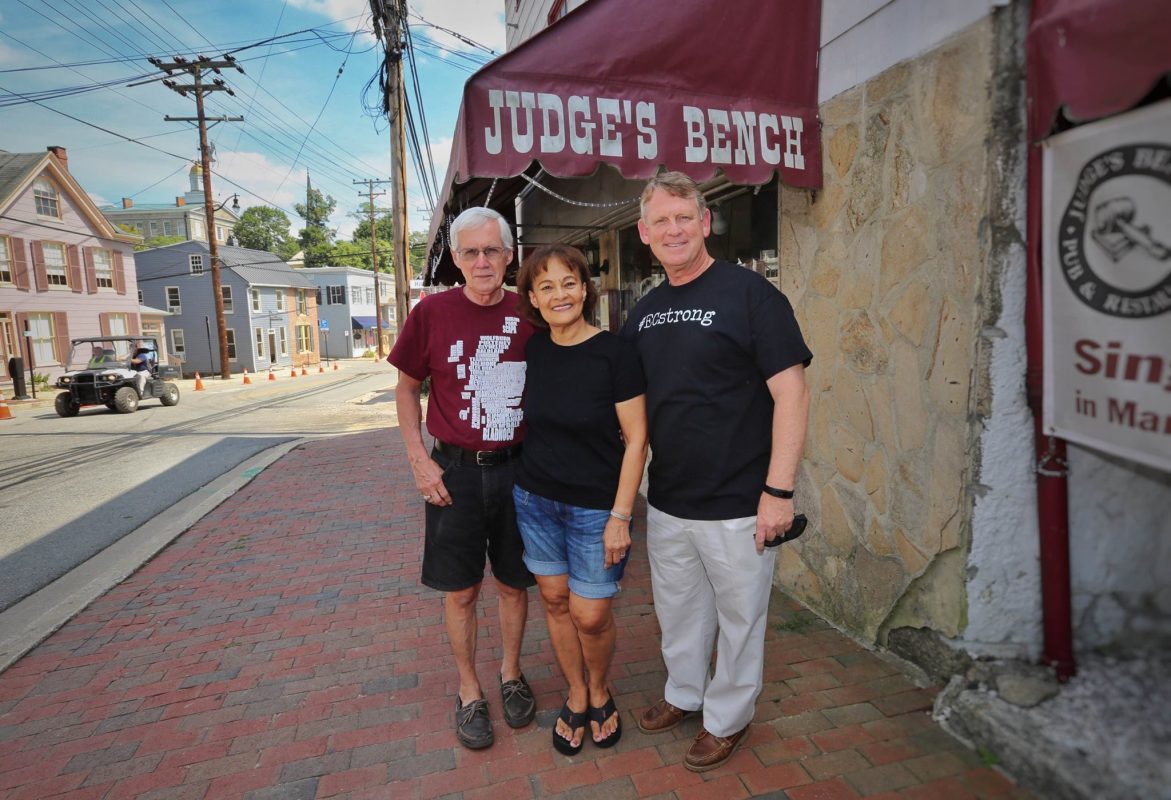 Courtesy of Judge's Bench
OPEN
B-More Kitchen:: After months of setbacks, Charm City's first communal food incubator is officially on its feet. The 28,000-square-foot building in Govans has been completely revamped, now boasting state-of-the-art commercial kitchen space for local food startups to mass produce their artisanal products. The incubator also features a library of communal cookware, cold and dry storage, office space, and an events venue on the top floor. Small-batch makers that have already taken up residency inside the space include Bottoms Up Bagels and Pie Time Baltimore. 5604 York Road
ELLICOTT CITY REOPENINGS
Judge's Bench: Just shy of five weeks after raging flood waters wreaked havoc in Ellicott City, this Main Street haunt officially reopened its doors last weekend with a celebration that drew in the likes of County Executive Allan Kittleman and Lt. Governor Boyd Rutherford. The corner pub, named after its location near the original Howard County Courthouse, is back up and running, slinging pints of craft beer and serving up its signature pub grub. The bar's live music schedule, including its signature open mic nights, will pick back up throughout September. 8385 Main St., Ellicott City, 410-465-3497
The Wine Bin: Just across the street, The Wine Bin also celebrated a grand reopening last week. As the stalwart shop gets back into its regular routine, it's also re-launching various community events including the Ellicott City Old Towne Market on Saturday mornings and its outdoor movie series on Saturday evenings. Though the market has been temporarily relocated to Mount Ida, The Wine Bin will host its dog-friendly Yappy Hour tasting event tonight from 6-9 p.m., and resume its summer screenings with a showing of My Big Fat Greek Wedding Saturday at 8 p.m. 8390 Main Street, Ellicott City, 410-466-7802
COMING SOON
Angela's Seafood: The first-floor site that previously housed Obryki's Crab House in Fells Point has sat vacant since 2011, but next month, an emerging seafood spot will breathe new life into the space. Slated to open in the beginning of October, Angela's Seafood will seat 130 in its bar and dining room and offer everything from mussels and clams to steamed shrimp and local blue crabs. 1727 E. Pratt St.
Baltimore Soup Co.: Husband and wife duo David and Lisa Redmond, the couple behind Towson's Cafe Gourmet, plan to launch this new soup-centric concept in the coming months. Not only will the owners open a location in Downtown's Charles Plaza food court this fall, but they have also snagged a portion of retail space on the first floor of the 2 East Wells apartment complex in South Baltimore, which will debut in 2017. Conveniently arriving just in time for the chilly fall temperatures, the Charles Plaza soup shop will highlight eight daily varieties—including favorites like Maryland Crab, tomato bisque, and loaded baked potato—alongside a slew of sandwiches and salads. 222 N. Charles St.
Restaurant B: Earlier this week, Maggie's Farm owners Matt and Andy Weaver launched a new crowd-funding campaign to open a sister spot at the yet-to-open Soha Union development in Hamilton-Lauraville. Though specific details have not yet been released (the owners are referring to the new eatery as "Restaurant B"), Andy recently told us that the spot will offer a fusion of American and International cuisine, as well as next-level wines and cocktails. The 100-seat space is expected to debut in November 2017, highlighting an open kitchen, woodfire grill, outdoor patio, and spacious bar and dining room. 4801 Harford Road

Chef Malcom Mitchell to Open Second Local Restaurant: Though the name has yet to be revealed, former Food Network Star contestant Malcolm Mitchell recently announced plans to open a second local eatery in Butchers Hill later this month. Mitchell, the Columbia native who quietly opened Ryder's Bistro last May in Upper Fells Point, plans to focus on shareable plates with next-level wine pairings at the new restaurant, which will seat 80-100 guests. 32 N. Chester St.
CH-CHANGES
B&O American Brasserie: A massive $250,000 renovation project recently got underway at this fine-dining den inside the Hotel Monaco. Led by Los Angeles designer David Hill, the redesign will eventually yield a revised floor plan, 40-seat private dining space, and a fresh look highlighting brass accents, subtle lighting, and a warm gray color scheme. The restaurant and bar will remain open for breakfast, lunch, and dinner service throughout the renovation process, which is expected to be complete by mid-October. 2 N. Charles St., 443-692-6172
Pazo: Foreman Wolf Restaurant Group, the brand behind city spots Charleston, Cinghiale, Petit Louis, and Johnny's, announced earlier this week that its Sicilian hangout in Harbor East will be undergoing major changes in the coming months. Pazo will close on September 17 to make way for Bar Vasquez—an Argentinian concept featuring authentic cuisine, a carefully curated list of malbecs, and nightly live music. Co-owner Tony Foreman estimates that the new restaurant will be ready for a debut in October. 1425 Aliceanna St., 410-534-7296
Bluegrass Tavern: Later this month, the brick façade on the corner of South Hanover Street and West Fort Avenue in South Baltimore will boast an entirely new logo. Now under new ownership, Bluegrass Tavern—the Lowcountry mainstay best known for its fried chicken and crawfish mac and cheese—will transform into a spinoff of Downtown breakfast spot Saturday Morning Cafe. Owner Will Sterling recently told SouthBMore.com that he intends to keep some of Bluegrass's best-selling items (think braised beef short ribs and raw oysters) on the menu, while also implementing kid's offerings and breakfast and lunch service on the weekends. 1500 S. Hanover St., 410-244-5101
SHUT
Family Meal: Earlier this week, celebrity chef Bryan Voltaggio's modern diner concept shuttered its doors in the Inner Harbor. The news of the closure comes on the heels of Voltaggio's decision to close three other Family Meal locations in Hagerstown; Ashburn, Virginia; and Richmond, Virginia. Though the concept didn't materialize the way the he had hoped, the Frederick-born restaurateur tells us that he isn't ruling out another Charm City restaurant in the future. Stay tuned.