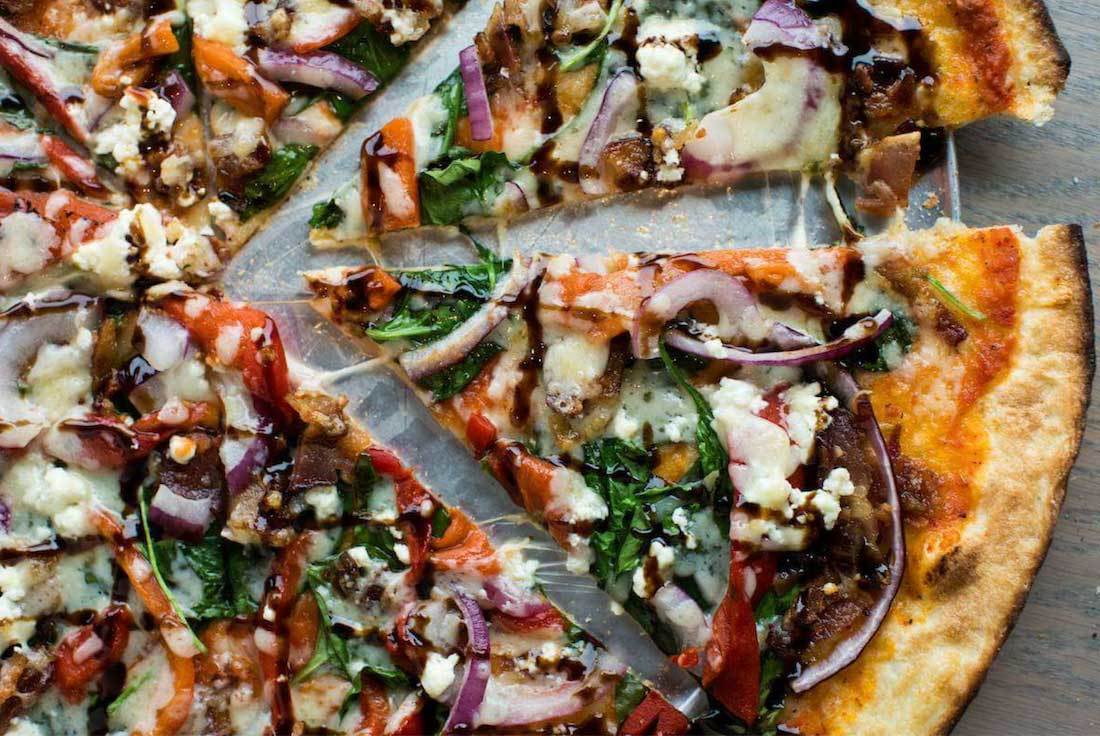 Courtesy of Bagby Pizza Co.
NEWS
Bagby Pizza Co. Closing in Harbor East and Pikesville: Come 2018, Harbor East diners are going to have to find a new go-to lunch spot. After nearly a decade of serving slices and salads in the historic Bagby building on Fleet Street, this celebrated pizza joint is planning to close its doors in the first quarter of the New Year. "Bagby was a great concept, and certainly a fun 10 years, but, on to other things," president Blake Smith tells us. "We appreciate the loyal support of all of our customers and staff members—it's been fun serving everyone." Throughout its run, Bagby has become known for its unique pies (including everything from barbecue chicken to a sweet and spicy option with roasted red peppers and a balsamic glaze), and has even spawned two spinoffs in Baltimore County. While the Foundry Row location in Owings Mills will remain open, Bagby's DIY pizza concept at The Festival at Woodholme in Pikesville will close for good on January 2. Towson sister-spots Cunningham's and Cunningham's Cafe, along with its wholesale bakery, will not be affected by the changes. 1006 Fleet St. and 1809 Reisterstown Road, Pikesville.
Heavy Seas Announces New AmeriCannon: Fans of Heavy Seas' Cannon beers (think Loose Cannon, TropiCannon, and Double Cannon double IPA) will be happy to hear that the Halethorpe brewery will soon debut the newest member of its Cannon crew. AmeriCannon, a double dry-hopped American pale ale, will be released in January 2018 as a year-round offering within the brewery's national distribution footprint.  The beer combines warrior, cascade, centennial, simcoe, and palisade hops, and boasts citrus and floral notes. "I'm not sure I can describe how excited we are about this beer," Heavy Seas brewmaster Christopher Leonard said in a statement. "We dry hop it with almost double the amount that we use in Loose Cannon, all in a 5.75 percent ABV package that is a hop lover's dream come true."
OPEN
Syriana Cafe & Gallery: For years, Ellicott City locals have flocked to Syriana Gallery—the Main Street staple that showcases authentic jewelry, metalwork, chess boards, mosaics, silks, and crafts. And recently, the shop expanded its offerings with a new attached cafe. Currently in soft opening mode, the eatery offers Syrian cuisine including traditional coffees, omelets, lentil soup, roasted meats, tabbouleh salad, and even a dessert kebab that tops crepes with chocolate, whipped cream, and fruit. The cafe will celebrate its official grand opening after the New Year. 8180 Main St., Ellicott City, 443-325-5661
A Rake's Bar and The Cup We All Race 4: Spike Gjerde has officially expanded his footprint outside of Charm City. Last week, the James Beard Award-winning chef behind Woodberry Kitchen premiered two of the three destinations that he has in the works at The Line Hotel in the Adams Morgan neighborhood of Washington, D.C. The first, A Rake's Bar, features local beers, ciders, and cocktails to accompany the fare at A Rake's Progress—Gjerde's forthcoming restaurant which is also expected to debut inside the hotel in January. A lobby cafe called The Cup We All Race 4 (named after the famed John F. Peto painting) also opened in the space last week, highlighting North Carolina-based Counter Culture coffees, hot and cold cereals, sandwiches, and baked goods. 770 Euclid St NW, Washington, D.C., 202-588-0525
EPICUREAN EVENTS
12/31: First Pour New Year's Eve Party at Suspended Brewing Company
This long-awaited brewery on Washington Boulevard in Pigtown is kicking off 2018 in style. The sustainably-focused facility will open its doors for the first time on New Year's Eve, hosting a party featuring dinner catered by Ekiben, local Vigilante Coffee and Wild Kombucha on draft, and, of course, a beer toast at midnight. 912 Washington Blvd., 8 p.m., $60, 410-926-8847
1/1: New Year's Day Brunches
If you already know that you're going to be in need of a serious hair-of-the-dog cure on New Year's Day, the local brunch scene has got you covered. Among the specials to consider include bottomless mimosas at Mother's in Federal Hill, build your own Bloody Marys at Five and Dime Ale House in Hampden, greasy grub at Alexander's Tavern in Fells Point, or house-made pastries at Gunther & Co. in Brewers Hill.
SHUT
Suburban House Deli: Last weekend, diners were surprised to see a hand-written sign with the word "closed" hung on the front door of this Pikesville institution. Though the reasons behind the decision remain unclear, owner Mark Horowitz confirmed the deli's closure to Jmore Living earlier this week. With roots dating back to 1939, Suburban House has long been a favorite gathering spot for mahjong tournaments, Sunday brunches, and classic deli fare (think coddies, breakfast platters, rainbow cake, and matzoh ball soup) served atop paper placemats listing a witty glossary of Yiddish terms. The spot is the latest in a string of deli closures in the area, including Steve's Deli in Owings Mills and Lenny's Deli, which closed its location on Lombard Street earlier this year. "It's a real shame that old deli businesses are closing," Lenny's owner Alan Smith recently told The Baltimore Business Journal. "If you're family-owned, it's becoming harder and harder to survive." 1700 Reisterstown Road, Ste. 105
Goldman's Kosher Bakery: This decades-old staple located just down the street from Suburban House is also closing its doors—and regulars are already mourning the loss of the famed chocolate-top cookies. The owners are moving on from the bakery business to focus on spending more time with family. As a thank you to customers, they will be discounting the bakery's inventory until its official last day of business on New Year's Eve. The second Goldman's location inside Pikesville's Seven Mile Market will close on January 5. 6848 Reisterstown Road, 410-358-9625