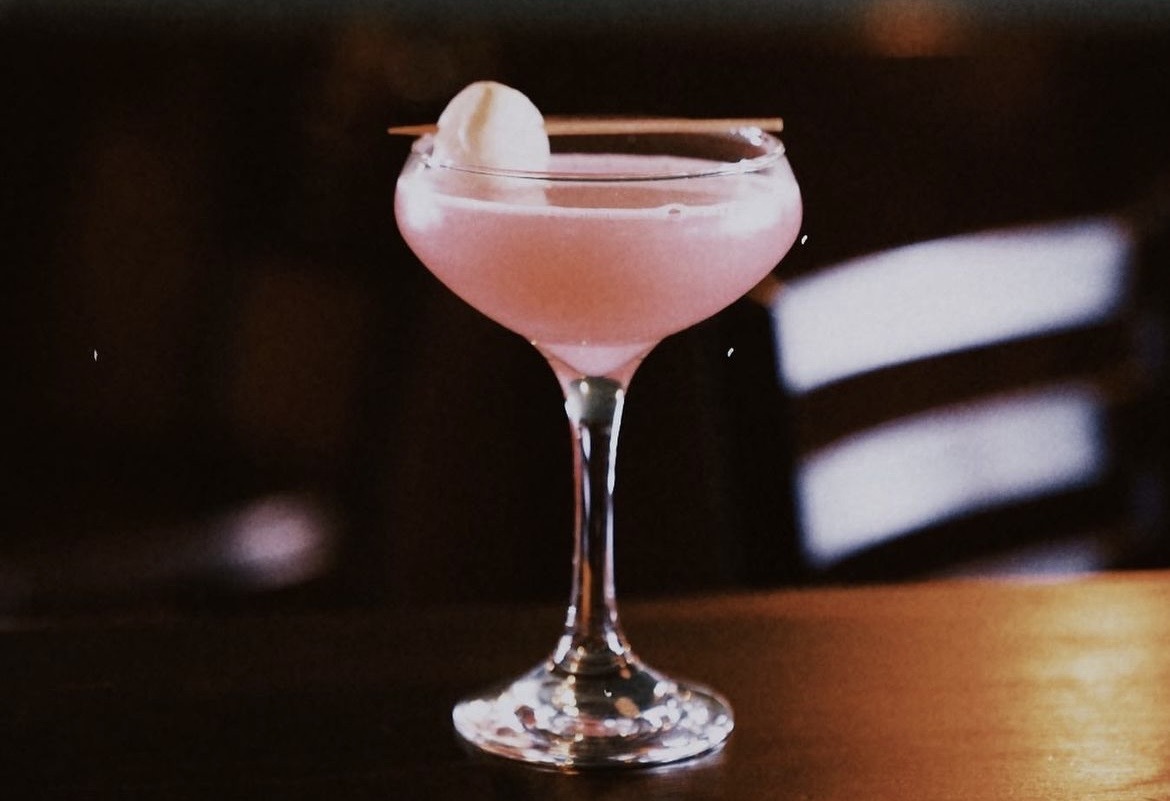 The lychee martini at Kenwood Tavern. —Courtesy of Kenwood Tavern via Instagram
Kenwood Tavern: The Canton corner bar at 800 S. Kenwood Ave. has a new proprietor. The former home of Mr. Nice Guy Cocktails is now aptly named Kenwood Tavern, a fresh concept from the brains behind Secret Sauce Co. and Bar 1801 in Upper Fells Point which soft launched on March 23. "We thought we were going to have a quiet opening weekend, but it got pretty busy," says Matthew Steinberg, who co-owns the bar with business partner Vaughn Weitzman. "The neighborhood did not hesitate to tell us that there was a really dire need for a true cocktail bar over here."
One of the first things patrons will be sure to notice when they visit Kenwood Tavern is the hand-drawn menus, with custom illustrations and a groovy font by Molly Steinberg. Expect libations like a lychee martini, watermelon mezcal, and one of the most popular cocktails so far, a classic Last Word made with gin, lime juice, maraschino liqueur, and green chartreuse. Small bites are also on offer until the tavern announces a more definitive food plan.
As for the vibe, the owners added personal interior touches that are nods to their shared love of music and vinyl, as well as Molly's affinity for tattoo art. "When we curate a space, we really make it feel like an extension of ourselves or our own home," Matthew says. When asked how Kenwood differs from Bar 1801, he described it as "the baby sister" to the Upper Fells hangout and live music venue, with a more relaxed atmosphere. 
"One of the things we really pride ourselves on is talking to customers and seeing what their preferences are," Weitzman says. "We try to be a bar 'plus'—doing a little bit extra, making sure everyone feels comfortable and is having a good time. If we can get a laugh out of a customer, then that's a good interaction."
Koshary Corner: Billed as Baltimore's first Egyptian street food restaurant, this pop-up and food truck-turned-brick-and-mortar stall celebrates its grand opening at R. House in Remington today. From chef Iman Moussa, the spot offers its signature plant-based koshary bowls (Egypt's national dish) piled with rice, pasta, chickpeas, lentils, house tomato sauce, fried onions, and a drizzle of vinaigrette. To celebrate the opening, Moussa and her team—which features the talent of immigrant and refugee women—will also be whipping up dip platters with fresh pita, falafel bowls, kofta (sausage wrapped in a yellow lentil breading), and chicken-less shawarma.
Kneads Bakeshop & Cafe: H&S Bakery's long-awaited retail concept is officially open in Harbor East. Fans of the famed Fells Point factory can now more easily get their hands on its artisan breads, bagels, and pastries in a cafe-style setting. But the spot also incorporates the H&S products in elevated dishes like a classic Croque Madame, ricotta toast with blackberries and smoked honey, a friend chicken banh mi, and a burrata caprese sandwich with chili garlic crunch. 
The sparkling space at 506 S. Central Ave. spans 17,000 square feet, with a local retail market (think scratch-made goods from the likes of Hon's Honey, Aunties Caribbean Cafe, and Wild Bay Kombucha) and plenty of seating to enjoy the sandwiches, plus salads, soups, coffee from Aveley Farms, and other seasonal beverages and cocktails. A glass-encased prep space even gives patrons a peek at the baking process.
COMING SOON
Pure Chocolate by Jinji: Big news is in store for this local chocolate purveyor that's been blessing the community with its ethically sourced sweets for a decade. Founder Jinji Fraser and general manager Jonathan Seton recently announced on Instagram  that the team is opening a new brick-and-mortar shop in the Waverly neighborhood. After nine years in Belvedere Square Market, they plan to eventually do a "full hand off" to the new, larger space at 3100 Greenmount Ave. Fans new and old can expect a drinking chocolate bar—"the first one in Baltimore," Fraser said in the announcement video—a display case full of the brand's chocolate creations, a retail shelf, and possible chocolate classes.
"This is so exciting," Fraser said in the video, calling the new space their "landing ground." "We're so excited to have a space to welcome you all in, and so excited to have gotten to this point in what we're doing. We're still here 10 years later, which is due in no small part to our community…My hope is that we continue to be a welcoming space where we ourselves grow and [where] our guests, friends, and customers grow, too."
EPICUREAN EVENTS
3/31-4/15: Cherry Blossom Pop-Up Bar
The cherry blossoms around Baltimore may have already passed their peak bloom, but that doesn't mean we can't continue celebrating them this month. Plan a visit to Downtown Partnership of Baltimore's Cherry Blossom Pop-Up Bar at 1 E. Baltimore St., which invites guests to sit under the blooms of a 20-foot cherry blossom tree, constructed by artist Anna Platis, as they sip specialty cocktails. The menu includes concoctions like a Lychee Bellini, Fuyu Strawberry Sour with Japanese whisky, and an Ume Plum Daiquiri. In addition to being a warm welcome for spring, the initiative serves as a way to bring more foot traffic to the Charles Center area downtown. 
4/1-4/30: The Local Oyster and True Chesapeake Oyster Co. Food Drive for the Maryland Food Bank
Throughout the entire month of April, sister restaurants The Local Oyster (which operates locations in Mount Vernon Marketplace and Locust Point) and True Chesapeake Oyster Co. are hosting a food drive with the University of Maryland Alumni Association and the Maryland Food Bank. At their combined three spots, the team will be collecting canned goods, non-perishable food items, and pet food to be donated to those in need.
NEWS
Cocktails Return to Old Westminster Winery: Looking to take a springtime road trip? We'd suggest OWW, where you can not only enjoy top-tier natural wine pours, but new spring-themed cocktails, as well. For the month of April, the winery is once again offering handcrafted cocktails made from its estate brandy (aka distilled wine) and infused with a variety of local and organic ingredients. They're even offered in flights, so you can try a sip of each. One of the cocktails on offer is the Elderflower Rosé Spritz, made with a three-year, barrel-aged estate brandy, 2022 rosé, house-made orange simple syrup, lime, and elderflower lemonade.
Guinness Open Gate Brewery Closing Relay Manufacturing Facility: Earlier this week, Diageo, the parent company of Guinness, announced that it will close its manufacturing facility in Relay in June. But the company assured that this will not affect operations at the Halethorpe taproom and restaurant. Rather, the Baltimore Business Journal reports that this move is meant to ensure long-term growth, and that the company will be "optimizing" its existing operations across North America.
"This decision will not impact our hospitality operations at the Guinness Open Gate Brewery taproom and restaurant," Diageo reiterated in a statement to CBS Baltimore. "We have been part of the Baltimore community for many years and will continue to be active members through our work at the Guinness Open Gate Brewery, contributing to local tourism and the economy, and supporting local charitable organizations."