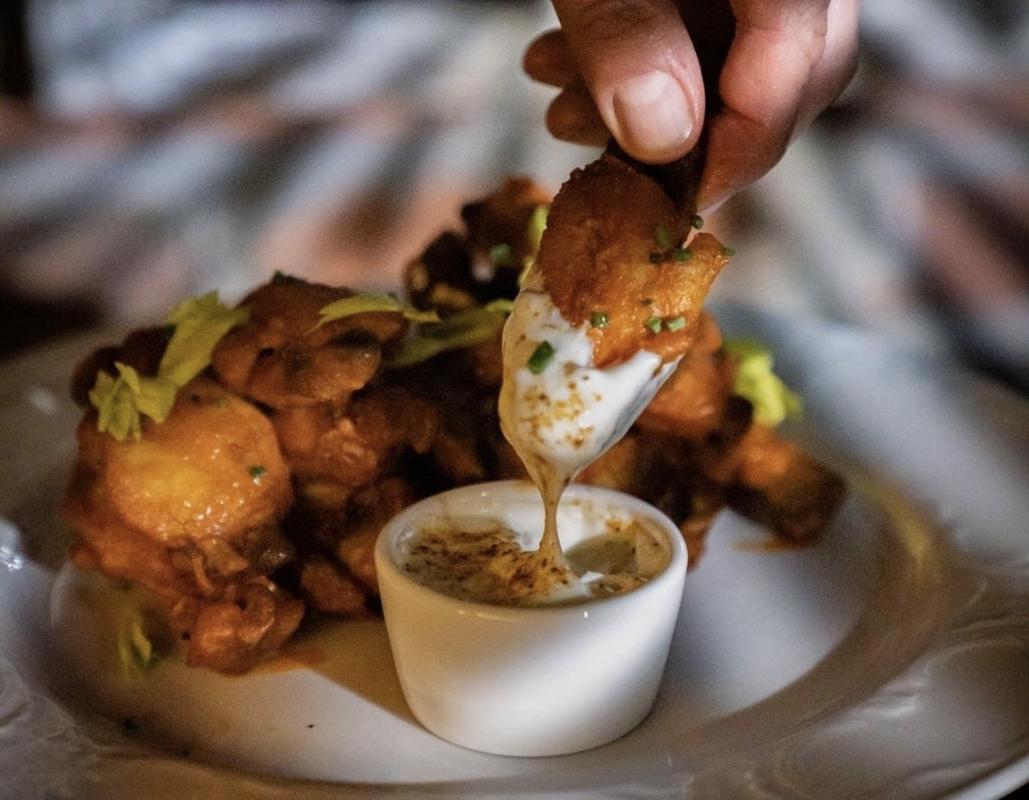 The confit wings at Anchor Bar. —Courtesy of Anchor Bar via Instagram
OPEN
Anchor Bar: The first of chef Ashish Alfred's three new concepts slated to debut inside the Admiral Fell Inn—located next door to his Fells Point brasserie Duck Duck Goose—is now officially open Wednesday through Saturday from 5 p.m. until last call. Set inside the subterranean space that previously housed Tavern at the Admiral, Anchor Bar will roll out a specialty cocktail menu, curated by the beverage team at Duck Duck Goose, this week. Although Alfred has taken over, he says many things have stayed the same. (He mentions that a longtime Tavern bartender even returns on certain nights.)
"It's steeped in history," Alfred tells us. "When you have something that's been around for so long that people love, you're really just polishing it up, in terms of the concept. The space itself is really unique…we've dressed it up a little bit—we put down a new floor and added some new lighting."
There's a new food menu, too, with snacks like sliders, confit chicken wings, and a spiced nut mix.
"We get a lot of overflow at Duck Duck Goose for people waiting for a table, or people who might not have had a reservation, so we've been walking them down to Anchor Bar," Alfred shares. "It's a big part of the history of Fells Point, and you really feel like you're taking in a piece of that history while you're down there…It's a good place to start or end your night."
As for the other two concepts slated to open at The Admiral Fell Inn, Alfred says he will now get to work on Italian restaurant, Pirata, which he hopes to debut in early 2023. 
Aveley Farms Coffee Roasters: Last week, Aveley Farms opened the doors to its new home in Towson at 42 W. Chesapeake Ave., near the Towson Row development. The local cafe and roastery announced last year that it would move from its longtime space in Harbor East, after the building was sold to a developer who planned to transform it into apartments. At the new Towson digs, patrons can expect a bright and airy space serving up strong java blends, as well as salads, bagels, pastries, pressed juices, and tea. "We've paid tribute to our beginnings," the team wrote on Instagram announcing the opening, "and designed and built a new cafe we are really proud to share with you and the Baltimore community."
Topgolf: Get your swing ready, Baltimore. High-tech driving range chain Topgolf will open its first location in Charm City (the third in Maryland) on Friday, Oct. 28. The venue is located at the intersection of Stockholm and Warner streets in the Southern Gateway Entertainment District, and sits adjacent to Horseshoe Casino Baltimore and M&T Bank Stadium. It'll house 90 outdoor hitting bays throughout its three levels. After working up an appetite with those swings, golfers can enjoy on-site food and beverage offerings like a classic margarita, blackberry smash, or the Boozy Cherry Limeade Golfbag (for parties of two or more served in a take-home mug). Local beers on tap include Union Duckpin Pale Ale and Guinness' Baltimore Blonde. For noshing, expect finger-food favorites like nachos, pretzel bites, macaroni bites, tacos, and flatbreads. 
COMING SOON
Street Food by Water Song: Chinese restaurant Water Song now has a sister concept at 3 W. Chesapeake Ave. in Towson. Joining Water Song Yunnan Kitchen in Federal Hill, Street Food by Water Song is now in soft-launch mode, with plans to host a grand opening on Nov. 3. While its Fed Hill flagship serves authentic dishes from China's Yunnan Province, the new spot offers a fast-casual dining experience highlighting creative spins on traditional Asian market cuisine—with influences from Vietnam, Thailand, Singapore, Korea, and beyond.
Be on the lookout for barbecue ribs, stir-fried rice, fried potatoes, pork belly, and a wide range of regional dishes meant for sharing. Diners can also create their own "burritos," bento boxes, and rice bowls. "We want our diners to experience the culinary diversity of an Asian night market," co-owner Colin Liang said in a press release, "while also creating a new gathering space for residents, students, and workers alike."
The indoor space can seat 36, and an outdoor patio will debut in the spring. The restaurant will be open Monday through Friday from noon-8 p.m. with expanded Saturday evening hours from 6 p.m.-2 a.m. starting Nov. 10. Delivery will also be available through Uber Eats and Grubhub.
EPICUREAN EVENTS
11/5: Baltimore Craft Beer Festival
A bevy of brews will return to Canton Waterfront Park next weekend. Yes, it's about time for the Baltimore Craft Beer Festival, where more than 200 locally brewed craft beers, ciders, meads, and hard seltzers will be on hand for revelers to sample while enjoying the Canton greenspace. The event, put on by the Brewers Association of Maryland (BAM), will also feature the final table of judging for the 2022 Maryland Craft Beer Competition (the winner will be announced on site), bites from local food trucks, and live music. Passes for the fest range from $45-$60, and all proceeds fund the advocacy and promotion mission of BAM.
NEWS
Groundwork Kitchen Names New Leader for Reopening: Paul's Place, the nonprofit whose programs aid low-income individuals and families in Southwest Baltimore, has announced next steps for the reopening of Groundwork Kitchen—its 120-seat Pigtown restaurant which has been closed since January 2022 due to the pandemic. The nonprofit has named chef Melanie Molinaro as the new general manager to lead reopening efforts, which will include the hiring of a new executive chef, culinary team, and front of house staff; the development of new menus; and integrating the Paul's Place Culinary Training Program at Groundwork Kitchen with the day-to-day operations of the restaurant. 
"I am particularly excited about how the culinary training staff and the restaurant staff will work together on the goal to reshape what it means to work in a kitchen," Molinaro said in a press release. "To expect better, be treated better, to learn better—it all starts with us, shaping the foundation here  and encouraging others to follow our lead." 
Molinaro has helped with opening efforts for a number of Baltimore-area restaurants, including The Nickel Taphouse, Encantada, Birroteca, and stalls at R. House. She also founded Little Fig Bake Shop, a small-batch bakery specializing in vegan sweets, as well as Plantry Goods, a wholesale company specializing in vegan fried chicken. She opened both with her husband, who will take over operations as she transitions into the new position with Groundwork Kitchen.
(SOON TO BE) SHUT
Bertha's: A bittersweet piece of news out of Fells Point: The owners of neighborhood landmark Bertha's Mussels announced on social media last week that the restaurant and live music venue will go up for auction next month with Alex Cooper Auctioneers. According to the post, Bertha's will be open through the auction and plans to remain open through the end of the year. Its listing on the Alex Cooper website indicates that bidding will begin on Nov. 12 and end Nov. 17.
"We've raised three generations of family here, and as we watched our children grow, we also witnessed our beloved Fells Point community evolve around them," husband-and-wife owners Tony and Laura Norris, and their son, Andy, wrote on social media, adding: "There have been many wonderful times, of course, but what remains most prominent are memories spent with family, kind neighbors, and good friends."
For 50 years, Bertha's has been a community staple known for its wide selection of mussels, of course, but also for its world-famous "Eat Bertha's Mussels" bumper stickers plastered around town (Even farther—we've heard of them being spotted in places like Breckenridge, CO.). This marks the end of something special in the neighborhood. We caught up with the owners and regulars at the bar last week. Read more on what they had to say, here.