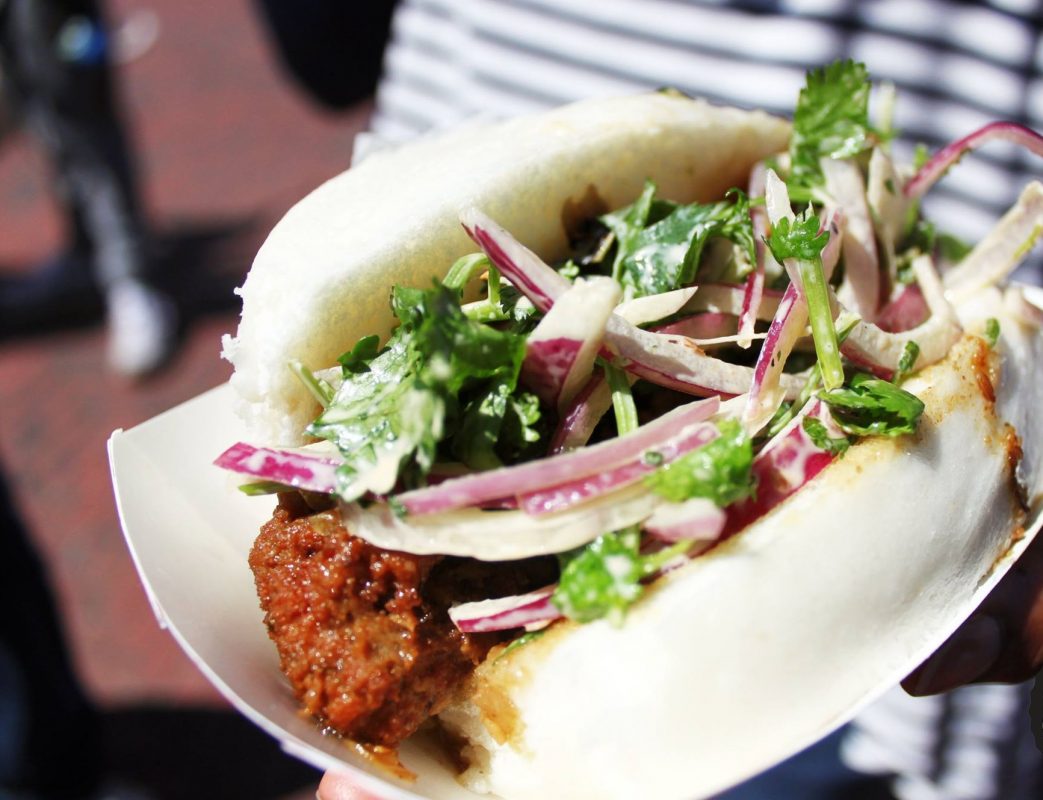 Courtesy of Ekiben Baltimore
OPEN:

Blue Moon Too: This spinoff of longtime Fells Point favorite Blue Moon Café officially opened its doors yesterday in Federal Hill. Chef/owner, and recent Food Fighters contestant, Sarah Simington will serve up her inventive breakfast concoctions (like the restaurant's signature Captain Crunch French toast) in the new space, which features funky artwork and a hand-painted exterior. 1024 Light Street
LB Skybar: The Lord Baltimore Hotel opened a swanky 60-seat rooftop lounge this week. Along with live music performances, the skybar will highlight a specialty cocktail menu with seasonal offerings like the Fall Flip (Grey Goose, ginger beer, and fresh apple cider) and the Autumn Roy (Pig Nose scotch, sweet vermouth, and walnut bitters.) 20 W. Baltimore St., 855-539-1928
Mickey's Bar & Grill: Despite a recent liquor-board hiccup, this Fallston restaurant—backed by former 98 Rock radio host Mickey Cucchiella—is off to a good start in the former home of The Mallet Crab House. The spot, which officially opened last month, hosts live comedy performances and serves seafood specialties such as herb-crusted salmon with roasted cauliflower, ahi tuna, and soft-shell crabs with bacon and Brussels sprouts.2403 Bel Air Road, Fallston, 443-299-6907
Potbelly Sandwich Shop: Known for its overstuffed sandwiches and live music showcases, this Chicago-based sub shop has outposts everywhere from Columbia to College Park. Earlier this week, Potbelly unveiled its 14th area eatery inside the Blaustein Building on the corner of East Fayette and North Charles streets. 1 N. Charles St., Lobby 3, 667-219-2578
Three Bean Coffee: Despite an unfortunate break-in the night before its soft opening last weekend, this Federal Hill coffee shop just debuted as planned. The shop's menu features a wide range of espresso, lattés, and teas, while also showcasing sweet treats from Prigel Family Creamery and Dangerously Delicious Pies. 209 Key Highway
COMING SOON:

Blaze Pizza: Adding to the area's recent influx of DIY pizzerias, this California-based pie chain will take over the former Famous Footwear space at 600 E. Pratt St. in the coming months. Although the project is still in its early stages, the fast-casual eatery will highlight made-to-order pizzas and sophisticated salads. 600 E. Pratt St.
Ceriello Fine Foods:
Known as a one-stop shop for all of the makings of an Italian feast,
this store in Belvedere Square Market highlights house-made sauces, Boot
Country cheeses, and gourmet grub to go. The New York-based market is currently in soft-opening mode at its second Baltimore location on the first floor of the Hanover
apartments in Brewers Hill. Currently, the market is offering Ceriello's classic comestibles, while adding fruits and vegetables, and paninis to its list of offerings. By November 1, the location will also have brick-oven pizza, beer and wine, and a gelato selection. 3700 Toone St.
Ekiben: Fells Point Farmers' Market regulars will be happy to hear that this raved-about sandwich stall will be opening a brick-and-mortar restaurant in early 2016. The menu at the Fells Point eatery will highlight Ekiben's signature rice bowls and cleverly named steamed bun sandwiches, which are influenced by Taiwan and Southeast Asia.
Namaste Baltimore: Keep your eyes peeled for this new Indian-inspired restaurant, which is slated to take over the former Loco Hombre space in Roland Park within the next few months. The menu will list reasonably priced classics including samosas, goat curries, vindaloos, and a slew of vegan and vegetarian options. 413 W. Cold Spring Lane
Picasso's: Local nonprofit The Art Room, which is known for hosting frequent performance- art workshops for young adults, is bringing this new restaurant and event venue to the former Beatnick space in Station North. While half of the revamped corner spot will serve up Southern Caribbean soul food, the other half will operate as a creative space for jazz and spoken word showcases, paint nights, and art workshops. 2101 Maryland Ave.
Secolari: Clarksville-based husband-and-wife team Bart and Mary deRosa are bringing their artisan oil and vinegar to the area with a new shop in Towson Town Center. Slated to open on October 24, the third-floor space will boast shelves of balsamic vinegars and olive oils amidst antique décor. The space will also serve as a showcase for local artists and feature open tastings for guests to sample the products.825 Dulaney Valley Road, Towson
CH-CH CHANGES:
Bottega: A few months back, there was a lot of buzz over plans for this cozy Station North BYOB to expand to a bigger space in Hampden.But, due to unforeseen roadblocks with funding and legal agreements, Bottega won't be making the move after all. The 20-seat spot is expected to re-open in its original Station North home this month, serving its rotating menu of Tuscan cuisine. In other Bottega news, owner Adrien Aeschliman has plans underway to take over the recently closed Red Parrot Asian Bistro space. We hear that the new concept will be Thai inspired. 1729 Maryland Ave., 443-708-5709
Le Garage: After experimenting with specialty brunches over the past few months, this French-inspired Hampden hotspot has recently decided to add Sunday brunch service to its regular routine. Le Garage's brunch menu, served Sundays from 11 a.m. to 3 p.m., lists unique dishes like duck poutine, shakshouka, (a Tunisian dish of poached eggs and red sauce) and smoked rockfish hash alongside classics like brioche French toast and eggs benedict. 911 W. 36 St., 410-243-6300.
Sascha's 527: This Mt. Vernon mainstay, known for its customizable chopped salads and artsy interior, is seeing some major changes this month. While the café will remain open for lunch, beginning this week the space will officially function as a special events venue in the evenings. From pop-ups to art shows, Sascha's will devote dinner service to hosting and catering private functions for up to 135 guests at a time. 527 N. Charles St., 410-539-8880