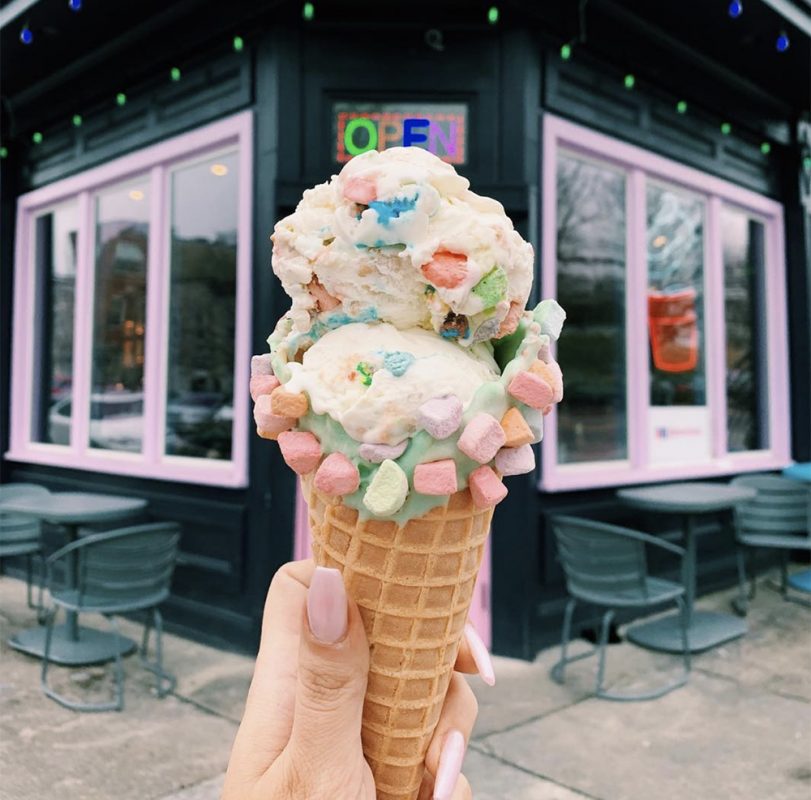 (RE)OPEN
Bmore Licks: As temperatures continue to climb this week, locals are hyped that this Patterson Park scoop shop has made its return for the season. Bmore Licks started its fourth year out strong by giving away free soft-serve cones to customers earlier this week. (With plenty of no-additional-charge rainbow sprinkles, of course.) Now, the dessert destination is officially back in action with all of its fan-favorite treats including homemade hard ice cream, snowballs, sundaes, milkshakes, and even ice cream tacos and nachos made with waffle cones. Celebrate St. Patrick's Day this month with the "Magically Delicious" flavor that mixes in Lucky Charms marshmallows.
COMING SOON
The Gourmet: Catonsville Gourmet owners Craig and Cristina Rinkerman have been serving up the restaurant's specialty seafood, sushi, and prime cuts of meat to the community for the past 12 years. Come fall, they will expand their reach to Towson with a second location at The Shops at Kenilworth. Located in the mall's new expansion alongside the forthcoming Felipe's Mexican Taqueria, the 5,450-square-foot sister-spot will boast a large dining room, a separate raw bar and lounge, and an outdoor patio that can accommodate more than 180 people. Much like the flagship, The Gourmet will offer a comfortable setting highlighting fresh fish, oysters, steaks, and signature cocktails.
BEER BULLETIN
DuClaw and Wockenfuss to Launch "PastryArchy Carmallow": We love it when two Baltimore food-and-drink brands join forces—and that's exactly what DuClaw Brewing Co. and 104-year-old Charm City staple Wockenfuss Candies are doing later this month. Just in time for Easter, DuClaw will launch the cleverly named "PastryArchy Carmallow"—an 8.5-percent ABV imperial stout made with 100 pounds of caramel and marshmallows. The idea, of course, is for the beer to mimic the flavor profile of Wokenfuss' famous Carmallow candies. As Wockenfuss candy manufacturing manager Greg Butler points out: "There are a lot of similarities between candy-making and brewing. It'll be fun to taste the final result." The beer is expected to hit taps and shelves in Maryland and all of DuClaw's territories by late March.
Key Brewing and RoFo Release Cold Rolled Breakfast Stout: Speaking of collaborations with iconic Baltimore brands, Dundalk's Key Brewing Co. is celebrating the official release of its new stout made with Royal Farms' Colombian coffee at a launch party at Five & Dime Ale House tonight. The breakfast beer clocks in at a 5.5 percent ABV and hits shelves at local liquor stores this week.
Suspended Brewing Turns Two: Pigtown's neighborhood brewery known for its sustainable focus is pulling out all of the stops to ring in its two-year anniversary this weekend. The festivities kick off with Baltimore trivia and eats by Ekiben on Thursday night, followed by Filipino fare from the Masarap pop-up and draft cocktails Friday, more draft cocktails and steamed buns by Ekiben Saturday, and a Sunday afternoon drag brunch. Swing by the community hangout to down some of its signature pints while enjoying all of the fun.
SHUT
Gordon Biersch: Happy hours in Harbor East won't be the same now that this brewpub has closed its doors for good. A sign posted to the front door earlier this week thanked diners for seven years of patronage, and confirmed that the spot had closed for good on March 1. Though the Annapolis location remains open, the chain restaurant closed many of its regional restaurants—including one in Rockville and one in Washington, D.C.—after parent company CraftWorks Holdings filed for Chapter 11 bankruptcy earlier this week. There's no word yet on what will become of the abandoned space, which is equipped with brewing tanks and a large patio overlooking Lancaster Street.