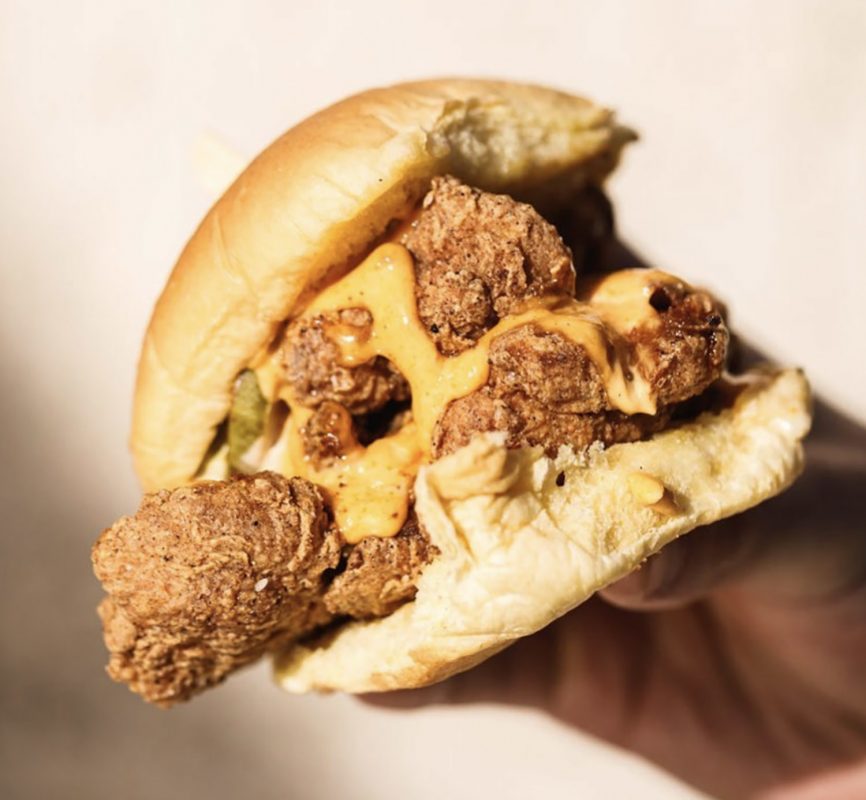 @eatbrd via Instagram
COMING SOON
BRD: Back in February, we told you about R. House chicken sandwich stall BRD's plans to expand to the heart of Federal Hill. After months of work setting up the eatery on the bottom floor of the Wheelhouse apartment building across from Cross Street Market, a grand opening date is finally in sight. Owner Alex Janian will debut his second BRD location to the public on Monday, October 7, offering an extended menu that will highlight new items like thick milkshakes and "BRD Bites"—his take on chicken nuggets.
Of course, diners can also expect the signature sandwiches (including the Katsu Sando and the Bmore Bird with Old Bay and dill pickles) hand-cut fries, dipping sauces, and fountain sodas that they have grown familiar with at the Remington flagship. The best part? The communal dining space designed by PI.KL Studio will be open until 3 a.m. on weekends so that revelers hanging around South Charles Street can still get their fix after last call. "We want to be there when people want it," Janian told us. "We want to be there when the crowds are there, and we want to be enjoying the night right along with them."
True Chesapeake Oyster Co.: Speaking of anticipated grand openings, this new Hampden spot will officially premiere to the public on Tuesday, October 8. As its name signifies, the collaborative project between former Wit & Wisdom chef Zack Mills, True Chesapeake oyster farmer Patrick Hudson, and The Local Oyster owner Nick Schauman will incorporate locally farmed bivalves into every aspect of the restaurant. Featured dishes will include oyster stew, semolina fried oysters, roasted half shells, and Mills' take on a classic Rockefeller. Of course, there will also be other Maryland-inspired fare and an impressive bar lineup from beverage director and general manager Chelsea Gregoire.
OPEN
Red Pepper Sichuan Bistro: The former Allegheny Avenue home of La Cakerie in Towson has recently been transformed from a hot pink-painted bakery into this sleek dining destination specializing in authentic Sichuan cuisine. Fusing salty, sour, sweet, bitter, and floral flavors, the menu—written in both Chinese and English—goes beyond the traditional Kung Pao chicken and mapo tofu with everything from noodle soups to Sichuan street food. Highlights include spicy hot pots, fried pork with scallions, stir-fry Shanghai cabbage, and sweet-and-sour fish fillets. Diners are invited to snag a table in the renovated dining room—now equipped with wooden furniture and a grand piano—or order online for carryout.
NEWS
Lexington Market to Hold Second Community Meeting: The second in a series of quarterly meetings geared toward gathering community input for the Lexington Market revamp, slated to be completed mid-2021, is scheduled for Wednesday, October 9 from 6-7:30 p.m. The inaugural meeting at the end of June drew crowds that expressed a number of concerns, including increased food prices and a lack of employment opportunities. At the next installment, Seawall Development and Baltimore Public Markets plan to further discuss food access, affordable pricing options, and the recruitment process for new vendors inside the 237-year-old public market. In an effort to gain as much feedback as possible, organizers will be offering free childcare during the town hall.
"The project to transform Lexington Market represents an opportunity to prove that brought together in an inclusive way, a single building can unite a very divided city," said Seawall co-founder Thibault Manekin, in a press release. "We look forward to sharing the progress we have made as a result of hundreds of hours of deep listening and inspiring conversations that we have had all over the city."
EPICUREAN EVENTS
9/26: Origins: A Speaker Series
The latest iteration of this ongoing speaker series at Artifact Coffee—which we recently gave a Best of Baltimore award—aims to answer one pivotal question: Is it now or never for local farms? Listen in as a panel of female farmers—including Shelby Kalm of Fair Farms Maryland, Dena Leibman of Future Harvest CASA, and Anne Palmer of the Johns Hopkins Center for a Livable Future—discuss the state of agriculture across the mid-Atlantic. As always, the evening will begin with appetizers and cocktails and close out with a family-style meal inspired by the topic of conversation.
9/26-28: Saint Demetrios Greek Festival
The parishioners of Saint Demetrios Greek Orthodox Church in Parkville have been busy hand-making flaky baklava, stuffed dolmades (grape leaves), scrumptious spanakopita, and more tasty delicacies in preparation for their annual festival returning this weekend. Stop by to sample the flavors of Greece while enjoying folk dancing, live music, shopping, and a designated kids zone. If you still aren't ready to turn in after all of the excitement, stay out for the Glendi on the Hill after party that will keep the music going until 3 a.m.
9/29: Bramble Bakes x Fat Tiger Bake Sale
Since opening inside Broadway Market in Fells Point last summer, sister concepts Old Boy, Fat Tiger, and El Tigre have already hosted tons of community pop-ups and events. And this weekend, all-day bar Fat Tiger is kicking off yet another initiative to support its fellow food businesses. In the first of many "bake sales" that will provide a temporary storefront to local pastry chefs, Allie Smith of Bramble Bakes will be setting up shop at the centerpiece bar to sell her sweet treats from 9 a.m. to 1 p.m. this Sunday. Be on the lookout for potato and leek hand pies, dark chocolate babka knots, five-spice morning buns, and coffee cardamom shortbread all paired with espresso and drip drinks from the Fat Tiger team.