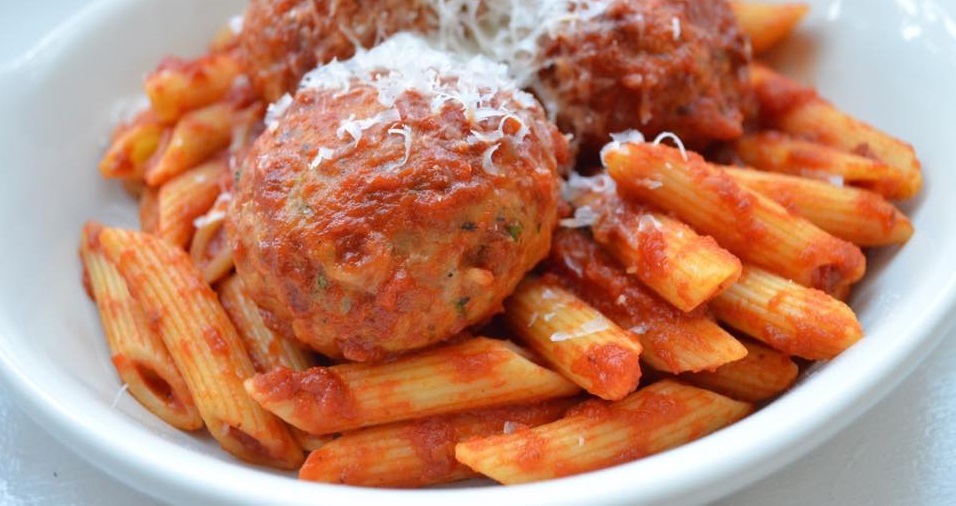 Courtesy of 8 Ball Meatball
OPEN:
Breaking Bread: This local catering business, from husband and wife duo Edward and Kimberly Ellis, settled in its first brick-and-mortar home last weekend. Located on Washington Boulevard in Pigtown, the new lunch and dinner spot focuses on dishes such as sliders, wings, quesadillas, entrée salads, paninis, and roasted chicken. The 100-seat space, formerly the home of Tilted Pig and Café Calypso, is open Tuesday through Saturday and also offers Sunday brunch service. 771 Washington Blvd
Iron Rooster: The Shops at Canton Crossing saw an addition last week with the debut of this Annapolis-based breakfast-all-day spot. The restaurant, situated in the former home of Farmstead Grill, is up and running, serving its claim-to-fame pop tarts, chicken and waffles, brunch cocktails, and complementary bacon. 3721 Boston St., 410-990-1600
COMING SOON:
8 Ball Meatball: Inspired by the prevalence of meatball shops in New York, Fells Point local Paul Weitz is bringing this new concept to his neighborhood in January. Taking over the former Tapas Adela space, the restaurant will feature traditional, gluten-free chicken, spicy pork, and vegetarian meatballs, which can be ordered hoagie style or in a bowl with spaghetti. The 70-seat space will also highlight specialty tomato, parmesan cream, and pesto sauces. 814 S. Broadway
Abbey Burger: Known for its signature pub grub, this Federal Hill go-to is making its way across the harbor with a new location slated to debut in Fells Point later this month. Setting up shop in the former home of Willow lounge, the 100-seat hangout will highlight an extensive draft list and Abbey Burger classics like wings, waffle fry nachos, crab tots, and build-your-own burgers. 811 S. Broadway, 410-212-7521
Grano Pasta Bar: This cozy Hampden BYOB, which was recently featured on Food Network's Diners, Drive-Ins, and Dives, is opening a spinoff in Federal Hill at the end of December. The menu at the old-school Italian spot strictly focuses on pasta, and allows diners to mix and match different varieties with their favorite sauces. The new location, previously Gyro Express, will serve offerings ranging from house-made spaghetti carbonara to linguini with mussels. 1043 S. Charles St.
Insomnia Cookies: Move over late-night pizza. Soon, residents of Federal Hill and Fells Point will be able to munch on fresh-baked favorites from Insomnia Cookies as late as 3 a.m. The national brand, which operates more than 70 locations, will debut the two new bakeries in the coming months, each offering flavors like double chocolate mint, chocolate peanut butter cup, and snickerdoodle. The shops will also sell cookie cakes, brownies, ice cream sandwiches, and ice cream by the scoop, and offer Insomnia's signature late-night delivery service. 3301 N. Charles St. and 812 S. Broadway
Loch Bar: This spring, Ouzo Bay and Azumi are gaining another sister restaurant in Harbor East. In the works for a year now, this new seafood spot from Atlas Restaurant Group is gearing up for a March opening inside the Four Seasons Baltimore. Set in the space previously inhabited by Lamill Coffee, Loch Bar will serve oysters, shellfish, charcuterie, and sandwiches, as well as local beer flights and craft cocktails. The space, which boasts dark wood and nautical accents, will also feature live lounge music and outdoor seating with waterfront views. 280 International Drive
Modern Cook Shop: Andy Gruver and Jason Sanchez, the duo behind Fork & Wrench in Canton, are making their mark on Fells Point with this new restaurant and marketplace opening on the first floor of the Union Wharf apartment building across from The Red Star. The restaurant, slated to debut by Christmas, will feature dine-in service with dishes focusing on Mediterranean and Middle Eastern flavors, as well as four bars with comestibles available to go. Among them will be a charcuterie bar, a bakery, a hot bar with prepared foods, and a traditional wet bar with craft beer and barrel-aged cocktails. The 4,500-square-foot space will seat 125 guests. 901 S. Wolfe St.
SHUT:
Anastasia Restaurant and Bar: On the heels of Tapas Adela's closure in October, Kali's Restaurant Group is saying farewell to yet another one of its eateries.Anastasia, the Thames Street lounge known for cocktails and wood-fired pizzas, closed its doors last month, and renovations to transform the club into a new Latin-inspired spot are already underway. Come January, the space will debut Points South Latin Kitchen, an upscale-casual restaurant serving traditional dishes from Panama and Brazil. 1636 Thames St.