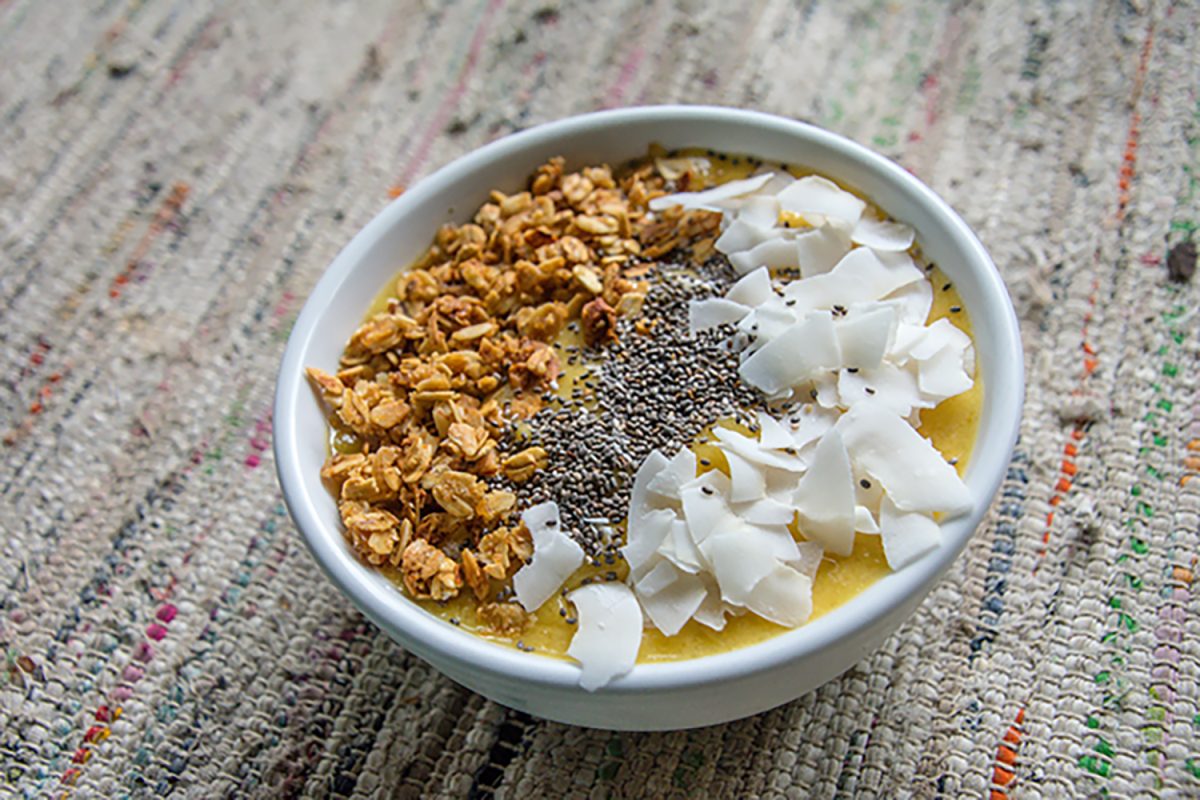 Trifecto Bar
COMING SOON
Broadway Market: Earlier this week, Mayor Catherine Pugh announced six stalls that will be setting up shop inside the renovated Broadway Market in Fells Point this winter. Slated to debut in February, the north shed of the redesigned public market will house local icon Connie's Chicken & Waffles, farmers' market favorite Thai Street, social justice-driven ice cream purveyor Taharka Bros., Hampden-based Indian eatery The Verandah, and Old Boy—an authentic Korean concept from Phil Han of Dooby's. Han will also operate the market's centerpiece bar, which will feature an elevated coffee program and brunch menu during the day, and draft beer and cocktails in the evening.
Returning to the revamped space will be longtime vendors Sal's Seafood, Vikki's Fells Point Deli, and Sophia's Place, the European cafe and bakery that first opened in the market in 1986. There is still one stall that has yet to be leased. Once the north shed reopens, construction will begin on the south shed, which will house collaborative seafood spot The Choptank from Atlas Restaurant Group and Captain James Landing. 1640 Aliceanna St.
Lyfe Cafe: Be on the lookout for this new dining destination at The Shops at Kenilworth while checking out the mall's beloved holiday train garden this season. Expected to open in early 2019 (just in time to get started on those New Year's resolutions), the healthful spot from local owner Penny Seabolt will feature an all-day menu prepared with ingredients that promote physical and mental wellness (think protein pancakes and waffles, a kale detox salad with lemon-tahini dressing, smoothie bowls, and wellness shots). The eatery is designed to accommodate every major diet—including low-calorie, gluten-free, dairy-free, vegan, and vegetarian—and will also offer meal prep services. The 1,788-square-foot cafe will be located next to Wilkes & Riley on the ground level of the recently-renovated Towson shopping plaza. 800 Kenilworth Drive, Towson
OPEN
The Common Kitchen: The food hall trend—which has taken off in Baltimore with spots like R. House, Mount Vernon Marketplace, and the upcoming Whitehall Mill—has now spread to Clarksville with this new communal space that will house 11 artisan makers. A grand opening celebration is scheduled for this Saturday, November 10, where local schools will perform live music and vendors like Scoop & Paddle ice cream and Indian street food shop Namaste Foodie will offer opening day specials. Located near Food Plenty inside the environmentally sustainable Clarksville Commons, the gathering space will mark the first food hall in all of Howard County. Other stalls to look out for include Egyptian eatery Koshary by Misteka, bubble tea purveyor Royaltea, barbecue joint Smokin' on the Bayou, and Trifecto—a coffee and juice bar specializing in Ceremony Coffee drinks and colorful acai bowls. 12240 Clarksville Pike, Clarksville. 301-854-2090
Pat's Select Pizza and Asian Garden: These new BYOB restaurants are opening next door to one another at the Crestridge Center in Cockeysville this month. The eateries are expected to be popular lunch destinations in the development, which features two office buildings and one retail property. Pat's, a fast-casual pizza chain that is now open, features its signature brick-oven pies alongside flatbreads, burgers, salads, and a lengthy list of pasta dishes. Slated to debut next week, Asian Garden will highlight Chinese, Japanese, and Thai staples ranging from sushi to bowls of lo mein and pad thai. 10151-10155 York Road, Cockeysville
EPICUREAN EVENTS
11/12: Sweat: Our World, Your Stage
Everyman Theatre is known for bridging the gap between the food and theater world. The downtown showhouse is continuing that creativity with a Veteran's Day event at Checkerspot Brewing that ties into the themes of Everyman's current production, Sweat—a slice-of-life drama about steel mill workers facing a plant shutdown who routinely gather at their neighborhood bar. Make your way to the South Baltimore brewery to sip craft beers while watching scenes from the play, and listening in on a conversation comparing the themes in the script to the current hardships facing our own neighbors. Ten percent of all ticket proceeds will benefit South Baltimore-based nonprofit The Baltimore Station, which works to support homeless veterans and reintegrate them into the workforce. 1399 S. Sharp St. 6-8:30 p.m. $15
11/16: Intercostal Breakdown
Fittingly named after the anatomical term that means "situated between the ribs," this one-night-only barbecue pop-up, hosted by food writer Amy Langrehr of Charm City Cook, will feature smoked ribs cooked on custom-built cages and grills. Head to Monument City Brewing in Highlandtown to sample meats prepared by chef Patrick Morrow of South Point and chef Damian Mosley of Blacksauce Kitchen. The evening will also feature $5 Monument City beers all night, and Annapolis-based folk rockers Ampersand Stringband playing live from 7:30-9:30 p.m. 1 N. Haven St. Free. 5-10 p.m.