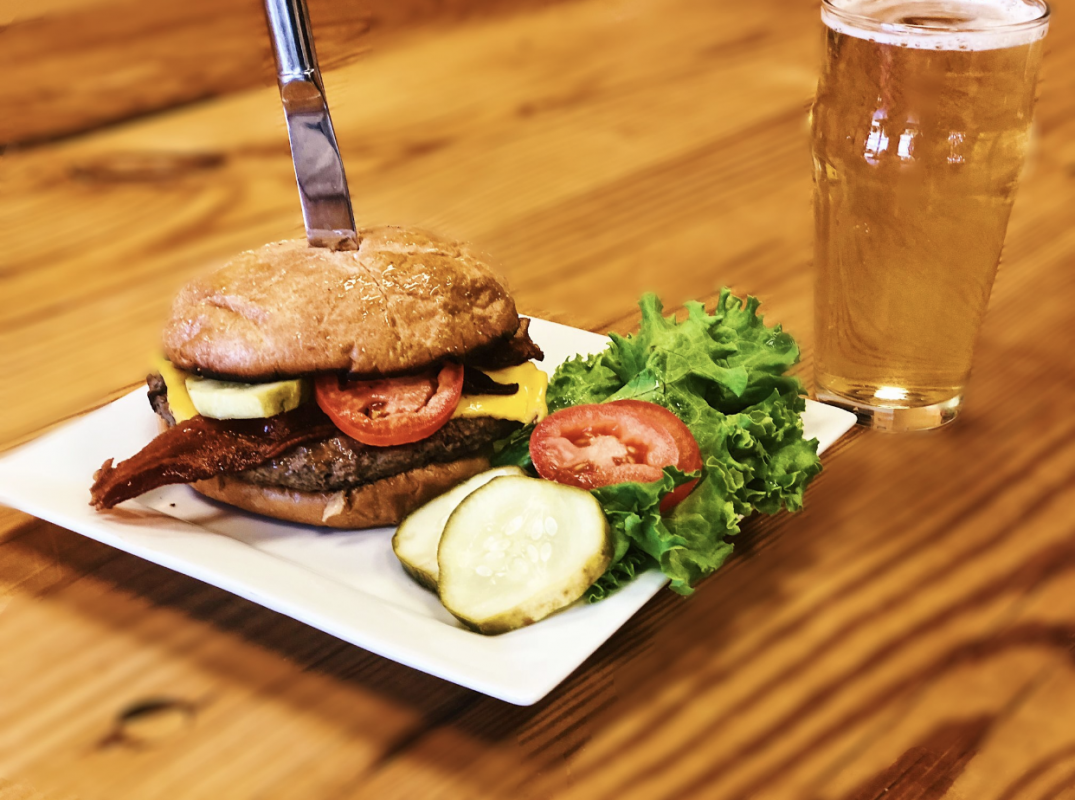 Courtesy of Poulet
OPEN
C&R Pub: We thought we'd seen the last of this Southern saloon, which used to be a go-to for honky-tonk tunes, life-sized Jenga, and Thursday "flip-night" drink discounts before it closed in Federal Hill two years ago. But old regulars will be happy to hear that the country concept has officially been revived—this time in Towson. The new iteration of Cowboys & Rednecks sits on the first floor of the mixed-use Towson Commons development along York Road. Featuring dark woods, plenty of flat screens, and a huge bar with more than 20 seats, the pub offers a barbecue-inspired menu listing everything from light bites to larger entrees. Specialty plates include the Rattlesnake Burger with jalapeño bacon, "Mountain Mama" steak salad, and signature "See Ya Later Gator" bites served with a zesty dipping sauce. 1 W. Pennsylvania Ave., Towson
Poulet: A second location of this popular spot off of Falls Road celebrated its grand opening in Timonium this week. Situated just across from the Maryland State Fairgrounds, the new eatery will offer the restaurant's cafeteria-style entrees, sides, and hand-dipped ice cream in a much larger space that can seat more than 200. It will also feature an elevated bar program with a collection of small-batch whiskeys, wine on tap, and local craft beer from the likes of RAR and Union Craft. In keeping with its name, Poulet highlights rotisserie chicken and other proteins like sliced turkey, pulled pork, and grilled salmon. There's also a lengthy sandwich menu, DIY burrito bar, and featured sides like scalloped potatoes and grilled cauliflower. 2235 York Rd., Timonium. 410-842-2270
COMING SOON
Lee's Pint & Shell: Since rebranding from its former concept, Saute, two years ago, Lee's Pint & Shell has become a favorite for Canton locals to crack open discounted beers and slurp down 50-cent oysters during happy hour. Now, the corner spot is rapidly expanding throughout the state. In addition to their dockbar Lee's Landing in Cecil County, owners Bud Craven and David Carey are also planning to open a sister-spot in Sparrows Point this year. And, earlier this week, they announced that they recently settled on a fourth location on the Susquehanna River in Perryville. The old Perryville Yacht Club—which sits on four acres and has 80 boat slips—will soon be transformed into a Lee's spinoff, with plenty of oysters, Orange Crushes, and seafood specialties to go around. 31 River Rd., Perryville.
The Urban Oyster: Chef Jasmine Norton's beloved oyster bar will host one final pop-up at R. House next month before moving into a brick-and-mortar space of its own in 2019. The Urban Oyster plans to set up shop inside the former home of Ruby 8 Noodles & Sushi at McHenry Row in Locust Point early next year. Norton recently told The Baltimore Sun that the new eatery will provide kitchen space for her to prepare for farmers' markets and festivals, while also acting as a permanent outpost for diners to find her oyster-inspired eats any time. Menu favorites include chargrilled oysters with parmesan and lemon-garlic butter, fried oyster tacos, a classic crab cake sandwich, and, of course, raw oysters on the half shell. 1702 Whetstone Way
NEWS
John Brown Butchery Adds Antique Shop: As the temperatures continue to drop and the holiday season approaches, it's the perfect time to pay a visit to this hybrid-butchery, cafe, general store, and coffee shop in Cockeysville. Not only is the destination offering a wide selection Thanksgiving turkeys and holiday meats this season, but it has also added a new antiques shop, Hedgerow, for shoppers looking for unique gifts and decorations. Stop by the butchery to chow down on a cold cut sandwich or meatball sub before browsing the one-of-a-kind artwork, china, and table centerpieces at the new antique store. 13501 Falls Rd., Cockeysville. 410-891-8549
Hotel Monaco Wins Northstar Meetings Group Award: Congratulations are in order for downtown's Kimpton Hotel Monaco, which recently received the 2018 Stella Award for Best Boutique Property in the Northeast region. Northstar Meetings Group presented the award to honor the hotel's excellence in the meetings industry—considering its food and beverage program, staff professionalism, technological amenities, and more. The hotel, which houses celebrated bar and restaurant B&O American Brasserie, was one of 532 global properties nominated in 18 categories. 2 N. Charles St. 443-692-6170
EPICUREAN EVENTS
11/17: Oyfest 5
The teams behind Union Craft Brewing, The Local Oyster, and True Chesapeake Oyster Company are coming together to host this fifth-annual festival at Union Collective this weekend. Grab a crew and enjoy endless shucks, draft beers, pizza from Well Crafted, and live tunes by the Ursula Ricks Project. If you're really feeling festive, throw your hat in the ring during the annual oyster-eating contest. The $50 entrance fee, and a portion of all other proceeds, will be donated directly to the Friends of the Jones Falls Valley to keep our urban waterway clean and beautiful. 1700 W. 41st St. 12-5 p.m. $15-50
11/18: Put a Scoop on It Pancake Pop-Up with Big Softy
Detroit native Craig Falk, owner and executive chef of The Lunchbox Lady, is celebrating his love for pancakes this weekend by hosting an afternoon event with The Charmery owners David and Laura Alima at their shop in Towson. Falk's Big Softy pop-up will be dishing out plain and malty chip pancakes topped with either blueberry or apple fruit topping. Each treat will be finished off with a scoop of any Charmery flavor, drizzle of Michigan maple syrup, and sprinkle of powdered sugar. 6807 York Rd., Towson. 10 a.m.-1 p.m. 443-275-2859
SHUT
Ludlow Market: It was a short-lived run for this concept that took over the former Wine Market Bistro space in Locust Point last summer. In June, longtime owner Chris Spann reopened the 14-year-old restaurant as Ludlow Market, featuring a new menu by chef Christopher Audia, updated interior, and enhanced outdoor patio. But, sadly, the changes weren't enough to keep the restaurant afloat. "I think ultimately we didn't allocate enough marketing dollars to give the concept a chance to take hold with people," Spann says. "That's where we came up short. But I find a lot of solace in the interactions I had with guests who were so enthusiastic, and often giddy about some of the signature dishes we had put on the menu." While the restaurant has closed for good, its adjoining bottle shop will be offering discounts on its remaining stock throughout the weekend. 921 E. Fort Ave.