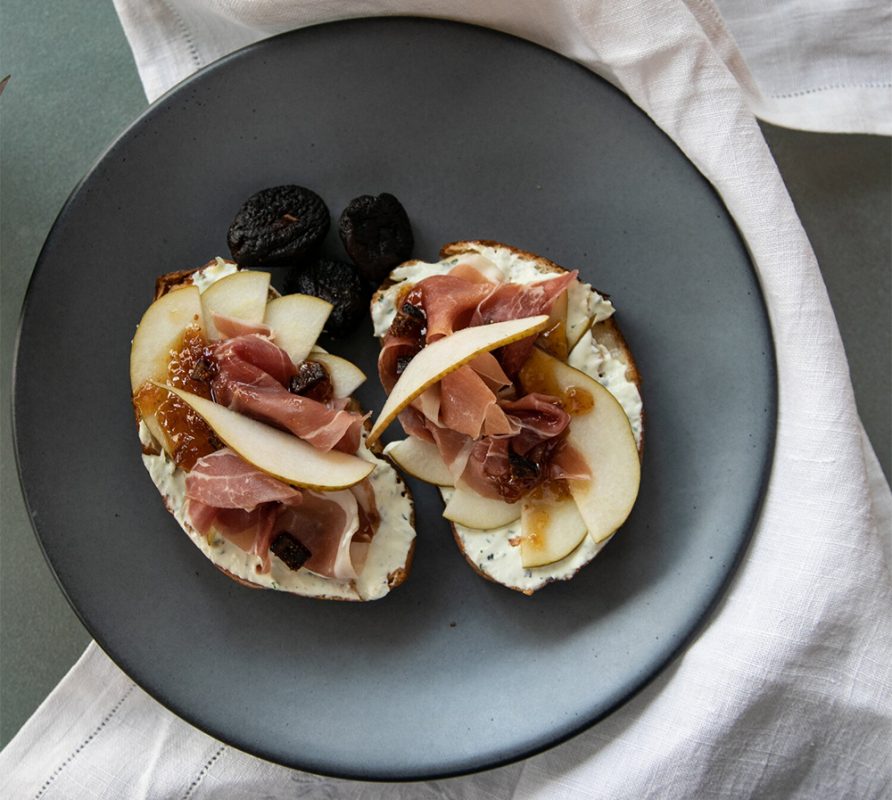 COMING SOON
Cielo Verde: The beautiful top-floor restaurant space at the American Visionary Art Museum—fondly remembered as the former home Mr. Rain's Fun House and most recently Encantada—will finally see a new tenant later this month. Spearheaded by chef Irena Stein of Canton's Alma Cocina Latina and Azafrán on the Johns Hopkins University campus, the lunch and weekend brunch destination will focus on locally sourced sandwiches, salads, and soups. Menu highlights will include a gem lettuce salad with herbed walnuts, fig and thyme toast, vegan banh mi sandwiches, and sweets from Bramble Baking Co. and Sacré Sucré. "My intention was to unify the connection between food and culture," Stein said in a statement, "a culture where there is a deep-rooted appreciation of food that transcends flavor, into gratitude of the earth and bounty from which it came." In addition to the daytime service, the space will be available for catered dinners and private events.
Ben's Chili Bowl: Half smokes and chili cheese fries are headed to Horseshoe Casino next month. As part of the $1 million remake of the casino's food court-style Baltimore Marketplace on its first floor, the famous Washington, D.C.-based eatery will open a stall slinging its classic chili-topped hot dogs, fries, and burgers in early March. The South Baltimore location will mark the first Ben's Chili Bowl in Maryland, bringing with it a 62-year history that has included visits from the likes of Martin Luther King, Jr., Barack Obama, Bono, and Chance the Rapper.
Riverside Tap House: Federal Hill residents have been wondering about the status of the former Das Bier Haus space on the corner of Light and East Randall streets, which closed last year after its owners worked to resolve structural issues that plagued the building. Sadly, the German beer hall never reopened, but a new pub has taken over the space. Riverside Tap House is expected to debut in the renovated building later this month, featuring a menu of draft beer, burgers, and other pub fare.
Thai Landing: Towson's Shops at Kenilworth will soon house a second location of this Midtown-Belvedere mainstay. Moving into a 1,750-square-foot stall on the lower level of the mall this spring, the authentic Thai eatery will offer specialties including Northern Thai curry noodles, pineapple fried rice, "Pla Rad Prig" red snapper with hot chili and basil, and an assortment of Thai teas.
NEWS
Cocina Luchadoras Gets a Shoutout in Bon Appétit: Those who subscribe to the renowned food bible will notice a familiar name in the latest issue's "Taco Nation" cover story. Upper Fells Point taqueria Cocina Luchadoras was praised for its "Cochinita Pibil" taco, which stuffs citrus-marinated pork into the spot's scratch-made corn tortillas. We're beyond happy to see that the dishes—which graced our own taco cover in October 2017—are getting some well-deserved national attention.
EPICUREAN EVENTS
2/15: Union Collective Chocolate Festival
What better way to celebrate Valentine's Day weekend than with a selection of chocolate-themed treats from the merchants inside Union Collective? In addition to drink deals and live DJ entertainment, chocolate lovers will enjoy Jinji's Chocolate-covered espresso beans from Vent Coffee Roasters, a special chocolate liqueur from Baltimore Spirits Company, Union's limited-edition Snow Pants Stout aged with cocoa nibs and cinnamon, and, of course, a flight of chocolate ice cream flavors and a signature milkshake from The Charmery. Guest vendors at the inaugural event will also include the experts from Charm School Chocolate and Anandi Chocolate.
SHUT
Howl at the Moon: Regulars at this lively piano bar inside Power Plant Live have until February 29 to get their last song requests in. The spot, which has been a fixture in the downtown nightlife district for the past 20 years, will close its doors for good on Saturday, February 29. "We want to thank each and every one of you for the last 20 years," reads a message posted to the bar's Facebook page. "It's a bittersweet goodbye, but there will be many more opportunities to howl with us in the future at a nearby location." The next iteration is slated to open in Washington, D.C. this spring. There's no word yet on what will become of the bar that neighbors Ram's Head Live, PBR, Mosaic Lounge, and others in the area.