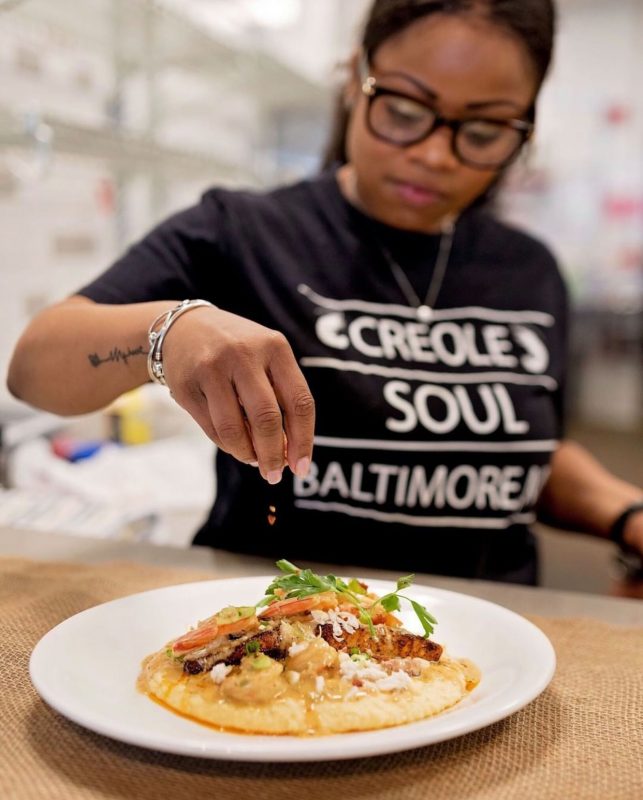 Courtesy of Creole Soul
Creole Soul: Ever since R. House said goodbye to Arba Mediterranean last month, regulars have been wondering what would fill the void in the Remington food hall. This week, it was announced that local pop-up Creole Soul—which emphasizes, you guessed it, New Orleans-style soul food—will settle in the space later this month. (Get a first taste this weekend when chef Que Neal and her fiancé, co-founder Dedric Richardson, take over R. House's pop-up stall one last time before becoming a permanent vendor.) A grand opening event on December 20 will feature on-theme touches including Mardi Gras-inspired face painting, a King Cake, and live music by Rufus Roundtree. As for the menu, chef Neal will offer classics such as shrimp and grits, seafood gumbo, oyster po-boys, beignets, and "Mee Maw's Famous" banana pudding.
In other R. House news, the communal spot will celebrate its third birthday with drink specials and festivities this weekend, and plans for the Little Baby's Ice Cream stall—which closed last week after the Philadelphia-based company announced that it was shutting down all of its locations—will be announced next week. Stay tuned for more details.
Maximón: Atlas Restaurant Group is just about ready to reveal yet another concept in Harbor East. A swanky bash on New Year's Eve will be the first night for diners to experience Maximón—the group's Latin American-inspired restaurant set in the former home of Wit & Wisdom inside the Four Seasons Baltimore. After that, regular dinner service will begin on January 2. Chef Colin King, previously of New York restaurant group Empellon, will present a menu of ceviches, salads, and entrees including portobello fajitas and whole roasted bass with yucca and black mint. A selection of taco fillings range from Chesapeake catfish with Baja crema to oxtail with salsa verde. The bar program will also have a South American focus, offering an exclusive blend of tequila produced at the Patrón headquarters in Jalisco, Mexico.
Döner Brös: Back in 2015, Alex Politsch and Steven Banks went to Oktoberfest in Munich, Germany and fell in love with authentic döner meat—which is traditionally cooked on a vertical rotisserie. The duo brought the delicacy back to Baltimore and roamed around on their Döner Brös food truck for a year before debuting a brick-and-mortar location in Charles Village in 2018. Their salads, bowls, wraps, and sandwiches filled with the flavorful proteins have caught on so much, in fact, that the founders are preparing to debut another shop in Harbor Point this summer. In addition to the signature meats, fries, falafel, and Turkish nachos (fries layered with döner meat and nacho cheese), the new spot will also offer beer and wine. Plus, to accommodate business professionals in the area, it will highlight a special shareable menu for small groups that can be eaten on the go.
OPEN
Andina: Fans of Peruvian gem Puerto 511 have kept their eyes peeled for this spinoff empanada shop from husband-and-wife owners José Victorio Alarcon and Connie Vásquez. After four months of work, the restaurant has officially opened at 101 W. Lexington Street downtown. While Puerto focuses on refined dishes such as cassava fritters stuffed with ribeye and lomo saltado (stir-fried beef with fried potatoes and white rice), Andina offers more casual fare, including rice dishes and an expansive empanada menu. But, at both locations, the owners' love for their culture shines through. "We can again say thanks to our dear Baltimore, a city that grows with people's dreams," the owners wrote in a post to Facebook. "Total thanks."
Plantbar: On the heels of Red Pepper Sichuan Bistro's debut on Allegheny Avenue in Towson, the block has also welcomed a new location of this homegrown juice bar and cafe—which has other spots scattered everywhere from Belvedere Square to Brewer's Hill. Snag a seat in the space decorated with dark woods and interior greenery, to enjoy made-to-order juices, superfood smoothies, açai bowls, coffees, and wellness shots.
EPICUREAN EVENTS
12/5: Origins: A Speaker Series
In the latest installment of this sustainable speaker series at Artifact Coffee, listen in as Seeva and Vivek Malik of New Jersey-based Bhumi Growers explain the ins and outs of growing exotic citrus in the mid-Atlantic. Following the conversation, stick around for a family-style feast featuring some of the speakers' prized produce. 6:30 p.m. $60
12/6: Noisy Burger at The Charmery Ice Cream Factory
Remember when students from Baltimore City's Mergenthaler Vocational Technical High School first debuted their own burger pop-up at R. House in 2017? The young chefs are back in action and ready to host another community event with The Charmery this weekend. From 6-10 p.m., enjoy Noisy Burger's turkey and beef patties topped with locally sourced ingredients alongside orders of fries. Of course, no burger is complete without a shake. And naturally, the team from the Charmery will be on hand to mix up signature flavors to pair with all of the eats.
SHUT
Jack and Zach's: After eight years on North Charles Street in Mt. Vernon, this small-but-mighty diner closed its doors for good on November 27. "The J&Z red counter has been home to so many incredible customers and conversations over the years," owners Jack Neill and Zachary Schoettler wrote in a message announcing the closure. "We're grateful for all of you helping this little farm-to-table 12-seater become the community that we dreamed of." Although diners will no longer be able to enjoy the duo's hearty breakfast sandwiches and omelets in the space, this certainly isn't the last we'll see of Jack and Zach's. In fact, the owners have teamed up with Larder in Old Goucher to host a brunch pop-up this Sunday, December 8 from 9 a.m.-2 p.m. Stop by to get your fix of locally sourced omelets, grits, bacon, and, of course, coffee blends from Larder's trusty neighbor Sophomore Coffee.