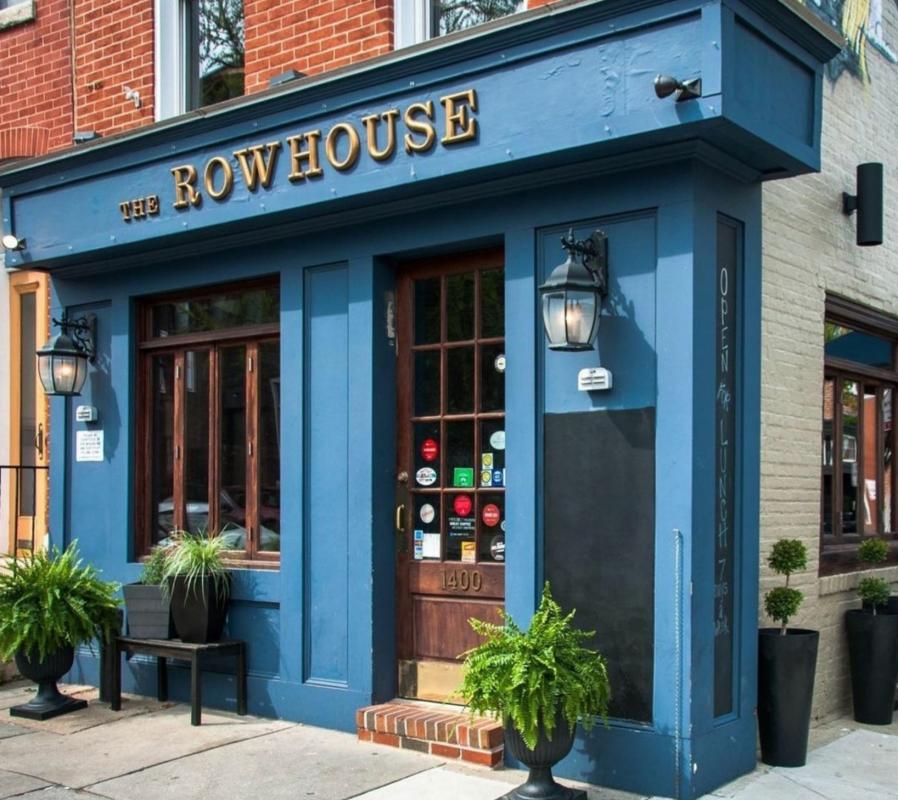 —Courtesy of Rowhouse Grille via Instagram
CH-CH CHANGES
Original Owner Returns to The Rowhouse Grille: Longtime fans of Federal Hill tavern The Rowhouse Grille, which opened on Light Street in 2009, will be pleased to hear that, despite some changes, it's not going anywhere. Rather, original owner Patrick Dahlgren is back. Dahlgren sold the business in 2018 to Tony Coatsolonia to focus on his Hampden restaurant The Avenue Kitchen & Bar. Dahlgren tells us that Rowhouse, like so many other local restaurants, was hit hard by the pandemic. The tavern "couldn't really rebound, so it was either I find somebody else to come in or I take it over," Dahlgren says. "With the time I've put in to build it and still living in the area, I wanted to take it back. And I'm feeling more confident with Avenue running so well."
For now, Rowhouse will remain open on weekends only, Friday to Sunday, before it closes in mid-July for a major renovation of the first floor and outdoor patio. Along with the refresh that Dahlgren says will brighten up the space, he is also bringing in Avenue Kitchen & Bar executive chef Audiel Vera on to create a new menu. The concept is not set in stone yet, but Dahlgren mentions the menu will be simplified, with tapas-style small and medium plates. "Audiel does everything fresh," Dahlgren says. "It'll be a scratch kitchen that's approachable for the neighborhood."
He adds that a name change and the announcement of a new business partner are also forthcoming. And while "change is good," Dahlgren says some Rowhouse menu favorites will remain, and he plans to pay homage to the restaurant's roots. He says he's aiming for renovations to be complete in the fall.
"I'm excited to get back in here," he says. "I feel blessed that I have such a good team up there [at Avenue] that I can get back to what I used to be doing, developing and working at the restaurant."
NEWS
Monument City Brewing to Release New Summer Line: This month, Monument City will launch Cute Little Saison, a new Belgian-inspired, low-ABV series available exclusively at the Highlandtown brewery. The varieties are raspberry, blackberry, fruit punch, and mosaic dry-hopped. The first two will be released at the brewery on June 25 with on-site food provided by Cocina Luchadoras and its paleta spinoff Hecho en Baltimore. The latter two will drop in July. "When dreaming up this series we were inspired by the traditional Belgian-style table beers," Monument founder Ken Praay said in a press release. "We wanted to create an easy-drinking, flavorful beer that would shine during the summer months."
OPEN
The Crazy Mason Milkshake Bar: Just in time for warmer temperatures, this milkshake-focused franchise has opened in Old Ellicott City. The location is independently licensee-owned by local couple Robert and Erin Studer. The dessert chain, which originated in Myrtle Beach, S.C. just two years ago, specializes in milkshakes and sundaes served in keepsake mason jars and color-changing bowls. The new Howard County location, the eighth overall, takes over the former Ellicott Theater on Main Street.
"We partnered with a local couple in the Baltimore area that fell in love with our concept and wanted to bring it to their home," The Crazy Mason founders Bo and Sherri Steele said in a press release. "The former theater on Main Street was on their radar, and we couldn't be happier for them and to see it transform the street and the space inside."
EPICUREAN EVENTS
6/24: The Night Brunch at The Maryland Zoo
Join The Night Brunch for a wild evening this weekend. The bi-monthly foodie hangout is taking over The Maryland Zoo on Friday, June 24, from 6-10 p.m. The event will be family-friendly, with varying activities posted in different areas of the zoo's outdoor spaces. Enjoy music from DJ Impulse in the zoo's newly installed dinosaur exhibit, plus tunes spun by DJ Tanz and Ty Alexander. Food vendors include The Urban Oyster, Althea's Almost Famous, and The Charmery. Tickets are $30 for adults, $15 for those younger than 21, and free for children two and younger.
6/25: Ekiben's "Little Jumbo" Dinner with Ben Lefenfeld of La Cuchara
This event series, which invites guest chefs to help take the reins of Ekiben's Fells Point location for one night, returns with its second edition Saturday, June 25 from 9 p.m. to midnight. This month's guest chef is Ben Lefenfeld of La Cuchara, the Basque Country-focused concept located in Woodberry's Meadow Mill Complex. Ekiben encourages Baltimore diners to "stay tuned for a menu drop," but teases items like "morcilla wontons, dan dan noodles, Shanghainese scallion noods, and more."
6/30: Nōs•Reme's First Community Pop-Up
Nōs•Reme Baltimore will host its first pop-up and community dinner on Thursday, June 30, at the R. House garage event space in Remington. The local organization describes its mission as bridging the gap "between disconnected neighbors in Baltimore City and the vibrant niche art scene surrounding them by creating a fun, healthy, and natural environment where people can co-exist and interact over food and art." Its unique name is Emerson spelled backward, a nod to renowned essayist Ralph Waldo Emerson, who has long inspired the organization's executive director, Ariana Parrish.
This inaugural event will feature a specially prepared, gluten-free menu from resident chef Jeff Lyons. The garage space will be designed as a "living room-like environment," and attendees can view artwork before a live art auction. Post-auction, expect hip-hop-themed bingo with prizes from Baltimore-based organizations. Tickets are $30.